Location: Hellhole Canyon Open Space Preserve, Valley Center, CA
Difficulty: Easy to Difficult
Hike Statistics: 9.2 miles, 7320.54ft elevation change (3658.69ft gain)
Conditions: 90s to 100s, Mixed shade/no shade
Preserve Hours: Friday – Monday, 8am to Sunset. Preserved closed Tuesday, Wednesday, and Thursday. Closed entire month of August due to extreme heat.
Trailhead: 33.216444, -116.934028
GPX Track: Google Drive (Note: Accuracy Not Guaranteed ; Only includes hike described below, does not include additional trail options seen in image below)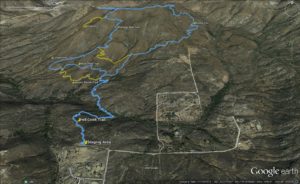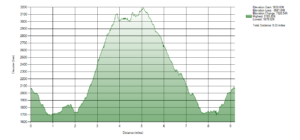 Hellhole Canyon Open Space Preserve is a special gem hidden in Valley Center. A wide range of varying ecosystem gives a wonderful diversity. I have often gone and only seen people on the easier portions, so scaling the more difficult portions of this area often provides ample space for isolation and taking in the nature that surrounds you. The vast majority of the preserve was burned through by the 2003 Paradise Fire, from which much of the plants and animals in the area are continuing their path of recovery. This gives a special glimpse into how nature slowly recovers, currently at 11 years after the fire that tore through.
I have also been building a special relationship with this particular hike since my first encounter with it. Every time I have done this hike, some new, odd curveball is thrown at me to try and take me off of my game. The result has been consistently challenging hikes. This hike would be no different. Perhaps, if you choose to go at a better day than I have made it out there yet, the canyon and Rodriguez Mountain will be nicer to you than it has to me. All of the tumultuous variables aside, this stands as one of my favorite local hikes to the North County San Diego area.
The hike can also be easily made to range from a fairly easy, friendly hike to a difficult, nearly 10 mile (potentially more!) expedition through the preserve. As such, I would most definitely recommend this area for hikers of any experience level. At worst, simply aim for a cooler day and do the lighter hikes into the canyon and back, skipping the climb up Rodriguez Mountain as I document below.
For directions, refer to Google Maps for the staging area. Beware following Google Maps Navigation to the Hellhole Canyon Preserve that is marked on the maps as a place: it often takes you straight past the staging area. When you get close enough, you will start to see signs directing you–follow those! The coordinates I placed in the link above is to the staging area, not wherever Google Maps Navigation tries to take you.
The preserve is open from 8am to sunset, Fridays through Mondays. Tuesday through Thursday won't get any love from this place, and the entire month of August is closed due to extreme heat. However, I would caution to beware the heat in July and September as well, as it can still easily peak over 100 degrees F in those months–a constant in my experience there during those months!
This day, I arrived at the trailhead close to 9:30am. Ideally, you want to arrive as close to 8am as possible for a morning hike, so I goofed. I wasn't going to let that stop me! I packed up my gear and hit the trail.
At the staging area, there is a small bathroom and water spigot. Also, a place for horses to be tied up can be seen, and this day, I even witnessed some people heading into the preserve on their horses. It's worth knowing that you may just run into the horses on the trail, and they do have the right of way.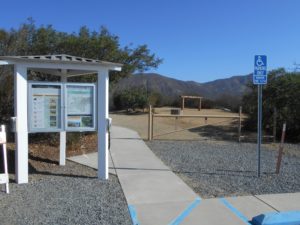 Heading on down the trail from the staging area, you begin to get quick views of the canyon and Rodriguez Mountain looming over it. In this early part, there are several plaques posted giving several interesting tidbits of knowledge about the preserve. Many native plants are also marked early on. I would definitely suggest stopping to observe and read all of this information.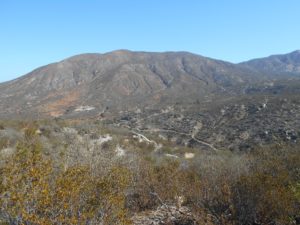 From there, it is an easy hike down into the canyon. The canyon itself serves a seasonal creek, so nicely named Hell Creek, which eventually pours into further creeks to join the San Luis Rey Watershed, making a nice source of seasonal water for local wildlife, and our own drinking supply. This time, the creek was totally dry, but the ample shade near where the creek flows, in the primary space of oak woodland in the preserve, is always a wonderful place to stop and take a break.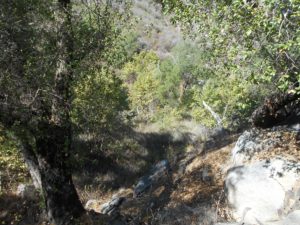 Continuing to walk along near the bottom of the canyon, the shade started to thin into only extremely rare, difficult to take advantage of patches. Before it got too bad, the first fork in the road was presented. Heading to the left takes you along the Historic Flume Trail, whereas taking the right allows you to either climb up Paradise Trail or take the different and easier Horse Thief Trail. I decided to take the right and head towards the Horse Thief Trail. It was a short walk to the next fork, well marked on which one heads where. I continued down the Horse Thief Trail.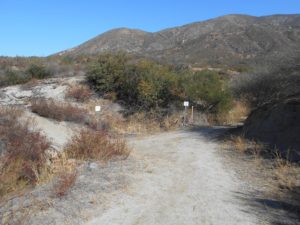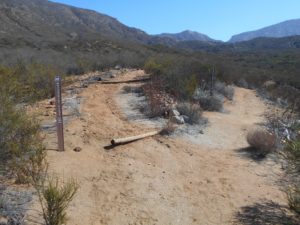 I had not previously taken the Horse Thief Trail route, so this was a new experience for me. Although it is similar to the Historic Flume Trail, it offers different views of the area and somewhat different levels of plant life. Both are definitely worth the hike, and I thoroughly enjoyed the Horse Thief Trail, before hooking up to the Canyon View Trail, where both converge to head up towards the Rodriguez Peak Trail.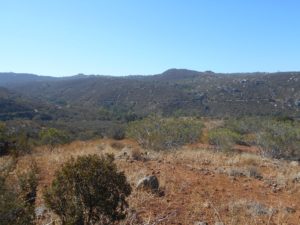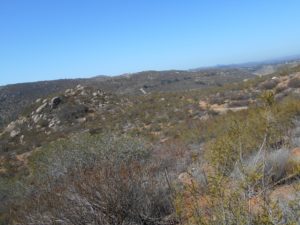 The Canyon View Trail offers some wonderful views of the canyon as you head up in elevation, before reaching another familiar fork. At this point, the Canyon View Trail meets one offshoot of the Paradise Trail and offers the opportunity to begin heading up the Rodriguez Peak Trail.
I chose to head up the Rodriguez Peak Trail. This is where the trail first becomes difficult. You can still see remnants of the 2003 fire in the form of old wood once part of the maintained trail charred and kicked off to the side. Much of the trail now is difficult terrain, constantly headed up towards the high point and two special viewpoints.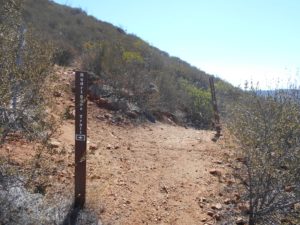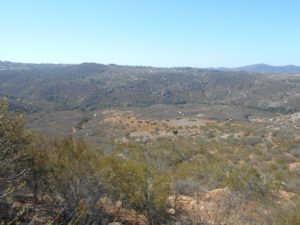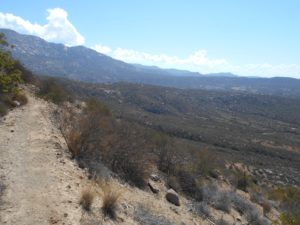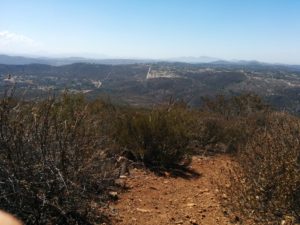 Eventually, you reach a well marked offshoot taking you to Viewpoint 2 (although it is the first of 2 you reach on this approach). I opted to skip viewpoint 2 and head straight for Viewpoint 1 instead. It is not far off at that point, already having hiked a good few miles up the mountain side.
I took the opportunity at Viewpoint 1 to sit and meditate. Although there is some clear views of civilization all around the mountain, the isolation and quiet nature surrounding you, along with beautiful 360 degree views, should not be missed if you hike this far. It is truly a wonderful experience to stop and rest in the shade-less area of Viewpoint 1.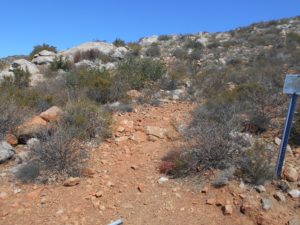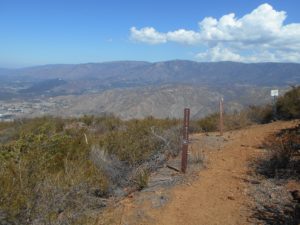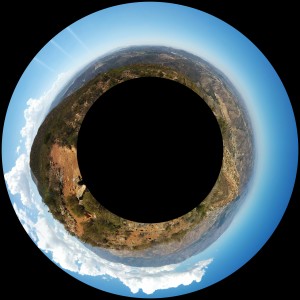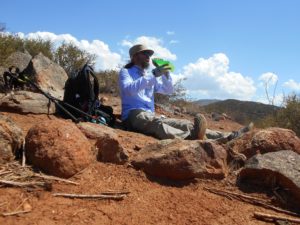 From Viewpoint 1, many may choose to head back down the Rodriguez Peak trail. This would probably be the easier route, but I feel that you miss so much more of the preserve if you skip the Paradise trail. The Paradise Trail skirts along the ridge top, gaining some further altitude before dropping down a winding, long path back into the canyon. It is a gorgeous, although rocky and potentially strenuous path.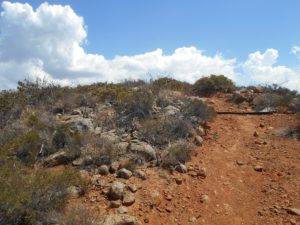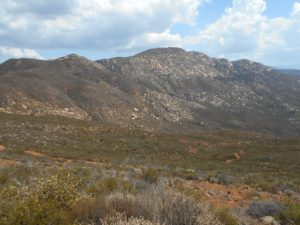 This day, as I was headed down the Paradise Trail, I began to notice the humidity rising fast. With temperatures at that point already over 100 degrees F, rising humidity presented a special danger of reducing the effectiveness of my primary methods of maintaining a cool body temperature in the heat! Always on the alert and paying attention to my surroundings, I also began to notice a storm cloud brewing and blowing in overhead. Still a good 3 miles left to get back to the car, I made the decision to start hiking faster. Based on many variables I was observing, I would not consider Hellhole Canyon a place I want to be in the middle of a storm!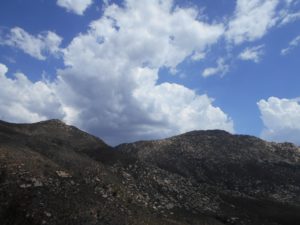 As I frantically hurried down the trail, concerned about getting out before the storm blew in overhead, I had one of the most unique experiences of hiking I have had to date. Turning a corner, I was suddenly right in the middle of a small group of a few mule deer! It seemed we had no idea that we were about to meet so close to one another, and we stopped and stared at each other for just a split second that seemed to last minutes. However, just as quickly as I stumbled into their midst, they ever so elegantly pranced off out of sight. I was not able to get my camera out fast enough to get a good picture of even one of them as they ran off, but I sat for a moment, taking in a last good view of the canyon, amazed at the unique experience.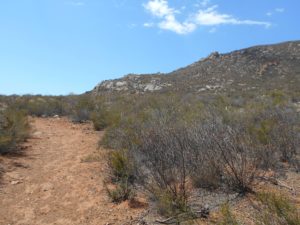 Concerned about the heat and humidity, when I made it back to the oak woodland area at the bottom of the canyon, I took my pack off in the shade and rested for a few minutes. With the great lack of shade I had faced in the heat of the last few hours beforehand, and the rising humidity reducing my ability to stay cool, the shade was more than welcome. However, as the storm continued blowing in, I knew I had to make my way out of the canyon and get out of there!
As I made it back to my car and turned it on, the thermometer was clearly having a tough time! I let it sit for a moment (air conditioner on, cooling me off!), before it seemed to level out at 106 degrees F at 3:30pm! Rough temperatures, especially with the rising humidity, very hot winds that caused more harm than good, and the incoming storm clouds! I drove off to get back near the coast, near cooler temperatures and sunny skies!