I realize that I have not update my blog in a while! Well, after hanging out with some amazing folks outside of Borrego Springs, I eventually found my way back to the Carrizo Badlands Overlook. It's an amazing spot that I just can't get over! Besides, I have more hiking to do here!
Today, I even set out on a 10.5 mile hike in the Jacumba mountains. I had a lot in mind to see and conquer, and I was excited about it. However, as it turns out, I only conquered one mountain today. The rest will have to wait!
Borrego Springs
Outside of Borrego Springs, there was a huge crowd gathered. I met some people that I have been following for a good while on Instagram, or even their own blogs, and made a whole slew of new friends while I was at that. It was a wonderful treat!
However, while I was there, I made a bone-headed move. Due to the crowd of people, I was driving into town to use the restroom on a regular basis. One morning, I had to go exceptionally bad, of a variety that I couldn't sneak it in anywhere around camp. So, I rushed out of bed and drove into town.
Well, I left the wires for my solar panels hanging out the back of Tivona, and all of the connectors and inline fuses were destroyed. I ended up spending a week with family in San Diego, while I awaited new equipment. Meanwhile, I also modified Tivona.
Renovations!
I took out the spare tire on Tivona, and proceeded to drill a couple of holes into the cargo area floor for ventilation and wiring. I then moved the two large batteries into the newly opened space, along with my tent and other supplies that are rarely used in my life. This did require some whole new wires, but with having to get that for the solar panel fiasco, it was alright. Ultimately, I also got a rooftop basket with spare tire mount, and the spare tire now lives on top of the car!
Check out my Living Setup for a full list of what I've got going on now.
Carrizo Badlands… Again
With all of this done, it was time to head back out to the Carrizo Badlands Overlook over the last week. And a lovely time it's been. Nothing too much to report on that, except one lucky event did occur while I've been out here!
A group of old friends dropped by in a nearby campground for a night. I went and hung out with them for the night, playing games and enjoying the camping that is surprisingly absent from my normal life! They then followed me back to the overlook, taking in the view that has been keeping me coming back for so long now!
The Hike
Finally, I began planning a 10.5 mile hike in the nearby Jacumba Mountains. I had 4 peaks I wanted to tackle, along with visiting the Goat Canyon Trestle (more to come on that!). The route was planned, and everything seemed to be going well. I woke up this morning, ready to attack this monster of a hike.
For some reason, I started this morning feeling off. I was more anxious and nervous about the coming hike than I usually am with hikes, and I just was feeling generally bad about the whole thing. I was still determined, however, so I headed on out.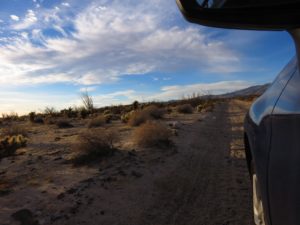 The drive in on Montero Wash was surprisingly easy. There were a few spots that might have been dicier with a less capable car, but I largely found that even 2WD vehicles could probably tackle it, driving slow and having enough ground clearance for a few of the dicier spots. Tivona chewed it all up like it was nothing!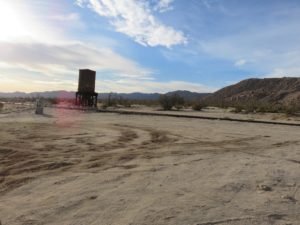 The trailhead I had designated was right on the railroad track that Goat Canyon Trestle is part of, but on the opposite end of the mountains I was planning to traverse. There, an old water tower welcomed me, and I set off on foot.
The first major part of the hike was a simple traverse through the desert. I wanted to get to the Northeast end of the mountain before beginning my true climb up, and it was quite easy to do so.
Except that bad luck started this early. I stepped incorrectly in the sand and fell right down onto one of the many cacti that line the desert floor. I ended up doing the rest of my hike for the day with barbs still poking in my skin, occasionally causing enough issues for me to stop and have to dig them out. Of course, as I kept walking, I would step all over more cacti and their pods lying all over the desert. It was not a day for the cacti and I to get along!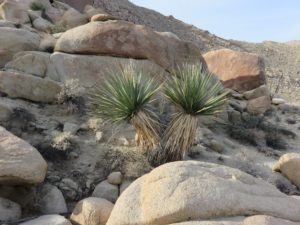 Regardless of that bad luck, I continued on. There wasn't really a clear point at which I planned to start heading up the mountain, so I just began at some point that seemed nice. There's probably a nice place to start, because it turned into light scrambling really fast on the route I took. However, it wasn't too bad, so I kept going, enjoying the scenery.
As I reached the middle point of Piedras Grandes Mountain, it occurred to me that the route I went was difficult. It was a sticky scramble, often quite difficult. There were times that I was jumping from loose rock to loose rock, hoping not to slip and fall worse. A few times, I had to straddle one boulder as I climbed across the very edge of another, hoping not to fall. It occurred to me, at a certain point in this that the drop of a fall was deadly. Not a wonderful thing to think about on the edge like that, so I just kept chugging forward.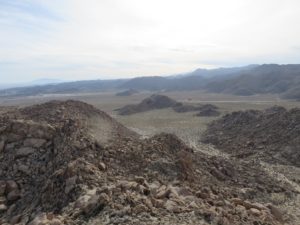 Towards the peak, it got a lot easier again. The ground worked with me, and then it was just a scramble to find the summit register and take in the views! I had made it to the summit, where I could see a vast range of the desert, including Red Hill and Mine Benchmark that I have climbed previously, along with several other points of interest. I also got the most unique view of the Jacumba Mountains I had found yet, giving me a chance to look over the rest of the hike I had planned.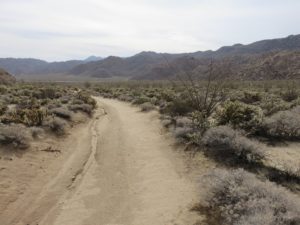 After a brief rest, I started down the opposite side of the mountain. The way down, here, was easier than the way up! After traversing a small wash and ridgeline opposite the mountain, I even found a small, dirt road, perfect for walking on.
However, as I continued on this path, my GPS receiver beeped at me oddly and turned off. I tried a few times, but it wouldn't turn back on. It wasn't the end yet, though, so I began digging for my topo maps. I couldn't find them. I didn't have any reception on my phone to download any, and quite frankly, I had become extremely skeptical of this sudden dying of my GPS, despite it having new batteries in it!
I decided that the mountains had defeated me today. I was only 2 miles into the hike, but it was time to turn back. I would have to do the rest another day.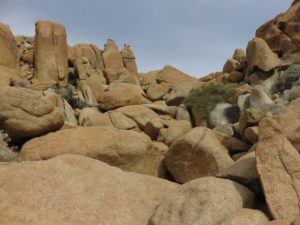 I turned around and started heading vaguely back towards the car. I didn't want to climb the full summit again, but saw a dip in the ridgeline that looked promising for an easier traverse. I could see that some scrambling would be involved, but it didn't look as bad as what I did climbing the mountain in the first place!
As I made my way up, it suddenly became really apparent that I was headed into country that was once heavily used by the Kumeyaay people that once inhabited this region. Evidence of their staying here was all over the stones, and there even appeared to be several small "caves" that could be used for shelter. I wasn't sure as I hiked it, but I was able to confirm when I arrived back at camp! Very exciting!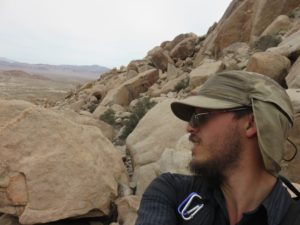 On the way back over this ridge, I actually did encounter further trouble, however! The scrambling… the bouldering! It was certainly the most difficult I have had to do on my own, without any assistance of ropes or other help. All I had was me, my pack, and my trekking poles that seemed to get in the way more than help. It was tough, but I kept going, until I found a way back. I dropped several things, including my GPS Receiver, again, and found myself scrambling around, searching for them; nothing was lost in the end, but the search was endlessly exhausting. At one point, a dry fall proved to be a block in my way, being far too high to climb down, and I had to find another way. It was treacherous, but exciting once over!
When I finally made it back down to the desert floor, I followed some of the dirt paths and roads around the area back to the car. I didn't want to repeat the cactus from earlier, if I could help it! Alas, it was an easy trek back, and I arrived at my car, noticing several other adventurers of different varieties stopping at the same spot to explore. I guess it was more popular than I thought!
I'm certainly glad to be back at camp, resting, and drinking a beer after all of that, though! Full album follows.
I have uploaded the GPX Track on Google Drive. Piedras Grandes Mountain is Peak #78 on the San Diego Sierra Club's 100 Peaks list.