There are many questions about how I setup a Subaru Outback for full time living out of. I hope to address that here, along covering basically everything that I own in making it work.
Vehicle Base
When I first set out, I didn't want to do too much to Tivona, the vehicle, itself. I started with everything basically stock, without even simple additions. There have been a few changes since then, but mostly, I have been able to keep to such an ideal.
She is a base 2.5i model of the 2015 Subaru Outback.
I did opt for new All Terrain tires. I have now upgraded to Yokohama Geolandar A/T G015, the upgraded version of the same tires, and I find these to be lovely tires for my needs. (I originally began with Yokohama Geolandar A/T-S (225/65R17), and still have one staying mounted in the rooftop rack.)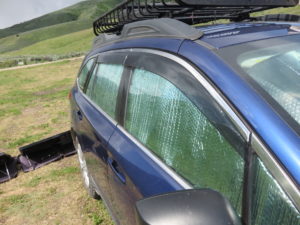 Additionally, I added on Subaru's weather deflectors onto all side windows, which allows me to crack the windows in rain, without letting any in. That was a bit of an expensive addition for such a minor feature, but in the long run, it has been entirely worth the expense!
Over time, I also bought the Yakima LoadWarrior along with the extension to make it longer, cargo net, and spare tire mount. Primarily, the rooftop rack only holds the spare tire (replaced by the likes of my house batteries; see below), a small toolbag for handling flat tires, and the solar panels during transit. This works wonderfully, and has a few gaps I could add in other items.
I did feel the need to buy some ratcheting tie downs for the solar panels, not quite trusting the cargo net itself. A Fiberglass Digging Shovel was also added to the side of the rooftop rack, mounted with simple hose clamps from Home Depot.
Tires : Stock 17″ Steel Rims, Yokohama Geolander A/T G015 (225/65R17)
Windows
: Subaru branded Weather Deflectors
Rooftop Basket
 :
Yakima LoadWarrior
, with extension, spare tire mount, and stretch net; 
Fiberglass Digging Shove
; random ratcheting tie downs
Electricity
From the start, I always assumed that the car's battery, itself, would not be enough to power my daily needs for work. I ended up deciding to go a 100% solar power option, using a house battery setup to make that work. I did all of the wiring and setup by hand, myself, becoming a bit of an amateur 12V electrician!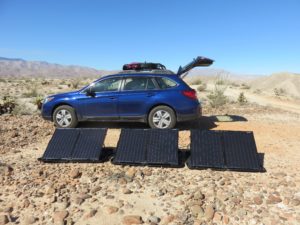 Originally, I simply loaded 2 West Marine AGM Group 31 batteries into the cargo area, wired in parallel. I used a NEMA 3R Enclosure to house mouse of the circuit breakers, fuse panels and other wiring, making everything I would need work. The original solar panels would then slide in on top of everything when in "travel mode", so to speak.
That system worked great for a time, but when I swapped to my new, Renogy 100W 12V Monocrystalline Foldable Solar Suitcase panels, it became amazingly difficult to get everything to fit, so a new system was devised.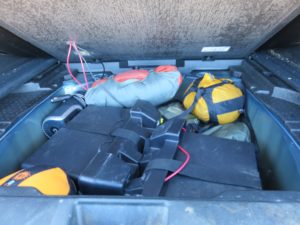 With the addition of the rooftop rack noted above, I threw the spare tire up there, opening a whole new area for storage. I moved my 2 AGM batteries to this location. Also throwing in some of the rare (if ever) used items nearby, a whole new slew of room was opened up in the cargo area.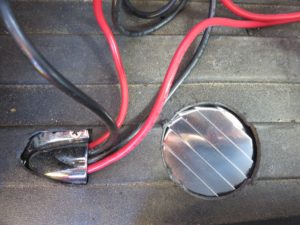 Of course, all of this wasn't entirely easy. I needed to cut some holes into the board covering the new cargo area as well. I stopped into West Marine, where I bought a couple of vent covers, and then went ahead to the drilling and cutting. One hole for the wires from the batteries to the wiring box, and another to provide some extra ventilation in case of any issues with the batteries.
The new solar panels now travel in the rooftop rack as well, and are set up and torn down as is appropriate in my camp. It's a simple process of finding the best direction to set them up to and connecting them with the clamps at the end of all of the wires. It's a setup that has worked wonderfully!
All of this is mostly accessed via the Wagan Tech Elite 400W Pro Pure Sine Inverter. I have a power strip plugged into this constantly, held within a nice BlueLounge CableBox, which protects the outlets and organizes the wires somewhat nicer. If 12V power is needed, I do also have 2 12V ports with my house battery system, but they are probably the lesser used outlets of my whole system in the end.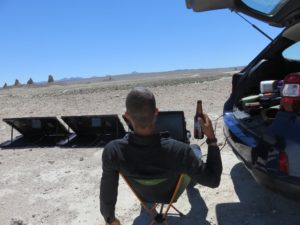 All of this works wonderfully, despite relying 100% on the solar panels for power. I could consider adding an isolator and such that the batteries charged off of the car's alternator as well, but I have not had a major need to at this time, and I'm more interested in devising a way to have a solar panel exposed to the light during travels anyhow.
House Batteries : 2x West Marine AGM Group 31, wired in Parallel
Solar Panels : 3x Renogy 100W 12V Monocrystalline Foldable Solar Suitcase w/o Controller, Renogy 40A MPPT Solar Charge Controller w/ MT-5 Tracer Meter
Mains Power Supply : ProMariner ProSport 6 Battery Charger
Wiring : NASA Marine BM-1 Battery Monitor, Fuse Blocks, Circuit Breakers, and Bus Bars from Blue Sea Systems, NEMA 3R Enclosure (fuse blocks, etc. mounted within), miscellaneous wires and fuses and etc.
Power Output : Wagan Tech Elite 400W Pro Pure Sine Inverter, 2x 12V Ports, Quirky Pivot Power, BlueLounge CableBox
Traveling and Space efficiency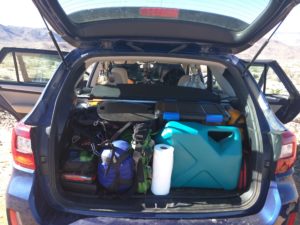 When setting out to travel, I have still been maintaining an active goal of always keeping as much stuff as possible in the cargo area, hiding beneath the retractable cargo cover that came with Tivona. The picture here is an example of everything packed up inside, although I do tend to organize it quite differently these days than is pictured here.
Organizing the travel setup is one of the ongoing, constantly fun challenges of this lifestyle. Any time that anything is added, removed, or replaced, the entire setup of my packing may need to be rethought. It is a constant game of tetris, especially keeping the goal of certain items–such as my laptop and water–being always immediately accessible as well. There's never really a consistent picture of what it looks like!
In order to achieve this, a lot of compression dry bags are utilized for clothing, bedding, etc. Additionally, my backpacks are all used to carry miscellaneous items. This may take me more time to prepare for a hike/backpacking adventure, but it makes it easier to organize and meet my goals of the traveling setup.
I also use several random organization tools within the car, such as the extra organization items which tie to the back of a seat, providing extra pockets and such for further organization. This all works to maximize my use of space, while still often being able to have passengers when I'm traveling around.
Compression/Dry Bags : Sea To Summit Multiple Ultra-Sil Compression Sack, Ultra-Sil Compression Dry Sack, and Ultra-Sil Dry Sack; 2x Sea To Summit Trash Dry Sack
Miscellaneous : Various car-seat and cup holder car organizers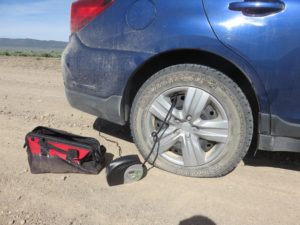 While traveling, I also aim to have all of my survival and recovery tools readily available. Many things can happen negatively during travel, and it is always good to have means of survival and recovery. I take a lot of this from my hiking and backpacking tools and ideas. I add onto it all of the standard tools included with the vehicle for recovery, adding in a tire inflator, lithium ion jumpstarter that fits in my glovebox, and the shovel on the rooftop rack.
Survival/Recovery Tools : Homemade First-Aid/Survival Kit; Sawyer Mini Water Filter; Assortment of lights, including lanterns, headlamps, and rope light; Misc. assortment of bungie cords, paracord, rope, etc.; Counter Assault Bear Spray; First Alert Auto Fire Extinguisher; AAA Road Assistant Kit; Stock Subaru Tire Jack and tools; Slime Tire Inflator and Sealant; NOCO GeniusBoost GB30 Lithium Jumpstarter
Living Setup in camp
When I get into camp, aside from setting up the solar panels, I also have multiple steps to really get comfortable and put everything together. I put on the standard windshield shade, and I also made custom Reflectix-based window shades for all of the other windows. Moving stuff around in the car for the best hit of the setup I am aiming for, I then have multiple options.
Windows : Standard Windshield Shade, custom made window shades for all remaining windows from Reflectix (bought at Lowe's)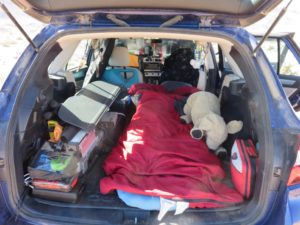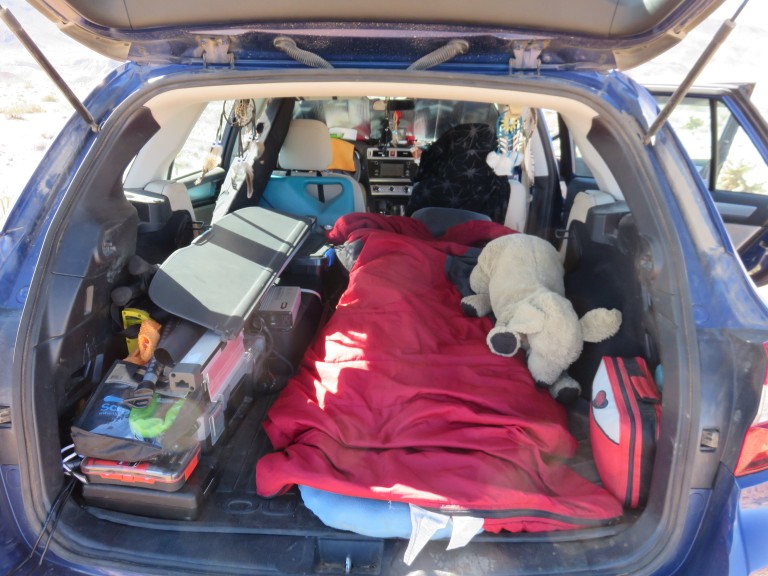 For several reasons, I may opt to have my sleeping inside of the car. To achieve this, I put down the seats, take off the cargo cover, and setup my bed inside of the car; for this, I will primarily use my backpacking setup, using a mix of the supplies below. I may also use my mosquito net, if the need arises for any reason.
Sleeping Supplies : Sea To Summit Comfort Plus Mat, Sea To Summit Coolmax Fitted Sheet, Sea To Summit Aeros Pillow Premium, Sea To Summit Thermolite Reactor Extreme Sleeping Bag Liner, REI Co-op Igneo Sleeping Bag, OzarkTrail Cool Weather Sleeping Bag, Miscellaneous covers
In the past, I did not have the Reflectix to utilize in privacy as much, so I may have used blackout curtains at times. This isn't as necessary any more, but I keep around everything that I used, as they do continue to aide in privacy and utility through various different, other items.
Privacy and Utility : Wide-Width Blackout Curtains, Clothes Bar
I might also decide for my tent or hammock setup. The tent will largely be setup with the same supplies as sleeping in the car.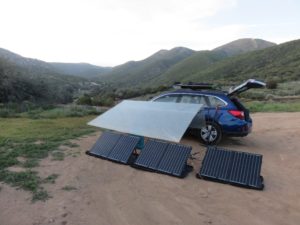 For the hammock, I can string it between trees or use my ENO Roadie Car Stand to setup almost anywhere. I even have an underquilt and a bug net. If I prefer this option but am somewhat concerned about the weather for any reason, I have a homemade cuben fiber tarp that can be used for extra shelter. This has really become a favorite staple of my "home" for me!
Tent/Shelter : REI Passage 2, Sea to Summit Nano Mosquito Pyramid Net Shelter, Homemade Cuben Fiber Tarp
Hammock : ENO DoubleNest Hammock, ENO Atlas Hammock Suspension System, ENO Roadie Car Stand, ENO Vulcan Underquilt, ENO Guardian Bug Net
Cooking, eating, drinking
Eating and drinking are always necessary in camp, and cooking becomes a big part of that. I'm a sucker for my morning coffee and a nicely cooked meal at night.
For storing all of the food, I have often changed my setup.
At this time, I now use a 7 gallon jug of water, with a handful of smaller items, including a good handful of the 2L Platypus Platy Bottles. This system has been working wonderfully for the water recently.
I also have a Yeti Roadie 20 now, which I use primarily to store vegetables and the occasional cold drinks. I also use a small plastic storage bin that fits just right between the front center console and the back seats when they are down, where I store relatively non-perishable foods.
Water/Food Containers : Reliance Jumbo-Trainer 7 Gallon, 2L Platypus Platy Bottle, REI Travel Vacuum Mug, YETI Roadie 20 Cooler
I started with only the MSR PocketRocket and GSI Outdoors Halulite Minimalist for cooking anything, and have expanded on that quite a bit. Adding in cooking pans for a wider assortment of possible dishes and the MSR Windburner Stove System for more efficiently using my items, I've gotten quite a bit more comfortable with cooking a larger variety of items. For coffee, I have also added a hand-crank coffee grinder I found at Target. Along with an assortment of dishes, this setup works great for living with!
Stove : MSR PocketRocket, MSR Windburner Stove System, MSR Universal Canister Stand, misc Isobutane blend fuel (MSR IsoPro, JetBoil, etc.), lighters
Dishes : Silicone Collapsible Bowl (unknown brand), GSI Outdoors Halulite Minimalist, Sea to Summit X-Pan, MSR Alpine Spatula, MSR WindBurner Skillet, MSR Windburner Coffee Press Kit, Light My Fire Titanium Spork, Stanley Shotglass Set, Glencairn, Stemless Wine Glasses (Miscellaneous kinds)
Working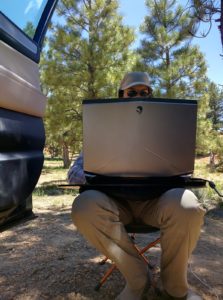 With everything setup in camp, I have a few options for performing my work duties as well. If the weather outside is delightful, I enjoy setting up my REI Flex Lite Chair and working outside. Not many people get to say that they do this on a regular basis, and I really thrive off of it! It is absolutely lovely.
Of course, that's not always the best option. Sometimes, whether because of rain, lack of shade, or some other variable, I'm stuck searching for the inside of my car, where there is safety. I enjoy keeping the front passenger seat open in camp, where I can sit comfortable, working as well.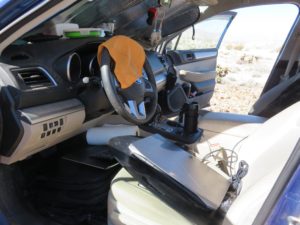 All of this is worth mentioning how well my work goes with the laptop on a lap desk. It's not always the best of situations, and can be sometimes clumsy. However, I've found that all of the benefits far outweigh the issues.
I do use my Verizon Jetpack MiFi for connectivity, and have my Wilson Electronics 4G Cell Booster when I need to squeeze out every bit of reception I can in a spot. All of this works amazingly well.
Laptop : Dell Inspiron 17 7000 2-in-1 and accessories, Targus 17″ Laptop Sleeve, Logitech G402 Hyperion Fury FPS Gaming Mouse, Work-related Accessories,  Corsair Gaming MM600 Mouse Pad; Laptop Lap Desk
Connectivity : Nexus 6 on Verizon, Pixel on TMobile, Verizon Jetpack MiFi 6620L, Garmin eTrex 20 GPS Receiver, Garmin eTrex 30x GPS Receiver
, Wilson Electronics 4G Cell Booster
recreational
With all of the cool places I end up, there's all kind of things to do. From hiking to taking pictures, or just hanging out around camp to playing guitar and doing some calisthenics. I've built up quite a repertoire of recreation. Any combination of the items below are with me and/or being used at any given time.
Cameras and Accessories : Nikon D3400, GoPro Hero 4 Silver, Canon PowerShot SX700 HS, Bower Black Metal Mini-Tripod, Targus 50″ Tripod,Case Logic Medium SLR Bag
Backpacks : REI Flash 22, REI Flash 45
Hiking and Recreation : REI Carbon PowerLock Trekking Poles, REI Flex Lite Chair, Martin Steel String Backpacker Guitar, Exercise mat (unknown brand), Variety of Card Games, Miscellaneous maps, Notebooks, Writing utensils
Other Things
Of course, a home and this kind of lifestyle is incomplete without the several things that just make up ordinary life: from tools to clothing and hygiene.
I even carry hair clippers to cut my hair anywhere that I am, and the Scrubba Washbag and Dry Kit to do my laundry anywhere that I am!
It all makes a wonderful home!
Miscellaneous : Toolbox carrying batteries (AA, AAA variety), fuses, misc. tools, etc.; Scrubba Washbag and Dry Kit; 12V fan; Hair Clippers
Other, nonspecific : Clothing, jackets, baselayers, etc.; Washcloths and rags; Hygiene items and related;