Leaving San Diego since my last post on here, I headed up to the greater Los Angeles area, where I visited family for a week. It was a fun week with the family, hanging out and enjoying my time in an apartment for a bit. From there, I headed on North, attempting a couple of campground in different sections of the Los Padres National Forest. That turned into one hell of an adventure over the last couple of days!
While camped out at Black Mountain in San Diego, I gazed at some amazing sunsets, and enjoyed my stay. However, after a few days there, more family had come to San Diego to visit, so I headed back to Mt Laguna for a couple of nights to meet up with them, where some deer walked right into my camp. Along with the amazing drive along Sunrise Highway, the fun drive up and down Black Mountain, and time spent with family, San Diego really gave me some treats!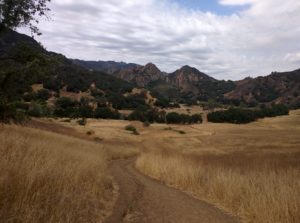 Time was running out to get out of San Diego, though, so I headed north to visit family in LA. Aside from hanging out for a bit, we also went for an adventurous hike in Malibu Creek State Park. We found a "rock pool"–a big pond in the surrounding rocks–which was full of people swimming, and went and visited a shooting location for the TV show M*A*S*H. After wandering around there for a bit, we headed back, but not before the rain came and poured down on us! I got pretty soaked, thoroughly, as I for some reason, decided to not bring my poncho, or even a jacket. The rain sucked and the lightning was terrifying (lightning in Southern California?! Yup!), but it was just the kind of adventure I needed to send me off northward!
Perhaps that was just foreshadowing the events to come, as I left my family's place Monday afternoon, headed towards a campsite I scoped out in Los Padres National Forest. I drove North on US-101 to reach CA SR-33, which cut me through Los Padres, up and over the Transverse Ranges. Such a gorgeous drive!
From there, the drive became interesting as I followed a valley between Carrizo Plain National Monument and Los Padres. I had heard that the drive in was rather desert-like before suddenly descending into an oak-full area which Aliso Campground is nestled within, and I would say that is an apt description.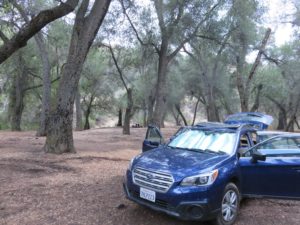 Finally reaching the campsite, it was quite gorgeous. I had the whole grounds to myself, which would have been lovely. I was slightly concerned about the shade being too much for my solar panels to keep up with my laptop, but the whole argument was pointless when I saw that I barely had any reception in the campground.
I stayed there that night, not wanting to continue onward, and hoping that the little reception I did have would be enough to hold me for at least one day. It barely did, but I had to run into town for work errands anyway, so I left with no plans to return. The site would make a wonderful weekend stop, but doesn't work as well as I had hoped for a weekday, where I need the cell reception to complete my work.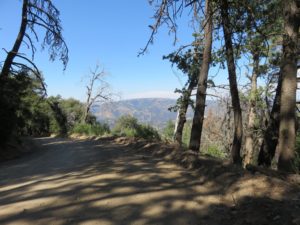 Heading northward from the Aliso Campground, I planned to head to a Nothern section of Los Padres, near Pinnacles National Park. I had scoped out White Oak Campground as another free camping spot, and Verizon showed coverage on their maps–not that I really expected that to be reliable. I really shouldn't have expected that to be reliable!
The drive in was absolutely gorgeous to that campground, getting ever more beautiful as the road turned into a rough, dirt road headed up the mountains of Los Padres. However, it was clear the entire time: I would be lucky to get any cell reception. I continued anyway, following the road all of the way to camp. I attempted to turn on my cell signal booster, but could get not even enough signal to make a phone call.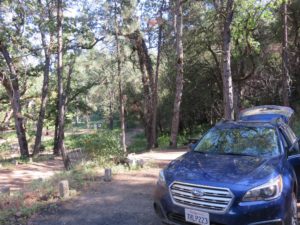 Defeated, I hung around the campsite, realizing I actually had no idea how to get back to town. The way in was a bit convoluted, and a couple of the turns were questions in my head. Not getting any cell reception, I couldn't look at the map on my phone to get directions, let alone to determine somewhere to head to. So, after doing some quick housekeeping tasks I had intended on doing anyway, I jumped into the car and just started driving.
A moment of fear: "I have no idea where I am! I have no idea where I'm going!" I decided to make a funny video of myself laughing about it to post on Instagram later in order to cheer myself up and keep myself looking positively at the whole thing. My fear turned into excitement, and after a while, I found my way back to King City, CA. After stopping and scoping out multiple other camp sites in the area, I realized I had two options: head to the Sierras, where I had hoped to be going 2 weeks from now; or get a hotel room. I wouldn't have arrived into my projected camp in the Sierras until around 11PM–I absolutely hate setting up camp at night–and I would have completely missed out on Pinnacles National Park, which I want to visit.
I got a hotel room. So, here I am for a few days, in a cheap hotel room. Nowhere near as comfortable as I wish I could be, but it will serve me better than nothing, and I can get my work done here before tackling the adventure of this weekend.
For completeness, below is some pictures I collected from San Diego, both around Mt Laguna (through the deer pictures) and Black Mountain (Sunsets and one day picture after the deer). I attached them here, since that was the beginning of this adventurous post!