The time finally came to finish with the Cascades, and I planned a nice finish. I visited Mt Baker and then headed through North Cascades on my way east, out of the Cascades. A couple of last nights with those wonderful mountains, and I was off to new adventures. And sure enough, adventure would certainly be one way to describe how I kicked off these new adventures!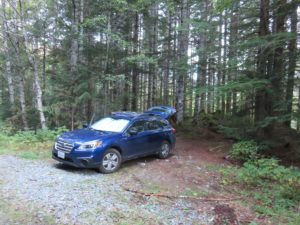 After finishing my work on Friday, I headed North. I had scoped out a campsite very close to the US/Canada border, en route to the recreation areas around the Northeast side of Mt Baker itself. It was a long drive through the traffic in the Tacoma and Seattle areas, but I arrived rather late and found a wonderful camp spot on a dirt road in Mt Baker-Snoqualmie National Forest.
I had a run-in with getting entirely stuck on the gravel road, which required me to get creative with some sticks and rocks. With a little help of gravity to boot, I was able to get myself out, however, and set up camp for the night. Surprisingly, I even got some Verizon LTE signal at the spot, although it was not available for most of the area–I just happened to luck out, and with the cell booster, it was great! Overall, it was a lovely spot, prompting the following post on Facebook that night:
This spot is so goddamn amazing. On one side, I hear a river rushing by in wonderful hurry. On the other, a small creek has formed a tiny waterfall that is making the most hypnotizing of music. Through the trees, I see the shadows of mountains all around me as they rest in their ageless slumber. Above me, the stars are dancing the most beautifully synchronized dance ever seen. The trees are holding conversations with the wind and the ground below me; I hear them all laughing in joy together. And here am I, in the middle of all of this, so struck with awe that my eyes water and my heart is dancing to the rhythm of the surrounding music, making love with the stars and silently conversing with the wind and the trees and the ground. Nothing I have ever experienced comes close to comparing.
Waking in the morning, however, it was time to continue my plans. First, I drove further up the road, seeing the Heather Meadows area around Mt Baker and Mt Shuksan. Both are absolutely gorgeous mountains from the viewpoints around Heather Meadows, and I loved my visit there. I stopped at Picture Lake and Artists Point to capture several pictures and take in the beauty that surrounded me.
Following this, I drove back out and headed on to Washington State Route 20, to head through North Cascades National Park. Recent wildfire had limited what I was able to do through the North Cascades area, but I stopped and took plenty of pictures anyway. It was truly a gorgeous, wonderful goodbye to the Cascades Range. Being the last US National Park/Monument in the Cascades I had left to visit, it also made a wonderful closing to that chapter of my adventure. With the Cascades now done, it is on to the next chapter. But first, pictures!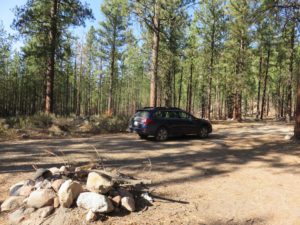 After passing through North Cascades and the Washington Pass, I made my way to another campsite I scoped out on the very eastern side of the Cascades, in land administered by Washington's Fish and Wildlife service. It was a wonderful campsite, although I only stayed for one night. Nothing particularly stood out about it, I suppose, but it clean, quiet, and a wonderful stop for the night. With great Verizon LTE, I didn't have any concerns during my stay there as well.
All endings also come with new beginnings, they say. The wonderful end to the Cascades brought a new beginning, which I really had no expectations about. Especially not the terrifying one I experienced today!
Leaving my campsite this morning (Sunday), I headed East, towards a campsite I scoped out near Colville, WA. It looked like an interesting drive through small towns, Okanogan National Forest, and Colville National Forest. I was aware of some wildfires in the area, but the roads appeared to be open, so I figured I should be safe to continue onward.
Shortly outside of Okanogan, WA, however, Google Maps advised me to turn off of the main roads and head onto some primitive roads. I decided to follow its lead. I found myself in the burn scar of the recent fires I had been following, but was amazed to find myself in McLaughlin Canyon. Although the entire area was scorched, I marveled at a couple of birds flying around, playing in the ash, and the canyon itself took my breath away. Truly magnificent.
I continued following Google Maps' lead for some bizarre reason, as it took me into Okanogan National Forest via a series of dirt roads. The area was gorgeous, but I became worried when the burn scar began turning into not so much of a scar as much as smoldering, smoking tree stumps, and the air increasingly filled with smoke around me. Suddenly, I found myself driving right through the wildfire, including moments where flames were clearly burning directly beside the dirt road. Terrified, I hauled my ass out, passing other vehicles–I'm sure they were probably firefighters and wanted me out of there as bad as I wanted to get out. Sure enough, as I left the burn area, I encountered a "Road Closed" sign meant to prevent anyone from going in the way I came out. Unfortunately, no such sign existed on the route I took, or I would have smartly turned around!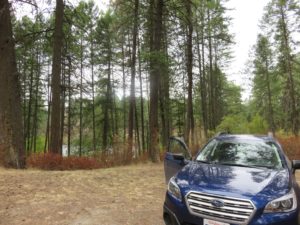 Nonetheless, I found my way back to Washington State Route 20 and continued East, passing over the Sherman Pass in Colville National Forest, and on to Colville, WA. After a quick stop in Walmart for some supplies, I headed to my campsite, pleased to find it open and accepting of me!
Verizon LTE is strong here, and it should provide a wonderful spot to stay for the week, to get some work done!