Today, I was hanging out in camp when a law enforcement officer with the USFS showed up and chatted with me for a bit. I haven't had a permit while staying here, and that is required. Caught! Ooops!
Actually, the LEO was really intrigued with my setup and what I was doing. He thought it was pretty awesome, and he was pretty cool with me. However, he did make sure that I went through and got my dispersed camping permit. He was pretty strict about making sure that I did that, now that I'm out here.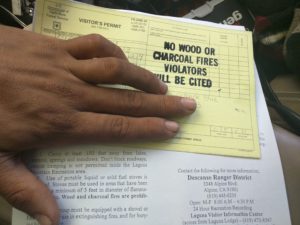 He gave me the phone number and address to the correct district office, and told me that I could go ahead and just call in to get my permit. However, they were pretty busy today, so I just decided to drive in and get it in person. Pretty painless, and free!
So, there it is. Now I have my permit to keep camping here, legally and all!
Upon returning, I decided to hit a camp spot that I scoped out nearby, instead of the original spot I was in. It is a bit more off the beaten path, down the dirt Miners Road ever so slightly. At the right angles, it is still visible from the main, paved Pine Creek Road, though.
Wonderful little spot! Here's the pictures: