Yesterday morning, I left Blair Valley without any real plan of where to go. I just packed up and hit the road. I explored some areas around Joshua Tree National Park before deciding to head north, eventually ending up at Lake Mead once again.
Blair Valley was a pretty nice place to stop for a night, but the cell service just wasn't good enough for my work needs. So, I decided to head on out. I headed north to CA-78, following that to the East.
I checked out areas around Ocotillo Wells SVRA, out of curiosity. There was tons of OHV noise all over, and Verizon service was pretty terrible. Interestingly, TMobile service was strong there. But it wasn't going to work for camp during a work week, so I continued onward, making my way towards Palm Springs.
Reaching Palm Springs, I thought I would go check out a few free boondocking areas on the north side of Joshua Tree National Park.
My first stop was Giant Rock: named after a giant rock out in the middle of the desert. It was a drive down a dirt road, into a large OHV area. There were a few other people camped around, and a ton of OHV users. The noise was kind of unpleasant at immediate thought, but furthermore, there was no usable cell service. So, I left to go explore other options.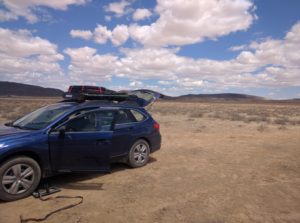 The next stop was an attempt at Joshua Tree Dry Lake. It was a fun drive through some more dirt roads and an interesting area, and I arrived to find a very open dry lake bed ripe for camping. Again, I found a lot more OHV users, along with a few others camped. Cell service was even good!
However, after further consideration, one thing was deeply unsettling: I could not be comfortable with the "bathroom" situation. At best, I would have to pack up and drive into town every day. With the noise of the OHV and the lack of privacy, I just decided to go ahead and move on, headed North again.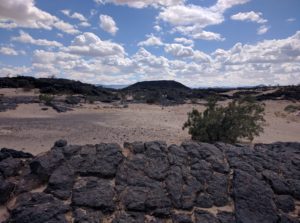 As I drove through area of BLM land, aptly titled "The Heart of the Mojave", Amboy Crater came into view again. I stopped in briefly, primarily just to use the somewhat nice bathroom facilities there. However, I remembered quite well how I had to bail due to the cell reception the last time that I attempted staying there. So, after a quick time enjoying the unique view again, I hit the road once more!
Instead of following Route 66 like I did last time around here, I decided to take a different route through the Mojave National Preserve. The road conditions there were absolutely shit. They were doing some repairs, but otherwise, it was just shit. Terrible. But I continued anyway, taking in the wildflowers, Joshua Trees, and other features. I skipped the Kelso Dunes, despite driving right by them, but otherwise enjoyed the drive, despite the shitty road.
At the end of the preserve, I hopped onto I-15 North, headed towards Las Vegas. Well before I reached Vegas, however, I started getting pretty sick of driving. I contemplated for a minute before deciding that Lake Mead would be a pretty good destination for the next week again. I plugged in 8 Mile Road into my GPS, and started heading that way.
I stopped and bought a pack of beer, which was starting to sound increasingly awesome, and made my way back to Lake Mead, where I set up camp at the same familiar spot, more-or-less. So, here I am!