I ended up with one hell of a crazy weekend! Everything from a broken camp stove to a flat tire, I ended up traveling the remainder of US-395 and the majority of the Nevada section of The Loneliest Road in the US, US-50. Stopping at multiple sites along US-50, including Great Basin National Park, I finally turned North in Utah, finding a wonderful campsite in Idaho for the week.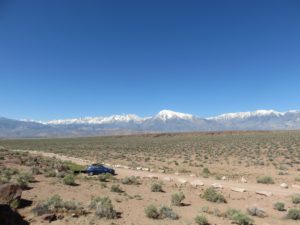 The quick summary there barely does the entirety of my weekend justice, though. To really get going, I first need to start with how my time in the Volcanic Tablelands outside of Bishop, CA went. It was a wonderful stay, and I even finally got my Nevada drivers license in the mail, having it forwarded via general delivery to the local post office.
However, a few terrible things went down. First, I accidentally spilled boiling spinach all over my left hand one evening. Some good, pretty gnarly burns are trying to heal on that hand now; the majority of it recovered to normal pretty fast, but the worst spots still have peeling skin and are trying to recover. Not a wonderful thing, especially when I also started getting a terrible amount of mosquito bites. The first half of my week there, I didn't even notice mosquitoes, but they came and I had some of my usual softball sized swelling from their bites. It was all kind of miserable, but I was keeping a positive attitude, overall.
Thursday night, however, my PocketRocket stove failed me. The threading disintegrated entirely, after nearly a year of constant use. No good way to cook food or coffee, I was understandably bummed! So, I decided to head out Friday and come up with a better solution. Meanwhile, here's a few extra shots of the area:
Leaving the Tablelands, I headed up US-395. I scoped out a really cool boondocking spot, but I wouldn't end up staying there at all. I simply enjoyed US-395, all of the way to Reno. I'm not really sure why I decided to go all of the way to Reno that day, but it worked out. I was able to stop into the very small but very friendly REI there and buy a new PocketRocket stove to replace the one I had broken. I'll have to be more careful to not strip the threading this time, I guess!
Reno ended up serving as a wonderful kick-off point. I had no idea where I wanted to go next, but I was able to do some searching, look at weather and cell service data, and make up my mind. I decided to head out towards Spencers Hot Springs, a BLM managed area off of US-50 in central Nevada.
US-50 absolutely amazed me. I didn't stop to take many pictures at this segment, as I was desperately wanting to get into camp and setup before sundown. I got to the hot springs just as the sunset, and had just enough time to setup camp. I never did actually check out the hot springs themselves, but it's a wonderful little boondocking spot with Verizon Extended Network 3G available: surprisingly fast for that, too!
The burros were all over the place that the hot springs, making noise all night long. I even ran into some the next day, driving down the road. Annoying jackasses, but also kind of cool in their own, special ways.
Instead of spending time at the hot springs, I opted to go for some more adventure Saturday. Following the dirt road that I came in on, the land turns into Taiyobe National Forest. Absolutely beautiful country, with a very interesting cave. Toquima Cave, featuring some ancient native american pictographs. I stopped at the Toquima campground to park, and took the short hike to the cave. It was a wonderful place, and I'm really glad that I stopped to check it out!
From Toquima Cave, I continued on further, dropping into largely ranch land. I ended up on Nevada 82, heading south towards Diana's Punchbowl. The whole road was a dirt road, and I wasn't getting any cell service whatsoever. However, I found my way to Diana's Punchbowl nonetheless. Such an interesting feature!
The size of that thing was a bit frightening. Steam was coming off of the water pretty good. I have read that it can be 140 degrees or hotter! I would be nervous about dropping into that hole in the first place, though, with its steep sides all around.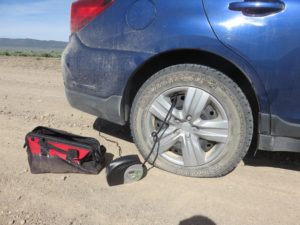 After seeing that, however, I continued onward, driving back north on Nevada 82 towards US-50. I was not very far from Diana's Punchbowl at all when the TPMS indicator on my dashboard came on. Not usual! So, I stopped and went to check out the car… the rear passenger's side tire had an audible leak!
For the first time, I ended up actually taking the time to deflate the tire, put in a bottle of Slime, and inflate it again. After a couple of attempts at driving about a quarter of a mile on that, inflating it a bit more again each time, the air seemed to be holding again, and I set off in hopes of finding a tire shop.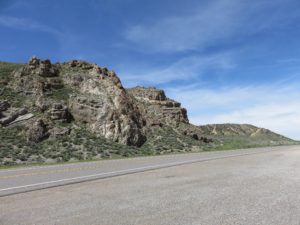 I ended up in Eureka, NV, but the only tire shops in town were closed for the weekend! No luck! So, I hopped on Google and looked around. There was a tire shop in Ely, NV that seemed like it just might fit the bill. I called them and started heading that way.
The whole way, I was a bit terrified! I knew that the Slime that I put in the tire was only meant to be a temporary fix, at best. But I would have to try and make it pretty far to get into Ely. The whole way, the scenery was absolutely amazing, and I was thoroughly enjoying it, despite my fears.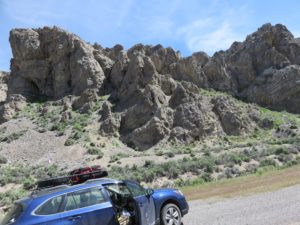 As I got into Ely, I was noticing a ton of cars with numbers adhered to the side. Many were corvettes, but I noticed a few other types of cars as well. Turns out, the Silver State Classic race was going through that area at the same time as me. Kind of cool to see so many sporty cars out on the lonely road with me!
Alas, I stopped into the tire store and got it checked out. Try as they might, they couldn't find the leak in the tire. There was no mark from the Slime going through the puncture, and the puncture just wouldn't leak any air. So, they sent me on my way, without any cost out of my pocket. I was still a little nervous at first, but the Slime seems to have done a better job than it was even supposed to!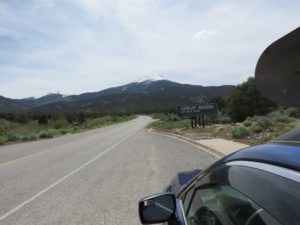 From Ely, I made a decision. I had seen so many signs along US-50 noting that Great Basin National Park was somewhere up ahead. I searched for it on the map to find that I was remarkably close. That is how I would finish the day!
I drove into Great Basin National Park and explored what was immediately open to me on the main roads, including a short hike in the mountains. Such a beautiful area!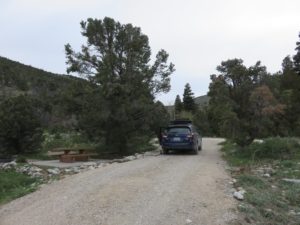 I then decided to drop into Baker Creek Campground and stay there for a night. At $12, it's more than the Free that I usually opt for, but it was a comfortable campsite for a night within a quite stressful weekend. I could have taken off to some of the other dirt roads in the park, where there is some free camping, but I was simply ready to call it quits for the night. Baker Creek Campground worked just fine!
Of course, even if I was open to the $12 a night, it wasn't going to work for me for the next week: only a rather slow Verizon Extended 3G, again. Nonetheless, I signed up to take a tour in Lehman Cave the next morning. I only did the 60 minute tour, but it was definitely worth it: very cool!
Finally, I took off away from Great Basin National Park. I had decided that morning to head towards Idaho. I scoped out multiple options for camping at, and figured I'd hit them up one by one, until one hopefully worked out!
The drive was absolutely beautiful, but I just kept pushing towards Idaho. Through rain, thunderstorms, and beautiful mountain views, it was absolutely incredible.
Arriving in Idaho, I first tried out Goodenough Creek Campground. It was closed! Bummer! Nonetheless, there was some great Verizon LTE and TMobile EDGE, so maybe I'll have to stop there again in the future. It was an absolutely gorgeous area!
I plugged in the next area: Blackrock Canyon. A BLM managed area with possible dispersed camping opportunities. It was only a short drive, and I arrived just before the sun fully set, allowing me to take in the canyon and set up with decent enough light.
Verizon LTE is great here, and TMobile's EDGE also exists, wonderfully. It's a beautiful boondocking spot, even having some vault toilets for extra comfort.
This morning, however, I did wake up to a ton of sheep wandering around. As I made my breakfast, there was even a little mini stampede of them through my camp. It was humorous and interesting! The dogs kept a close eye on me, and a rancher did pass by. Just adds to the interesting that is this spot!