After 2 weeks in Idaho, I finally reached the time to start heading East again. With it being Memorial Day Weekend, I had a whole extra day of travels, so I took my time traversing Wyoming. Discovering wonderful free camping. Crossing the Continental Divide. Stopping at Independence Rock. Camping and getting drunk with locals on the North Platte River. A night at Devils Tower. And driving through the Black Hills to arrive at Badlands National Park. It was a wonderful weekend!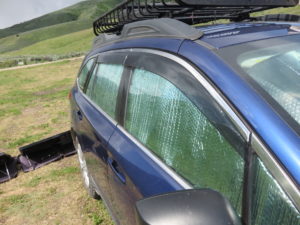 Blackrock Canyon really did turn out to be a wonderful place to stay for 2 weeks. I even stopped into Pocatello to go to the movies and do some shopping. While there, I also stopped into Lowe's to pick up some Reflectix and make some rough sunshades for all of the windows on my car. They turned out wonderful!
One fun thing that also happened at Blackrock: twice, the police came and questioned me a bit. I guess someone called and said I seemed suspicious. The cops didn't really care, but ran my plates and license. One was just in the afternoon, and the second time was about 2am. It was strange, but it didn't really deter me from finishing out the 2 weeks I planned to stay there.
Leaving Idaho
The last Friday, I finally did pack up and head out. I made a couple of quick stops in Pocatello for supplies at WalMart, and then on to Salt Lake City, UT. I found that the REI in Salt Lake City is pretty large, and I enjoyed filling up on supplies while there.
Then, it was on to Wyoming. I had scoped out a nice spot outside of Green River, WY, and wanted to head there for a night. It's a gorgeous drive through canyons and mountains, and I was even more amazed at where I turned off, onto the dirt White Mountain Road. I pulled off onto a spot with amazing views and setup for the night.
The spot was remarkably windy and exposed. But the Verizon LTE signal was strong, and the views just remarkable. Morning came, however, and I packed up to head on out again.
Continental Divide Country
The drive was absolutely gorgeous as I passed along the continental divide for almost the entirety of the day. I was a bit surprised to figure out that I was purposefully driving along a route that I had once happened upon by accident on a road trip, while completely lost and running low on gas. It was a much more relaxing feeling covering this beautiful terrain on purpose, with a full tank of gas! The dead give away that I had been here before: Independence Rock. I recalled stopping here, confused. And I am still confused, a little bit. The significance of this rock: those traveling on the Oregon and California trails would almost assuredly end up at this giant rock on July 4, and they would celebrate Independence Day in its shadow. So, it goes down in history, despite its rather lack of any other significance.
After a little bit of a walk around Independence Rock, taking the only pictures of the beautiful terrain that I got for the whole amazing area, I hit back on the road, headed towards a camping spot on the North Platte River. I arrived there to find some locals had already setup camp. They didn't mind my pulling in for a night, however, and invited me to some games of horseshoes and fireside chatting over some beers. It turned out to be quite a wonderful place to stay for the night!
Waking up from this location, I knew that it was a rather short drive north to Devils Tower, which I had yet to have seen. So, I packed up and headed there. Stopping in Casper, WY for a small supply run, I headed up on some pretty obscure roads through yet more beautiful Wyoming countryside. This time, I saw tons of deer and antelope all over the more flat sections of land, but it was all just gorgeous as I made my way into the Black Hills.
Entering the Black Hills and Devils Tower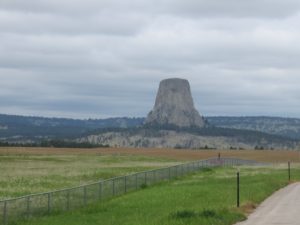 Having never been to Devils Tower before, I was actually really surprised when it came faintly into view as I was enjoying the familiar Black Hills terrain. There is just this huge tower of rock, contrasting all of the land around it from all of the way back there. I was a bit excited, even!
As I pulled into the Monument, I was a bit concerned with just how obviously busy it was. The Sunday afternoon of Memorial Day weekend: of course it was going to be terribly busy! Nonetheless, I drove up to the Visitors Center before deciding to just try out the campground.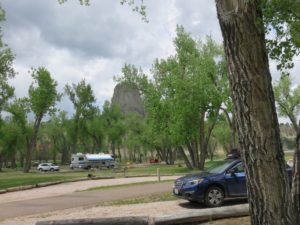 To my surprise, the campground was half empty when I arrived mid-day. I picked a spot that had a slight view of the tower and setup camp.
That afternoon and Monday morning, I enjoyed some leisurely strolls around the monument lands, taking several pictures and enjoying the open space. It is a remarkably interesting place! The best was the Red Beds Trail that I hiked just a short bit of: very few people actually bothered to go on that trail, so I had some wonderful isolation within the business of the park. I did also do the more popular trail around the tower, waiting for morning, before it was busy.
On to South Dakota and Badlands National Park
With Memorial Day set in on Monday, I had to make my way to where I was going to camp for the work week. I had chosen Sage Creek Campground: the first primitive camp I ever stayed at doing this lifestyle!
Leaving Devils Tower, I headed an obscure route into South Dakota, cutting through Black Hills National Forest on US Route 16. This took me through Jewel Cave National Monument, which I didn't stop at or get any pictures of, but I found the drive absolutely amazing! It was so beautiful!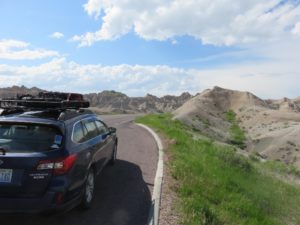 Ending up in Rapid City through that traverse, I jumped on I-90 and headed East towards Badlands National Park. I just had to do the full scenic loop drive through the park, taking pictures the whole way, before jumping onto the dirt roads that led me to the free Sage Creek Campground.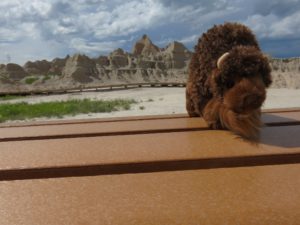 I also stopped at the Visitor Center, where I spotted this lovely stuffed bison sitting on the shelves. I couldn't resist, and Bodi the Bison is now part of the crew on my everlasting adventure!
Appropriately, as I drove onto the dirt road to the campground, I got stopped by a bison, who thought it proper to stop those of us trying to get through! He did move out of the way after a short time, though, so thankfully for that!
Arriving in camp, I had to move fast before a thunderstorm rolled through for about a half hour. Shortly thereafter, a Ranger came through and held a demonstration of spear throwing using an adaladal. It was definitely an adventurous day at the Badlands!
To top it all off, I woke up this morning to a group of 4 bison scarily close to my camp. I didn't realize this until I opened my door, and one of them responded with some annoyance. I ended up having to hide in my car until they passed by. Beautiful, frighteningly large animals!