On Saturday, I decided to head to the Cabrillo National Monument, on the south end of Point Loma in San Diego. Even though I lived in San Diego for many years, I never ended up finding my way down to the national monument, so I was excited to take the time to do so, finally.
The National Monument is only open between 9am and 4:30pm, making it somewhat more difficult than most others to visit. It requires driving through Naval Base Point Loma, but then opens up some lovely views of the ocean and San Diego.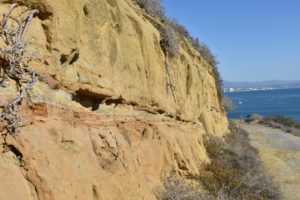 I quickly parked in the parking lot, when I arrived, and began walking around the park. Of course, I jumped onto the longest trail in the park, the Bayside Trail. This trail goes along the Eastern side of the peninsula, through an area of sea-side cliffs and coastal sage scrub, to a lovely viewpoint about 400ft lower. It was a pretty easy hike, but provided some lovely viewpoints and historical interest as the area in which a large searchlight was stationed and operated during World War II, to highlight ships arriving at night.
As I hiked back up the trail, I visited the Point Loma Lighthouse and explored along the top ridge before heading back to the car and heading down to the Western side of the peninsula.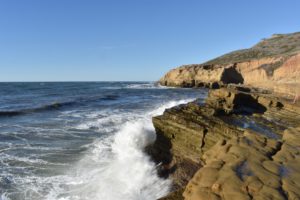 Unfortunately, it was nearly high tide, and rising when I arrived. Looking at the tidal calendars, there wasn't a very good low tide that day anyhow, but this all meant that I was unable to truly visit the tidal pools present on this side of the peninsula. Nonetheless, I explored the area, getting out to walk along the sea-side cliffs and take plenty of pictures.
Cabrillo is just a small monument, but it's quite beautiful. I can finally stop complaining that I haven't made it there!
pictures