As Wednesday was my birthday, I decided to take the day to leave San Diego. As I went, I crossed through the Imperial Dunes area again, being a spot that I previously enjoyed traveling through. I finally ended up at Kofa National Wildlife Refuge south of Quartzsite, Arizona.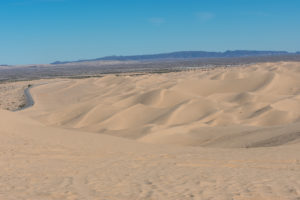 The route through the Imperial Dunes is quite an obvious route, going East on California 78 from the El Centro area. Although the southern part of the dunes are often covered with tracks from OHV users, the north side is a federally designated wilderness and appear spotless. Of course, that also makes them less accessible, as only foot traffic is truly allowed. Nonetheless, I simply stopped at the Hugh T Osborne lookout to enjoy the view, briefly.
Leaving the dunes, I came to remember that heading East on California 78 is remarkably beautiful. Passing through the Chocolate Mountains, with excellent views of the desert wilderness is always a joy.
Eventually, however, I passed into Arizona on I-10, and made my way to Quartzsite. The entire area is full of RVers and felt overwhelmingly busy from the moment that I arrived. I hadn't really decided for sure on where I was going to go to find a campsite, but I quickly decided to head further south towards Kofa National Wildlife Refuge.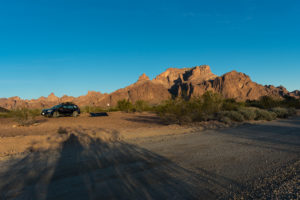 I plugged in GPS coordinates for Palm Canyon and headed down the road there. Even this area proved to have a good number of people in the camping area, but I was able to easily find a spot that works for me and setup camp. The area is very quiet and calm, despite visible neighbors nearby.
pictures