This last weekend, I didn't really have any plans. I started out driving over Independence Pass on Friday but finished back in Leadville for the night. Saturday, I made my way up to Rocky Mountain National Park, where I took Sunday to do one large hike in the Bear Lake region of the park.
independence Pass to Rocky Mountain National Park
After finishing some work on Friday, I hit the road to pass over Independence Pass. It was a fun drive, which I thoroughly enjoyed. However, when I hit I-70, I looked over my options for camp for the night, and just returning back to Leadville seemed the best option. So, on I went, back to the same spot for the night.
On Saturday, I then looked over several more options and decided to go ahead and head towards Winter Park. Once there, I couldn't really find a good, acceptable campsite, so I just decided to go ahead and check out what camping was available inside Rocky Mountain National Park on a first-come first-serve basis. It turns out there is one campground open at this time in the park on such a basis, so on I went.
I quickly and easily found a campsite within the Timber Creek campground. I then looked over my options and decided to go ahead and drive  through the park once each way. I stopped into a Visitor Center on the East side of the park to speak to a ranger about hiking options. I got a few suggestions in the Bear Lake area, so I decided to go ahead and plan on doing that Sunday, after enjoying the drive through the park on Saturday.
Bear Lake Area Hike
On Sunday, I drove back to the East side of the park, arriving at the Bear Lake Trailhead at about 7:30am. I had been given the suggestion of doing a loop incorporating Nymph Lake, Dream Lake, Lake Haiyaha, The Loch, and Mills Lake, and I decided to go ahead and base my day off of this but go ahead and do a much larger hike.
I was hitting the trail by 8am, headed towards Dream Lake. The first stop, of course, was Nymph Lake. A pleasant little lake early on the hike, many people seemed to hike out to here and stop, so I quickly lost a lot of other hikers on the early trail.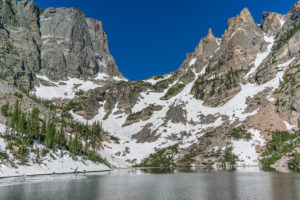 At Dream Lake, as pretty as it was, I made the decision to go forward to Emerald Lake. This would add an extra 1.4 miles total according to NPS maps, but I figured it would be worth it. It certainly did make an absolutely more beautiful stop along the Tyndall Gorge.
Alas, I headed back to Dream Lake and began searching for the trail to Lake Haiyaha. This section began by climbing up a snow covered section of trail, in which I missed a switchback and went on a pretty sketchy ledge. However, I quickly realized what I did wrong and made it back to the appropriate trail unscathed.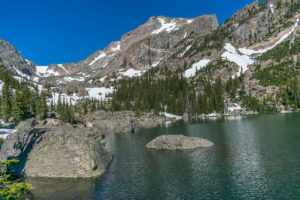 The higher I climbed towards Lake Haiyaha, the more the views seemed to be great until I turned and was nearly at the lake. I ended up doing some scrambling around the boulders at the lake to get different views, and the adventure and views were definitely worth the time and energy.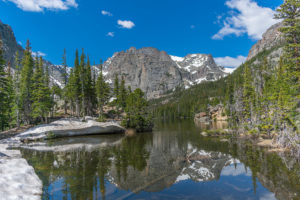 From Lake Haiyaha, heading to The Loch seemed like an obvious enough thing to do yet. A longer section of trail than the previous sections, the views remained gorgeous and the hike quite pleasant. It wasn't even yet noon when I arrived at the shores of the lake.
Several more people had arrived at this lake, including a couple that got engaged right there. It was a fun experience to share on at that point in my hike.
At this point, I made another decision: I would follow a couple of other groups I heard talking up to Sky Pond. I had read nothing about this one and it did seem somewhat intimidating. However, I just made the decision that I could try it, and worst case, turn around. Thankfully, I didn't find the need to turn around at all, but it was quite an adventure!
Shortly after making my  way to the other side of The Loch, more and more snow quickly piled up on the trail, creating more and more of an obstacle, or even hazard. It wasn't long before I found myself having to follow a somewhat sketchy ridge through a large snow field. Which, of course, ended in a waterfall that required scrambling up to get to the top of the trail and the snow fields surrounding.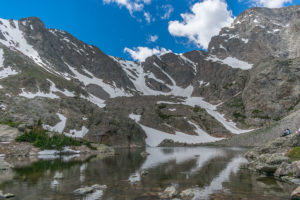 Thankfully, once scrambling up the waterfall was complete, there I stood at Lake of Glass. A beautiful lake, somewhat deceptive if you weren't aware that the trail continued on beyond it. The route to Sky Pond took further walking through snow fields and scrambling through boulders sticking out of active streams. It was an absolute blast, and Sky Pond itself, at the end, was quite a beautiful place to end up at the end. Even the marmots at the top seemed to agree.
On the way down, it was scrambling down the same waterfall and over the same snow fields. However, one of the snowfields that went quite steeply down proved to be a wonderful spot to go "sledding" without a sled. I wiped out pretty hard at the bottom, but it was a blast and certainly not something I expected to be doing in June!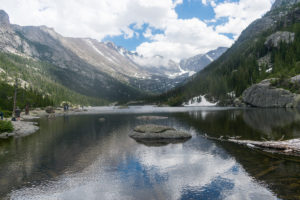 Once back at the bottom, I decided to go ahead and also hit up Mills Lake and complete the full loop. This was a rather easy hike at this point, with only the full mileage of my hike really coming into play finally. It was a worthwhile little stop to finish out the hike and eat a small snack.
Following a loop back meant mostly all downhill before a small uphill right at the end. Alberta Falls was along the way, but I found that area of the trail absolutely packed full of people when I got there, so I didn't stay long at all before hurrying back to the car.
I finished the hike around 3pm and headed out to find a campsite back on the West side of the park again. I found one site just outside of the park, really, which was quite a beautiful spot.
However, on Monday, I needed to do some extra grocery shopping so I ended up finding another boondocking spot outside of Winter Park, CO where I've been spending most of the week. It's a beautiful area, and I look forward to exploring more of Rocky Mountain National Park from here.