Originally I intended to spend a weekend in Yellowstone doing some hiking, but as I had to go find usable internet reception on Friday for work, I gave up and headed to Central Idaho. I found a lovely boondocking site in Sun Valley, allowing 16 days stay. On Sunday, I ended up also going on a hike nearby, to Pioneer Cabin–an historic ski lodge high up in the Pioneer Mountains.
While I quite enjoyed the beginning of my stay at Red Rock Pass in Eastern Idaho, I ended up having a tumultuous relationship with the spot over the course of my week there. By Thursday night, the spot was remarkably busy, starkly contrary to the wide open I had when I first arrived. It became so bad that the internet was nearly unusable, forcing me to take a drive down to a Walmart in Rexburg Friday morning in order to have internet for work.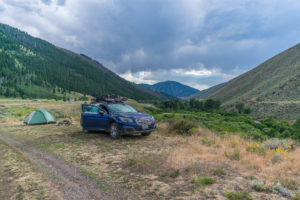 I had originally planned to do a large, difficult hike in Yellowstone this weekend, depending on weather, but while in Rexburg, I decided to say "screw it" and head to somewhere nicer. After a quick stop in Idaho Falls for some quick shopping needs, I looked up a few campsites in Central Idaho and hit the road there. Arriving at my first option, down Trail Creek Road outside of Sun Valley, I immediately found a wonderfully beautiful spot I was happy enough with. TMobile here is surprisingly great and fast, and the views are stunning. I setup and began to prepare to spend the next couple of weeks here.
I ended up spending Saturday in camp, doing a much more thorough cleaning of Tivona than I have done in quite a while. It was nice to just take a day not really doing anything else but some relatively easy housekeeping. As much as I have several projects going and am always trying to train with more and more hiking, it is important to just take an easy day. Maybe "cleaning" isn't such an easy day for most, but it was a wonderfully easy day for me, including drinking a little bit too much IPA, giving myself a hangover Sunday.
Waking up on Sunday, hungover, I didn't really feel like sitting around all day again. I had been staring at some maps, thinking of hiking ideas in the area, and so I just decided to hit up Pioneer Cabin. Some Instagram friends I follow posted some pictures from the hike the day before, and it looked and sounded like a wonderful hike. So, I looked up the trailhead and went for it, getting started at about 9:45am.
At the trailhead, you can go up Long Gulch Trail or Pioneer Cabin Trail. I didn't research this at all, so I just headed up Pioneer Cabin Trail and called it good. Others I spoke with took the Long Gulch Trail up for an extra mile or so and recommended it. I couldn't tell you.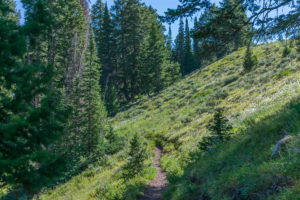 The hike up was a steep 4 mile slog, but the views throughout were absolutely stunning. It began heavily forested, but it opened up to meadows covered in wildflowers and the occasional talus field beside the well developed. And in the open sections, the views across the Idaho mountains were simply stunning. It made the steep, endless switchbacks feel well worth the slog, before I even made it to Pioneer Cabin itself.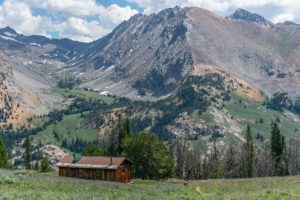 As I came up over one final ridge, the rocky summits of the Pioneer Mountains began to peek over before the cabin itself came into view, revealing the humorous but accurate tag, "THE HIGHER YOU GET, THE HIGHER YOU GET". I checked out inside cabin, enjoying the wonderful "culture" of it, if you will, before going to hang out with other hikers and enjoy an afternoon snack with one hell of a view.
Of course, I couldn't stay too long. Not knowing that Long Gulch Trail was a means to turn this hike into a loop, I just continued back down the way I came, down Pioneer Cabin Trail. After the slog uphill, I felt the steep switchbacks in my bad knee on the way down, which slowed me down from my quicker start, but I still enjoyed the way down. In the forest, some rain came, but nothing worth taking out my poncho. I just hiked through it, arriving back at my car at about 1:30pm, perfect for lunch!
Overall, the hike came out to 8.04 miles with 3031.64ft of elevation gain. Comes out as a "Very Difficult" hike in some ways to measure. It felt like it, given I was hungover for the whole thing! But absolutely worth the views and the entertainment of the cabin itself. Definitely a hike I recommend!