For "Eclipse Weekend", I decided to spend 3 nights and 4 days out backpacking in the Sawtooth Wilderness. I planned out a large loop route that would give me a wonderful view of several sites throughout the wilderness, including a great view for the eclipse itself.
I started out creating several different routes that I could go backpacking through the Sawtooth Wilderness, but I ended up deciding to make an attempt at one particular route. Starting at Redfish Lake, I would hike over to Sawtooth Lake for one night, then to Baron Lakes for another night, and then up and over the Cramer Divide to Edna Lake for the last night before watching the eclipse at Imogene Lake and making way back to Redfish via Hell Roaring Lake.
Day 1 : Redfish to Sawtooth Lake via Alpine Way
Having done all the research, I headed to the Redfish Trailhead early Friday morning. I arrived at the trailhead about 7am, finding that the parking area was already filling up. Thankfully, I snagged one of the few remaining spots and set out on the trail.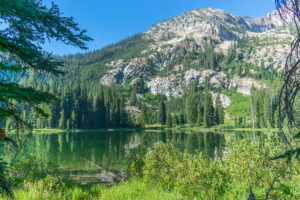 There were plenty of beautiful views along the way to Marshall Lake, my first stop after entering the wilderness, but the trail was largely uneventful. Not too terribly steep, although certainly not flat, I simply enjoyed the route, and enjoyed a quick stop at Marshall Lake itself for my first lake on the trip.
Unfortunately, headed out from Marshall Lake, the Alpine Way trail seemed to nearly vanish in its remarkably unmaintained state. Although I was able to keep picking the trail up again and again, in its hardly even use-trail status, I spent the next several miles navigating over, under, and around downed trees. Ranging from single, small trees to large trees and entire piles of downed trees, it was quite intense. Quite a blast, although difficult and exhausting!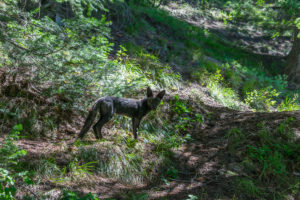 Thankfully, though, as I finally approached the turn off going up towards Goat Lake, the trail suddenly became well maintained and easy to pass once again. I decided not to make the side-trip to Goat Lake, just continuing to pass on to Sawtooth Lake instead. I ran into a black fox along this section of the trail, coming no further than 20ft away from me; it was a beautiful creature that absolutely captivated me for a moment on the trail. Of course, these particular foxes have a superstition: anyone who crosses paths with one in the wild doubtlessly has misfortune coming their way…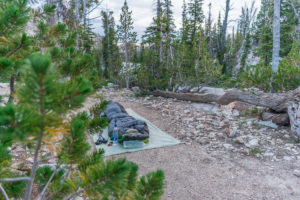 Finally, to finish the day, I made the climb up to Sawtooth Lake. This was the most steep part of the day, and I was already quite tired. But the easy to traverse trail was still welcome, and the views absolutely rewarding. Arriving at Sawtooth Lake, I wandered around a bit before settling on a campsite and turning in for the night.
Day 2 : Sawtooth Lake to Baron Lakes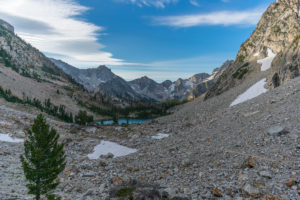 Waking up Saturday morning, I packed up camp and hit the trail early. Stopping to enjoy the lake and nearby ponds at sunrise, the view as I crested beyond and began my descent down into the canyons was absolutely stunning. Another couple of small, unnamed lakes lied along the way, with towering mountains beyond lingering over them.
It was also here that I ran into a couple of other early risers who stopped to warn me that the trail descending down would be a rough one: another trail that hadn't been maintained actively in years and was covered in down trees. Fun! And sure enough, before long, they were absolutely right.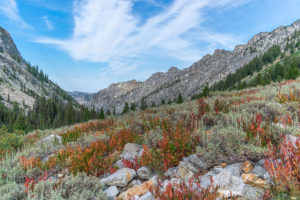 Thankfully, this route down was a little bit more obvious, and there wasn't quite as much devastating trees downed, blocking the way. But it sure felt an awful lot like a bushwhack at time. There was a cool waterfall crossing that I enjoyed, and a cold creek crossing towards the end. The views, when I wasn't pushing through thick bush going well overhead, were quite impressive, and I stopped to warn other hikers just beginning the way up before continuing on.
Thankfully, once I arrived on the main Baron Creek trail, the trail was significantly easier. Somewhat steep at the end, and a constant uphill climb before that, there still wasn't any kind of bushwhacking. And the views were again, quite beautiful. I began to run into a lot more hikers, and even a horse train making their way down the mountains.
Alas, I finally arrived at Baron Lakes around 4:30 and decided to call it for the night. I set up camp and made dinner. A neighboring group of gentlemen from Wisconsin invited me over and shared their whiskey over hiking tales and generally "shooting the shit".
Day 3 : Baron Lakes to … Cramer Lakes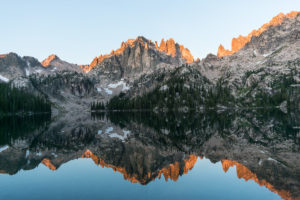 Waking up Sunday morning, I packed up and hit the trail early in the morning once again. I had to stop and take in the view of Baron Lake in the process, as the mountains towering behind it were crowned with a golden glow. The water, itself, was absolutely still and reflected the view in a nearly perfect image. It was one of the most stunning mountain lake views I've ever seen.
Alas, I headed out, climbing up the Baron Divide. It was a pretty easy climb so early in the morning, with noone else really out yet. I enjoyed the expansive views on both sides as I crested and began my way down. I ended up deciding not to really stop at any of the unnamed lakes on the South side of the divide, just pushing on through towards the bottom and up to Cramer Lakes.
Before long, I reached the junction and began seeing a lot more hikers. I made a quick creek crossing through very cold water and continued the climb up towards Cramer Lakes.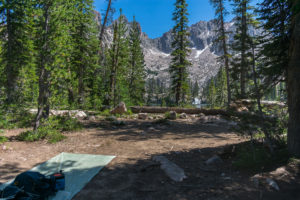 Originally, the plan was to make it up and over the Cramer Divide, to Edna Lakes. This is what I put on the itinerary I had sent my parents before I left on the trip, and Edna Lake was the destination I placed on my wilderness permit. Unfortunately, as I arrived near the lowest of the Cramer Lakes, I began to have a sharp, shooting pain in my right ankle. I stopped briefly and adjusted my socks and shoes, trying to stretch out the ankle, before deciding to start making an attempt up the Cramer Divide. I barely made it to the end of the upper Cramer Lake before deciding this wasn't going to work and turned back to setup a pretty great campsite for the night.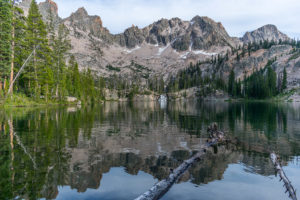 Any injury isn't something I like to play around with. After hurting my knee quite badly about a year and a half ago, I know to take these kinds of sharp, shooting pains seriously. Although it was only about 1 in the afternoon, I took the entire afternoon to just relax. A neighboring group of campers gave me some help, noting that they had someone in their party who had to go back after his own injury the same day. It was not a good day to be out on the trails, apparently!
Day 4 : Eclipse Atop Cramer Divide, Finish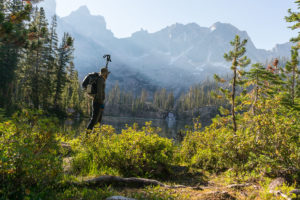 Finally, waking up Monday morning, I walked around camp for a bit, trying out bearing weight on my pained ankle and stretching it out pretty good. I mostly felt fine, so I decided to pack up and try the same with my pack on for a while. It didn't feel great with the extra weight, but I began to think that even if I took my time doing so, I could make it up to Cramer Divide for the eclipse. So, on I went.
Early on, the sharp, shooting pain did come and go a little bit. But it was never quite as bad as the day before, and simply slowing down, stopping for a minute if need be, and trying to adjust my stride minimally all seemed to allow me to push through it without any injury. And I'm certainly glad!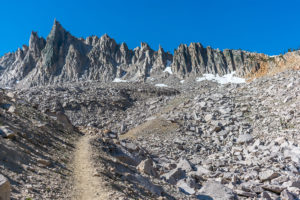 The route up to the Cramer Divide is absolutely stunning. Walking through screen and talus, and even a snow field or two, staring at an unnamed heart shaped lake, and enjoying the views all around. I felt vindicated in the idea to make the journey for the eclipse. Just the hike alone felt absolutely worth my time.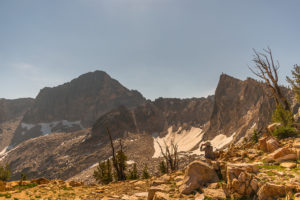 And as I arrived at the divide and stepped off the trail around a mixed group of other hikers, I was assured that it absolutely was worth the effort! I had begun to notice the light getting somewhat strange, and the colors becoming somewhat more golden and vivid, just as I finished the trek up. Standing still, they started to get darker and just absolutely weird. One of the weirdest things I've ever witnessed, to be totally honest. But absolutely gorgeous in its own way.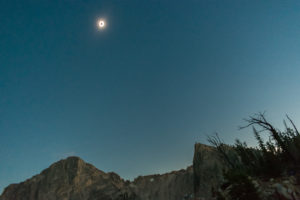 And before too long, the moon crossed over the sun, and the eclipse entered totality. The sky darkened. One bright star became visible, just over a jet flying through the sky. A rockslide that we heard start just before totality began came to an end. The temperature dropped, and my camera's auto-focus failed to work in the dark conditions. It seemed to last longer than it was, and yet be over in an instant. I was overcome with surprising emotion.
And then it was just over. That weird lighting and all of the weird colors that came with it lingered for a little while again. I didn't put my sunglasses back on until I suddenly realized it was quite bright without them again. The group of strangers I had the experience with broke out some bourbon and celebrated together, somehow uniquely bonded by the experience. But then it was just over. The day returned to just another normal day on the mountain, and I began my descent down. Back the way I came. Just like any other day. Just normal again.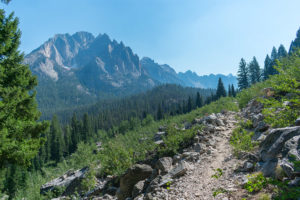 The descent was rather uneventful. I ran into the group from Wisconsin I had hung out with a couple nights before along the way, along with several other hikers and backpackers hitting the trail further for the day. For me, it was just a relatively easy, mostly downhill trek to the West end of Redfish Lake.
I hopped aboard a shuttle boat across the lake and stopped in at the bar for a quick, cold beer as I called my parents and let them know I had successfully made it across.
Thankfully, I had booked a hotel room for the week already, so I hopped into the car and drove to Boise, checking in and getting a wonderful feeling shower before turning into the far too comfortable bed.