With several weeks of hiking and backpacking over, I headed into Bend, OR to rest for a couple of weeks. But I couldn't stay resting for too long, so I headed down to Northern California, and ended up at Lassen Volcanic National Park this weekend. I ended up hiking up Lassen Peak on Saturday and Cinder Cone on Sunday before finding camp nearby for the week.
It had been about 6 straight weeks of remarkably difficult hiking/backpacking in Central Idaho, and following a pretty difficult string in Colorado. With blisters developed on my feet and tendonitis bothering me something special, I decided to take at least one weekend off and drive over to Bend, Oregon.
After one simple week relaxing in Bend, I stopped by Newberry National Volcanic Monument for a brief visit, but I didn't do anything significantly new or strenuous in the process. As such, I spent a couple of weeks just relaxing around Bend before deciding to move South, into California.
On Friday afternoon, I drove down to Lava Beds National Monument, where I stayed at the campground there for one night. Saturday, I then drove down to Lassen Volcanic National Park, where I decided to immediately go on a hike.
Lassen Peak
Parking at the trailhead in the early afternoon, I put together my waistpack and headed up the trail. It's a pretty steep 2.5 miles straight up the mountain, climbing about 2000 feet in the process. And then of course dropping the same back to the trailhead.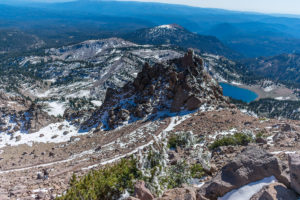 Already at the start, it was clear that this hike was going to be through snow pretty much the entire way. A few days before, some storms came through and dropped plenty of snow. As I climbed up the switchbacks, there were some small areas of ice along the trail, with even more present off of the trail itself.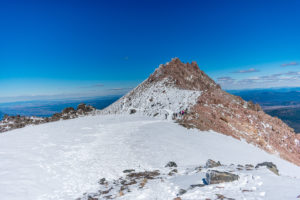 Although difficult, it's a pretty straightforward hike up the mountain. There is something of a false summit near the top, where it almost seems like a place to stop and turn around in its own right. And on this day, this spot was absolutely covered in snow. But the path forward was quite well worn and obvious from those who had come before me.
It was a little sketchy going this last section, but overall not too bad. With plenty of other people present on the trail, I felt safe enough making it to the true summit of the mountain before turning around.
Oddly, the wind was actually worse going up and down the mountain, and the summit was quite nice. Either way, I wore nothing but my usual merino wool half-zip baselayer, so it was cold at the summit and the winds going up and down were awful. I still enjoyed the hike quite a bit and was glad to do it before finding camp nearby.
Cinder Cone
On Sunday, I decided to head over to Butte Lake area for an easier hike up Cinder Cone.
Cinder Cone is a cinder cone volcano. Real original. The cone formed during two eruptions in the 1650s or so, and has multiple lava flows surrounding it. Included in these lava flows is the Painted Dunes, which are dunes formed from pumice ash falling on still hot lava flow and oxidizing, creating some cool colors.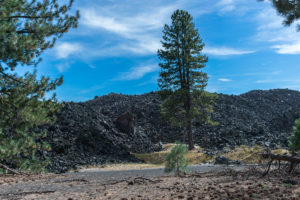 I started off at the trailhead in the early afternoon and headed straight out from Butte Lake. The trail is mostly on a field of cinder, with the Fantastic Lava Beds lava flow visible along much of it before it finally arrives at Cinder Cone. It's actually a pretty remarkable trail in its own right for the interesting volcanic landscape.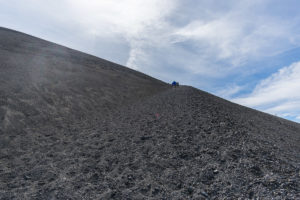 Alas, climbing the steep way up Cinder Cone was significantly more difficult than numbers will show. Although short, it was remarkably steep, and walking up the steep trail made entirely of cinder required far more energy than other trails. Each step felt like using the energy of two steps on many other trails. Thankfully, it was short, but it took some stopping to catch my breath a few times at my usual, kinda fast pace.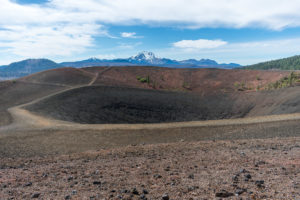 Alas, I made it to the top and walked around a bit. The view of the crater itself is quite interesting, especially with mountains such as Lassen Peak visible towering above it. And from the edge, the views of Fantastic Lava Beds, the Painted Dunes, and many other interesting views were absolutely amazing.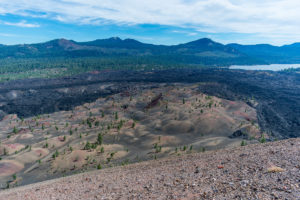 After wandering along the top for a while, I decided to drop down the opposite side from which I climbed, down into the Painted Dunes themselves. This is also the side in which you can see an earlier, now buried cinder cone sticking out of the side of the newer, larger cinder cone. Cinder Cone really is quite interesting.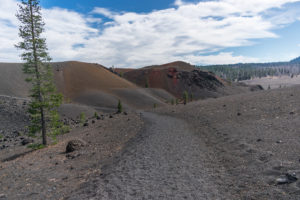 Reaching the bottom of Cinder Cone, itself, I followed the trail as it wrapped through the Painted Dunes and back to the junction to where I climbed up. This section was actually amazingly fascinating. The lava flows and the different colored dunes of pumice were mixed in with lava bombs and other cool features. I really enjoyed it!
Alas, I got back to the trailhead and headed out. The total hike I completed was 5.12 miles with about 1240ft of elevation gain. A little bit challenging of a hike, but not too bad, and totally worth it!