This weekend, I decided to continue hanging out around Bishop and head up into the White Mountains once again. This time, however, I would do the hike to summit White Mountain, itself. At 14,252ft, it is the first ever "14'er" that I have hiked up.
White Mountain is the largest mountain of the White Mountains and third tallest peak in California. It is also one of only 2 California 14'ers that are not in the Sierras (the other being Mt Shasta in the Cascades). While the White Mountains have a lot of bristlecones living among the white dolomite, White Mountain itself is actually a really colorful peak that is basically barren for the entire duration of the hike. It's actually an extinct volcano rising above the broad plateau of the White Mountains, and its colorful appearance comes from its past as a volcano. Pretty cool stuff!
Having done my research, I decided to do this hike on Sunday. Weather forecast promised a somewhat warmer, less windy day on Sunday, and it gave me a chance to prep on Saturday. But waking up at about 6am on Sunday, I packed up and drove up the White Mountains. It's a fun drive just to Schulman Grove along paved route, but the road becomes somewhat treacherous gravel for the next hour to the trailhead. I read plenty of warnings of people slashing their tires and the tow costing over $1000. Thankfully, nothing of the sort happened to me, but it's worth noting.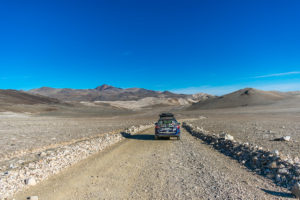 I ended up reaching the trailhead shortly after 9am and hit the trail. The trailhead is actually just where the dirt road is gated off and a pit toilet has been installed. At just under 12,000ft, it's already quite high, though. From here, it's a simple, straightforward path up the mountain: Follow the road. The entire trail is basically a jeep trail all of the way to to the summit. Technically easy hiking, but at the altitude and length of this hike, difficult anyway.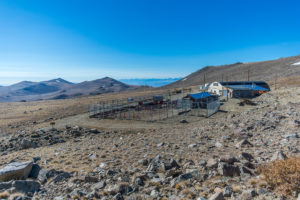 There's several cool things along the way, however. After a short climb in the first 2 miles, I reached the University of California research station. They study things like the effects of high altitude on physiology. Along the way, I saw the sheep they use for these studies as I continued climbing thereafter. There's all kinds of observatory and other scientific devices up there. It's pretty cool.
But after this, it's just a slog of up and down for a while. Finally reaching the White Mountain Wilderness sign while walking through the long alpine plateau felt like a sort of accomplishment, but it wasn't really until here that the climb really began. After a short climb just above 13,000ft for the first time, the trail dips steeply downhill before the final 2 mile, brutal ascent.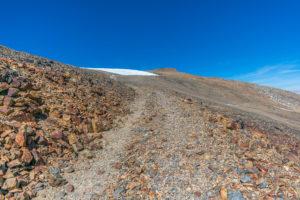 As it is effectively a dirt road you're following, the last couple of miles get to be a lot more talus and rock. But worse, even with the switchbacks of it, it's steep. And at high enough altitude, the breathing is difficult. It was in this area I started feeling a slight amount of nausea, too. Nonetheless, the views were worth it, and I didn't feel bad enough to turn around before finally reaching the summit.
Around this area, I ended up meeting and talking with a fellow solo hiker, Frank, who was climbing this for his 60th birthday. At the summit, we hung out and chatted, taking in the absolutely amazing views and catching our breaths.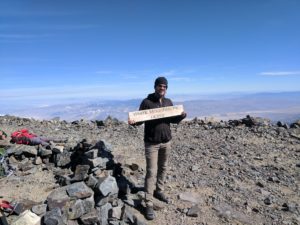 The summit is just something else on this one. With views in every direction, it has a clear "top of the world" feeling to it that was inescapable. A sign to hold and take pictures was lying on one of the rock walls built to block the intense wind that hits this summit. I found myself not really having any appetite to eat at this point, despite the tough climb up, but I enjoyed hanging out and not sucking for oxygen before heading down.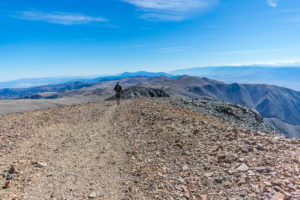 Of course, once down the initial, steep section again, the trail becomes up and down once again. And still at high altitude, some of these new uphills on the return journey felt absolutely torturous. Thankfully, Frank and I pretty much stuck together chatting the whole way, making the torture feel a little less monotonous, at least.
Nonetheless, reaching the car was a momentous feeling. Having started just after 9am, I finished just before 5pm. About 8 hours to hike a total of 15.41 miles and 4100ft of cumulative gain. (Note: my numbers will always be slightly higher than "official", because I wander around on the trail a good amount.)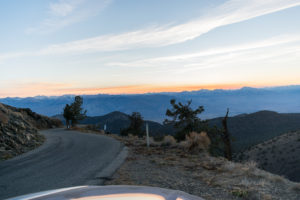 As I drove back down the mountains, the sun set behind the Sierras, creating an absolutely wonderful driving experience. Although this resulted in driving at night back to Bishop, it was an amazing way to top off the adventurous day. As I stared at this, I also decided that one thing definitely sounded amazing: a hotel. I quickly opened my phone at a spot that I had some reception and booked a room for the night.
This is a really cool hike. Although many people say it is "Easy" for a 14'er (perhaps California's easiest), this mileage and elevation change is difficult regardless of the addition of the altitude. It is easy hiking as a very easy class 1 the whole way, but don't let that deceive you: it's a tough, long hike! Definitely worth doing, though!