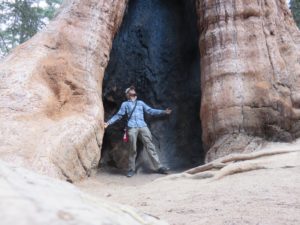 My name is Derek Honeycutt. I've always had a certain love for adventure and the outdoors. In 2010, I went on my first solo road trip, going from San Diego to South Dakota, to Wisconsin, and then back to San Diego via a separate route. Along the way, I saw an incredible amount of the great opportunities for adventure that the United States offers in way of public lands. A great desire to continue the adventure was awoken inside of me. Three grand, solo road trips later, my desire for adventure burned. I had often gone hiking through local sections of San Diego already at that point, and soon found myself branching out further.
After hiking the Grand Canyon Rim to River and Back in July 2014, I wrote of my experience on social media, to share with my friends and family and found that I thoroughly enjoyed writing about my experiences. Although the occasional experience transcends words, such as my Pacific Crest Trail Section A hike in August 2014, most adventure experiences seemed to only get better after writing about them and sharing it with others to enjoy as well.
At the end of May, 2015, after much preparation, I set out full time to living out of my new, 2015 Subaru Outback, Tivona. I now blog my own experiences so that I can actually remember the places I've been and the things I've seen, and for anyone else who may enjoy living vicariously through me.
Working full time as a Software Developer for a large corporation, I have always also found myself entranced by the Open Source and Free Software movements. Through this and my own experience struggling with managing the sharing of poetry that I write, I became introduced to the idea of declaring my work into the public domain. After much research and thought, I decided this was ideal for me. As such, I have chosen to declare all of my own work on this blog into the public domain.