I was really sad to be leaving the Pole Mountain camp, but I had a plan and wanted to try to stick to it to the best of my ability. So, I set off for Willow Springs campground in BLM land just outside of Moab, Utah and Arches National Park.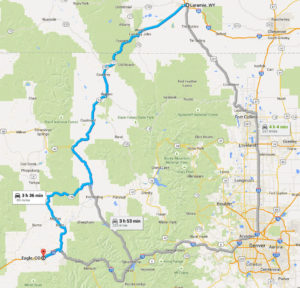 After filling up on gas in Laramie, WY, I followed the path to Eagle, CO. I had no idea the beauty that I was encountering there even existed. I followed mostly state routes through Medicine Bow, Routt, and Arapaho National Forests, going over the Gore Pass in Colorado. The second I entered the section of Medicine Bow National Forest after Laramie, I was struck with awe. The scenery was absolutely stunning, and kept getting better. I drove straight for 2 hours and 41 minutes to get to Eagle, CO (less than Google Maps suggests, actually), where I would then follow I-70 for a ways again. Those 2 hours and 41 minutes were mostly spent utterly speechless.
Worth mentioning the exact route I took: from Laramie, I jumped onto WY-230 W, which turns into CO-127 S before becoming CO-125 S. I followed that route until I turned right onto CO-14 W just passed Walden, CO. I followed CO-14 W to turn left on US-40 E. Following that down, I turned right onto CO-134 W, and after a while a sharp left onto CO-131 S. That took me into Wolcott, CO, where I jumped onto I-70 for the majority of the ride. That is probably the most amazing driving route I have done to date, and I highly recommend it! You can also follow it up by continuing West on I-70, which is also another one of my most favorite, beautiful drives in the country.
Following my GPS into Utah, it actually directed me down a wrong path onto some private property, so I had to turn around on some rough terrain and find my way back to the correct road for the campgrounds. No problem for Tivona, but it was a headache I didn't anticipate.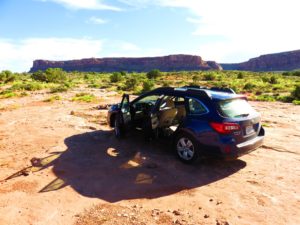 Finally, pulling in, I stopped at one early site and enjoyed the beautiful scenery. It was particularly hot outside there already, but I really love the desert scenery that Utah has to offer around those parts. After getting out and scoping the campgrounds for a bit, however, I moved down to a different site where I would spend the first night.
I was excited to be able to use my Biolite finally, after all of these campgrounds that would not allow it, so I set a fire that first night with twigs I found lying around on the ground. It was a nice fire that lasted for a while out of the stove, and then I packed in for the night.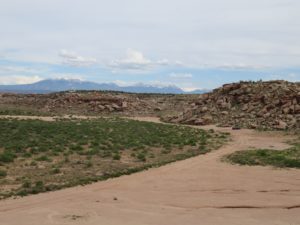 The next day did get brutally hot while working on my laptop all morning and early afternoon. Eventually, I had to make a run into town to buy something cold to drink; actually, I just stopped at a nearby gas station outside of town! Upon returning, I decided to head further into the campground and get a different spot. I picked out a good spot along one of the hills and did some hiking around the area, enjoying the views.
That night, I found some firewood people had left behind and decided to try and start a fire. The firewood was total crap and didn't burn worth a damn, but it occupied me all night and was rather fun trying to get it going anyway before finally calling it a night, putting the small fire I did achieve out, and heading to bed.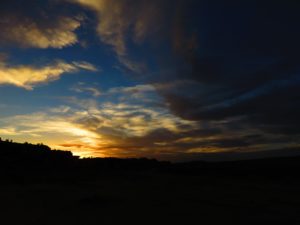 I was jostled from my sleep at about 4:00 AM by a pretty crazy thunderstorm rolling through the camp. Rain was falling moderately, and I watched as lightning was striking all around me, a couple of times striking the ground a few yards from my car! It was awfully exciting for 4:30am, but I also found myself feeling somewhat sick as the heat from the day before and overnight set in. I was already thinking of moving to a different spot because of the heat, and all of this excitement and feeling heat illness setting in, I decided it was time to do exactly that.
I tore down all of my camp and headed on to the next spot.
This is a place that is absolutely stunning, and I would definitely love to return. There was some good Verizon 4G signal there, although occasionally temperamental at spots. In the summer is probably a terrible time to do it. Only other downsides I could say of the place is the number of people rolling through with ATVs and dirtbikes, which isn't so bad, but it does get noisy. Speaking of noise, someone was running a gas generator a lot there, which got on my nerves. I don't like that sound deafening the beautiful nature I was in, and is a big reason I went so overboard on my solar panels–so I wouldn't ever have to rely on that noise-making nonsense. Oh well.
Here's some more pictures: