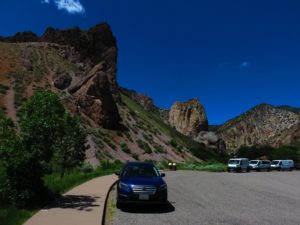 I don't much like leaving a camp spot early and putting off work onto the weekends, but Willow Springs was just too much for me to stay! Packing up, I headed back up to I-70, where I headed west through the San Rafael Swell and Fishlake National Forest. I absolutely love that drive–one of my favorites. I pulled off onto US-89, which I found to be an absolutely stunning drive as well!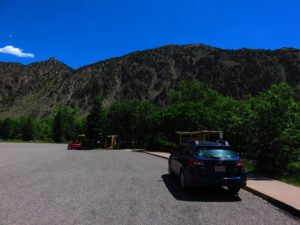 It only took about four and a half hours from Willow Springs to reach my new camp spot: Cabin Hollow, in Dixie National Forest, just north of Bryce Canyon National Park. Entering Dixie National Forest was an absolutely amazing drive. I will have to go back and take more pictures of that drive in itself!
However, it only got better as I turned off into the Cabin Hollow area to find my campsite. There is a trailer setup nearby, but the people are friendly and have a friendly dog–almost as friendly as George (I haven't introduced the two to each other yet).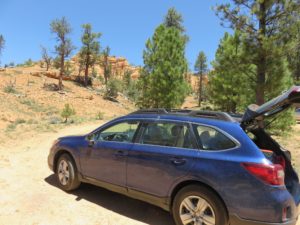 The spot here is absolutely amazing! It is set to be in the 80s for my duration at this spot, but there is plenty of shade from the trees all over the campsite. To add to that, the Verizon 4G is probably the strongest I've gotten from any campsite yet, making the move well worth it from a work perspective.
Some of the shade will cover up my solar panels at times during the day, but that is okay–there's a good reason I went with such high quality, over the top solar panels for my needs, after all. This spot will seem very cool compared to the spot I just left!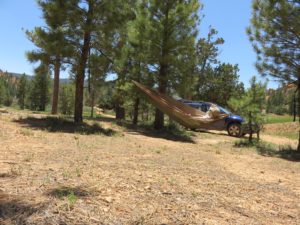 Along with the shades, the trees also provide my first chance to setup my hammock! I have been wanting to set it up and spend some time in it, but none of the spots I have visited gave ample space for it. Here, it's perfect!
AND THE VIEW!