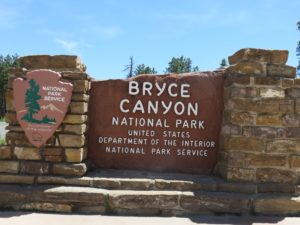 Camping out in the Cabin Hollow area of Dixie National Forest, I'm very short drive away from Bryce Canyon National Park. I've never had the pleasure of visiting this national park before, so today, I decided to drop in and check it out!
Upon entering the area, I drove all the way down to the end of the road, at Rainbow Point. From there, I hung out for a bit and decided to go on a hike. I unintentionally ended up completing the Riggs Spring Loop Trail, an 8.8 mile trail that descends 1675 feet to the valley below the cliffs.
I quite on purpose was mostly barefoot for most of the hike–wearing only my REI wool socks! The only picture I have that would show this, unfortunately, was during one of the very few points I did decide to wear my shoes, as they were getting occasionally sore walking over all of the sharp, jagged rocks and prickly pine needles all over the floor of the trail.
I only had my camera bag and 2 liters of water, I can say that it was definitely a very intense hike! I have not done a hike that intense in a while now, so it was refreshing. And the scenery was absolutely beautiful!
Below are the pictures I snapped in this process!