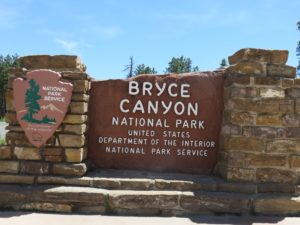 After hiking 8.8 miles and doing a little bit of driving around Bryce National park yesterday, I left knowing that I was going to go back today and see more. That's exactly what I did!
Since I saw most of the stops and such after Bryce Point (going in) yesterday, I decided to start the day off right there. In actuality, I found that I missed Paria View, which was my first stop before then continuing on to Bryce Point.
At Bryce Point, I saw the 5.5 mile trail that went down and around Peek-a-boo Loop Trail (and back up again at the end). I immediately decided to do exactly that, and set off on my way! As if I didn't fall in love with the park yesterday, this hike really made me fall in love!
After completing that hike, I continued on to Inspiration point and then Sunset Point, via driving each time. At Sunset Point, I decided another hike was in order! I set off on a 3+ mile hike, heading towards Sunrise Point (the next viewpoint) on the Rim Trail, then going down to Queen's Garden, and from there, taking a connecting route to the Navajo Loop trail. I decided to take the longer of the 2 sides of the Navajo Loop trail back towards Sunset Point, which took me through Wall Street, as it's called. I really fell in love with this park on that hike. Almost back to Sunset Point, I did hike a short ways down the other side of the Navajo Loop trail as well, past Thor's Hammer, before heading up to Sunset Point again and continuing on.
I made a quick additional stop at Fairyland Point, which is the starting and ending spot of another 8 mile hike I would love to do (but alas, I did not… yet!), before heading out to the Mossy Cave trail. The NPS states this is a 0.9 mile hike to see the "cave" (I was not that impressed) and the waterfall nearby it. I hiked down to the waterfall bottom and jumped right in! The water was pouring fast and hard, and it knocked me straight on my ass, knocking the wind out of me in the process! I should have known that would happen, thinking back, but nonetheless, it felt amazing, and I got a quick, good shower in the process!
Here's the pictures that I took today (Note: there's 125 of them here!):