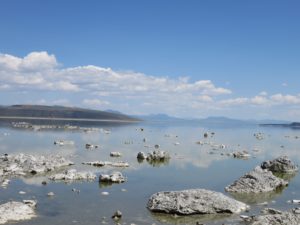 After staying in the wonderful area of Inyo National Forest for a week, visiting all of the alien planets of volcanic activity in the area, I hadn't quite had enough. I decided to visit Mono Lake and the nearby Panum Crater before heading up to a new camping location I scoped out in the Lake Tahoe area.

I had been staying at the Lower Deadman Campground in Inyo National Forest for a short time before moving to a boondocking spot nearby that I scoped out. It was a wonderful return to boondocking, and I was happy about it. However, after visiting all of these alien planets in the area, I decided to go ahead and drop into Mono Lake for a visit. I had read that more volcanic craters also existed around that area, and sure enough, but Mono Lake and the Tufa would be my primary goal.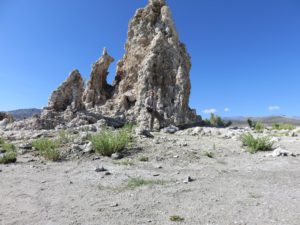 To the first goal: the South Tufa of Mono Lake. There is a quaint hiking trail through the area, with wonderful views of the lake and the Tufa surrounding all over. Plaques placed throughout the trail also give wonderful insight into the human damage that has been done to Mono Lake in very recent times; the water was once much higher, and all of the Tufa were once completely submerged in the lake. In much older times, Mono Lake actually filled most of the basin in the area and drained out. Due to some natural causes, the lake has ended up lower, without any proper drainage except for evaporation. However, humans in recent times have drained the water far more than any water goes into it. We are lucky to have had people over the years who fought to protect the lake. It now sits as one of the saltiest and most alkaline lakes in the world; it is, in fact, a sister lake to the Great Salt Lake of Utah!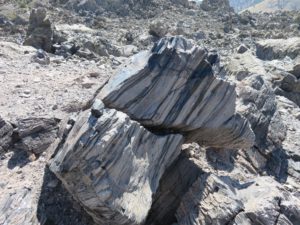 Viewing the Tufa was really awesome, but I then decided to move on to visit the Panum Crater. This was formed by a volcanic steam explosion, and then, as the volcano underneath continued to erupt, a large dome of primarly pumice and obsidian rock formed within the center of the crater. As I hiked through, I caught up to a free tour being given of the volcano, and so I was able to learn many interesting things about it and even get to handle some Pele's Tears rocks (obsidian that was formed from lava being thrown into the air and cooling before it hit the ground!) and other cool features and rocks that can be found around the volcano.
Following my visit to the volcano, I continued to visit some more of Mono Lake, catching some really awesome views. However, I then decided to take a scenic route up to Lake Tahoe. I actually drove through some very recent burn scars–in fact, these burn scars are from fires I have been recently watching for my own safety! No fires were still active in the areas I drove through, but the area was absolutely gorgeous. Even the burn scarred areas had a very eerie beauty to them.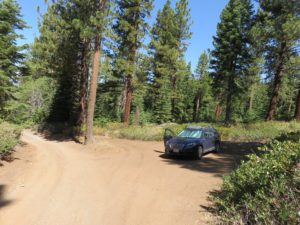 I've really fallen in love with the Sierras recently, and I'm a little saddened to say that I will soon be leaving them, heading into the Cascades instead. Nonetheless, I will enjoy my time here at Lake Tahoe, in this free boondocking spot I scoped out! I hope to have some adventures around this area, and then move on to the Cascades.