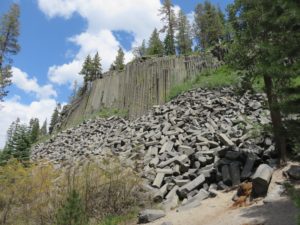 I decided I haven't had enough of the alien worlds, so I decided to go ahead and head over to Devils Postpile National Monument. In the meantime, I stumbled across a "Earthquake Fault" which is actually a volcanic fissure near the area. All of this area is full of prior volcanic activity, making all sorts of interesting worlds. To add to this, I hiked through parts of the Pacific Crest Trail and John Muir Trail in the process!

After finishing work Friday, I knew that I wanted to go visit Devils Postpile National Monument. It looked like a cool thing, so I was excited. I learned that you have to park and take a shuttle down in, which was fine, although I wasn't exactly excited to pay for the shuttle.
Nonetheless, the shuttle took me down to Devils Postpile, where I hopped onto a trail following along the PCT and JMT for parts. Some of the spurs off of this took me through the most iconic sections of Devils Postpile, with the large, interesting shaped posts. This area was really cool, but I decided that I hadn't had enough yet.
I continued following the trail over to Rainbow Falls, another couple of miles along the trail, dropping into the Ansel Adams Wilderness before returning back to Devils Postpile, where the falls are located. This included a walk through a large burn scar–quite an alien world of its own!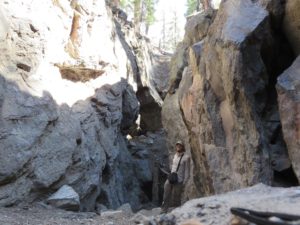 Rainbow Falls was pretty cool, but I decided to go ahead and head back to get picked up by the shuttle and return to my car. Once back to the car, I also decided to pass by an "Earthquake Fault" that I saw on the way, marked by Inyo National Forest. In reality, the "fault" is a volcanic fissure, which is actually even more interesting, to me! I hung out there for a while, and then headed off.
This lifestyle has some really interesting times! Hanging out around a range of volcanic activity makes this ever the more interesting to me!