On Friday, I decided it was time to head on out of Lake Tahoe, and I moved over to Sacramento for a night before continuing on to Lassen National Forest. I had a wonderful time visiting in Sacramento, and am excited about my new spot in Lassen. I also visited Lassen Volcanic National Park, which I fell in love with again, despite it's ominous naming of Bumpass's Hell.
As beautiful as Lake Tahoe was, it was time for me to go on Friday. I was getting sick of the black dust from the burn scar, and quite frankly, the lights washed out more stars than many places I stay, and there was considerably more noise than anywhere I had stayed in quite a while. Despite all of its beauties, I was ready to leave Tahoe and head on out.
I had arranged to meet a friend living in Sacramento, so I began with that plan. I stayed with him that night, and we did some urban camping in our hammocks, underneath a bridge. It was a fun experience, both experiencing Sacramento and the urban camping that is not my usual.
While in Sacramento, I also stopped in the local REI there, where I made some trades. My original air mattress had broken long before REI's return policy was up, and frankly speaking, I have found my mosquito net and Biolite stove to not be worth carrying around. The space all of those have been taking up has been seriously bothering me, and I was still comfortably in the window to return them to REI, where I had bought them. So, I dropped in, returned those items, and bought a bunch of new stuff that will actually see use, for right around the same total cost. It was a wonderful trade, and my car feels considerably more free now!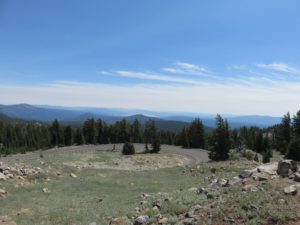 Once my business was done in Sacramento, I headed up I-5 towards Lassen. I quickly realized that I was most definitely further north in California than I had ever been in the past. This was exciting, as I entered new territory. To my East, I watched the Sierra Nevada disappear and the Cascades begin as I headed into Lassen National Forest.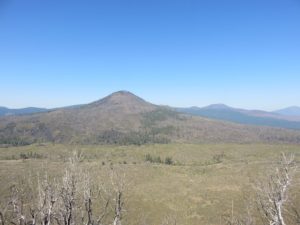 I scoped out this awesome spot next to a scenic overlook in Lassen. The PCT actually comes through here, and this is a spot that caters to them very nicely, with a comfortable spot to setup camp for a night. It's also a wonderful spot for me to set up camp and boondock for a bit!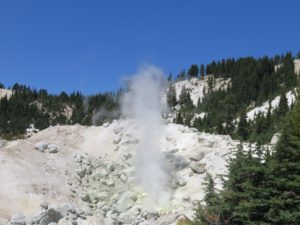 After my first night here, it was still only Sunday today. So, I woke up early and headed to Lassen Volcanic National Park. I drove North to South first, making a few stops at places like the Devastation Area (which was obliterated by a May 1915 volcanic eruption!), King's Creek Falls, and near Lassen Peak all the way to Sulfur Works, where I got my first taste of the sulfur-rich smelling mudpots. The smell was pretty bad there, but as I turned around and headed North again, I made a stop at Bumpass's Hell. It was like another alien planet of volcanic activity, with blue hot springs, black hot springs (the water being covered with a film of pyrite–fool's gold!), and sulfuric gasses spouting out of the ground all over. I really enjoyed it, but it was really a contrast from the heavenly setting of the King's Creek Falls and some of the lakes, to the hell-ish setting I had descended into there.
After exploring enough, it was definitely time to return to camp, where I will be for the next week or so. With only one day of the National Park gone, I'm still looking at the map, thinking that I am so close, it would be silly not to return and see more! Nonetheless, I also have the PCT section running through to explore, and other fun things; not to mention the work I must get done this week!