On Friday, I left my spot in Lassen National Forest and headed on to Redding, before making my way up towards Lava Beds National Monument. On Saturday, I continued through Lava Beds National Monument, into Oregon. After another drive through Cascade-Siskiyou National Monument and a stop in Medford, I continued on to a spot I scoped out in Fremont-Winema National Forest. Sunday, I also took a stop into Crater Lake National Park, returning to the camp in Fremont-Winema. It's been an eventful weekend!
I was really enjoying my time in Lassen, actually. I had some neighbors at times, and PCT hikers came through to provide even more brief company, but I also had plenty of alone time. The week there finished as smoke from recent wildfires came through, covering everything in a fire-smelling haze. Alas, it was time to go, not because of any of the negatives, but just because I have plans to finish out this season!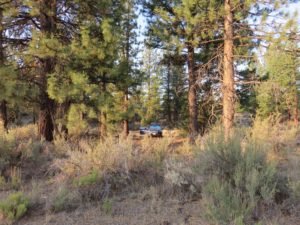 I stopped into Redding to get needed supplies–primarily food–before heading up into Modoc National Forest. I had scoped out a spot just south of Lava Beds National Monument to stay just one night. It was wonderful spot to stay, and provided the perfect chance to wake up early and head on out to explore Lava Beds for the day.
Lava Beds really stole my heart. I ended up spending a lot more time there than I had anticipated, but it was entirely worth it. After checking with the visitor center and getting approved, I went off and explored a couple of Lava Tube Caves. The first, Mushpot Cave, is the introductory cave that the NPS has outfitted with lighting and informational plaques. It was quite interesting, but I was more interested in the Golden Dome Cave that the Ranger suggested I check out. This one was a cave that had hydrophobic bacteria growing all around it, which shined in light, causing the whole area to look as if it was covered in gold. It was really fascinating with the bacteria, but just the walls, floors, and ceilings of the cave were really interesting without that, as the evidence of lava flowing through at one time was so apparent. I also stumbled upon Skull Cave, which is a short but massive cave that the lower levels are covered in ice. Although it was hot on the surface in August, it was freezing cold down in that cave, and the ice was obvious. Quite fascinating!
After cave exploring enough, I took my adventure back to the surface, hiking around domes, chimneys, and lava flows. I also went and checked out Petroglyph Point, which was primarily closed for hiking around too much but was interesting to check out. Lava Beds was really an amazing place, and I really fell in love!
Leaving Lava Beds, I crossed into Oregon, where I took a drive through Cascade-Siskiyou National Monument. The Cascades got very beautiful in that section, and seeing the Siskiyou range as well within that monument was quite interesting. Alas, I didn't take any pictures, just enjoying the scenic drive through the monument before heading into Medford for more supplies.
In Medford, I also got my first ever experience of having someone else pump my gas for me. That went uneventful, but is a fun thing to include! I also stopped at REI, where I picked up some supplies to further trim out the space in my car. I've been on a very large trimming process lately, and it is beginning to show. Where when I first started, everything was a game of Tetris, fitting very tightly in my trunk space, today even more fits in that back area than before, and all of it with wiggle room. REI had a few supplies, including different water bottles to help me out with that. I'm also now a proud owner of a couple of pairs of Darn Tough socks, which I already definitely recommend–best socks I have ever bought (so far)!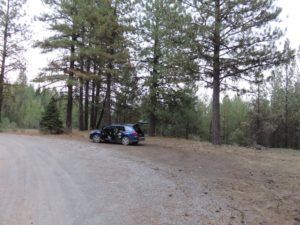 From Medford, I headed back East into the Cascades, where I had scoped out a spot in Fremont-Winema National Forest. Finding it, I drove around a bit before settling on a specific campsite. It's a wonderful spot, and I'm glad to call this home for the next week! Only issue is the amount of bees, but they're docile and friendly creatures–annoying as all hell, though.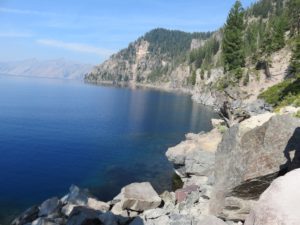 After getting a good amount of sleep, Sunday I woke up and headed north to Crater Lake National Park. I expected to spend most of the day there, but ended up only spending a couple of hours. It is a beautiful lake, with some very interesting geological features, being the crater of a huge volcano and all. However, I'm not a big fan of lakes, and the rest was limited. I enjoyed my time, but it's just not a National Park that grabs my attention to spend much more time there. I did go on a great hike down to the water where it is possible to get on a boat to the island in the lake. I opted not to do that, as it just didn't really interest me. I still had a blast, there, and am kind of happy to be back at camp, resting anyway.