I spent the last few weeks in San Diego, hanging out with friends and family. Alas, it is time to get back out to the boondocking!
I began by heading into the higher desert sections of Anza Borrego Desert State Park in San Diego, specifically checking out the Blair Valley area. I found it to be a beautiful area, and I debated with myself about staying there for the next week.
After looking at the forecast for the next week, however, I determined that I was not comfortable with that spot. The temperatures looked to be keeping up a bit higher than I would prefer for this next week, and there was a chance of rain to the area a couple of nights. Much of the Blair Valley area being a dry lake bed and pretty apparent in its flood risk made me a bit nervous about the area, with the rain as well, although the heat was what really made me decide to go elsewhere.
I immediately jumped to the Laguna Mountain area, where I stayed for a while last time that I was in San Diego. I had looked it up previously and noticed that the area was going to be a bit on the chilly side, but I spontaneously decided that this actually sounded preferable to the heat right now. As such, I headed up and found my way in.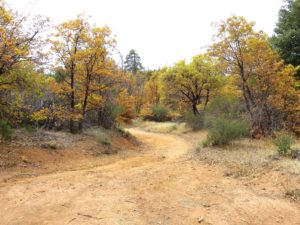 As I made my way back to the Laguna Mountain area, I noticed that a great deal of the oak trees and such had begun developing their fall colors and shedding the leaves they had previously wore so beautifully when I last visited. The new colors were still beautiful themselves, and I am enjoying staying where they are showing off so well.