Throughout the time that I have been staying on-and-off at the Carrizo Badlands Overlook in San Diego, I have been staring intently at the Coyote Mountains. After hiking down into Canyon Sin Nombre yesterday, I decided to go ahead and hike to the summit of these mountains at Mine Peak.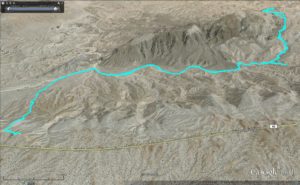 This is a moderate to strenuous hike off of Sweeny Pass Road in San Diego County. I began the hike at the Carrizo Badlands Overlook (32.826988, -116.164262). There is no true trail for most of this hike, so I followed a clear use trail dropping into the valley, towards Canyon Sin Nombre, and then followed a series of washes up the side of the mountain.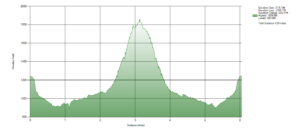 I mapped out a route on Google Earth beforehand (Download GPX File from Google Drive here), and was able to follow this most of the way.
This is Sierra Club's #70 on the San Diego 100 Peaks list. From there, I was able to retrieve the specific location of the summit, preparing my goal for me.
The first part was easy given my hike yesterday, but as I went off onto a wash heading south just before the entrance to Canyon Sin Nombre, things got interesting. The wash split at several points, and the surrounding terrain could act as a maze, easy to get lost within. I made a few wrong turns, but kept following the wash, looking at my map quite frequently.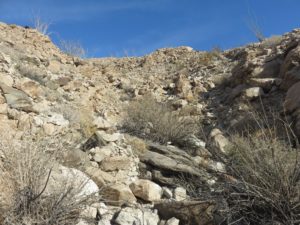 The climb up the mountain began surprisingly fast and steep, although I did not notice it immediately. However, the wash got progressively more difficult and progressively more rocky and tedious to climb.
I kept going up, though, finding paths through the thick of the brush and the slipping rocks beneath my feet. To add some comfort, I ran into a cairn set up by previous hikers from time to time. Not something I actually expected, as I planned this without looking at reference from prior hikers, and there seemed to be at least one other route up. It was nice to know others have made this same trek successfully, in that.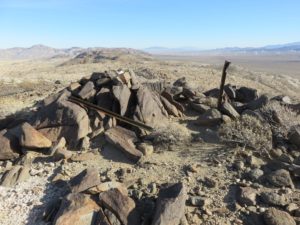 Finally, after long enough, I reached a clearing near the summit. This started as a false summit, which was frustrating, but the true summit was extremely close at that point. Through a small cluster of cholla cacti, and up the final hill, I reached the summit!
I rested for some time before heading down the same route. The way down was just as treacherous as the way up, although significantly easier not to get lost. I was soon able to get back to the car just before sunset and enjoy the view back at the hike I had just completed!