Yesterday, I decided that I had enough of Telephone Cove. After finishing my work for the day, I packed up and headed North again. I made my way up to Hoover Dam, which was quite an enjoyable experience on its own. From there, it was a rather short drive up to Government Wash, a large camping area many other nomads I've met have mentioned. So, here I am, now!
Leaving Telephone Cove
So, let me just cover why Telephone Cove sucked.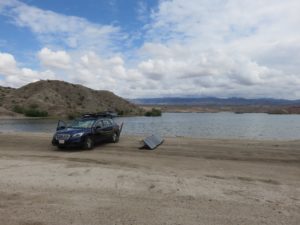 It was an awesome campsite, right on the beach of Lake Mohave. I could go swimming, wash my clothes, etc. Everything was great. The first few nights, everything was mostly quiet and enjoyable as well.
Well, the bugs certainly sucked. They were interesting bugs, but they sucked. Mostly came on the lighter side of twilight and didn't seem too apparent otherwise. Annoying in a sucky way, but not actually too terribly bad. I was going to leave this weekend either way, so they weren't really pushing me out any sooner.
What pushed me over the edge was the last couple of days and the last night. People showed up. Obnoxious people. Running generators and blasting music. Screaming and yelling. Blah blah blah. I just don't deal with the noise very well any more. I like my quiet, beautiful spots. I like to sit and enjoy what I'm looking at, and the noise seriously interrupts me doing that. I eventually had enough and bailed.
Hoover Dam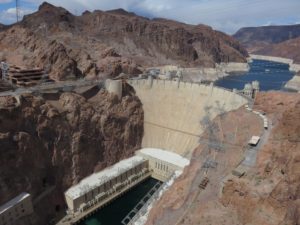 On my way out, I decided to go check out the Hoover Dam! After getting through security, I stopped at the memorial bridge, walking nearly all of the way across before turning around. It was a cool perspective at Hoover Dam itself.
Then, I continued on, first parking in the parking garage ($10 ugh!) so that I could walk across. I walked across both ways, taking in everything on the dam. It is a really cool feat of engineering, with some really cool history and really cool stuff all over it. I really enjoyed the walk.
I even, then, drove across it both ways! I really actually feel like I got (mostly) the whole experience. I didn't go on the tours, because screw it. I didn't feel like that would have been worth it, so I opted not. I just took it in from the outside, which I was quite pleased with doing.
(See Gallery below  for all pictures!)
Government Wash, Lake Mead
Coming from Hoover Dam, it was a pretty obvious, short route to the next spot that I had scoped out: Government Wash. This is a spot that a lot of the nomads that I have met have mentioned at one point or another. Many spent some time there over this last winter and had mostly positive experiences, from what I could tell. So, I decided to come hit it up!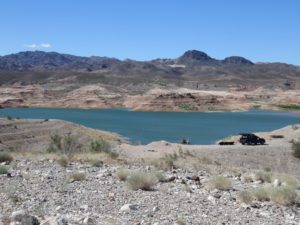 I really just drove in, found a spot, and settled down the first night. Of course, I set up just down the hill from someone with a gas generator. Oy! It didn't bother me too much for one night, but I decided this morning to get up and explore the area a bit more. I ended up finding another spot in here with no one significantly around! And it's a beautiful spot!
All of the Government Wash area is really large, with tons of camping spots. A lot of RVs and trailers of various kinds, several tent campers, and more are all littered around. Not a ton of great opportunity for privacy, but it's not so bad.
The views are great, too! Now, if this damned wind would just settle down!
Image Gallery