Yesterday afternoon, I decided to take off down the Hankinson Hills Trail. It is an 8 miles loop that passes right by the campground I have been staying at. Passing through long grass prairie and woodlands, it's an enjoyable hike. With some wrong turns, I even got to see some of the sand dunes, and hiked a total of 10 miles.
I set off from the campground, not really sure where to go. I took a wrong turn immediately and wandered around for a good bit near the campground, before ending up just walking up the road to a more obvious trailhead. It turns out that there is a really obvious gate from from the campground that leads to the trail, but I missed it.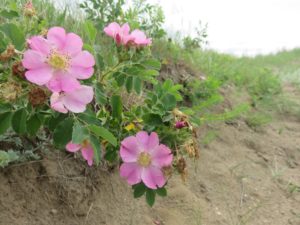 Setting off on the trail, however, things got pretty easy. I was really impressed with the diversity of the land that the trail goes through. I tried to take a lot of pictures of all of this diversity that I enjoyed.
Throughout the hike, I found a lot of wrong paths splitting off. Most of the paths were obvious enough with some thought and map studying. One time, however, I did follow the wrong path and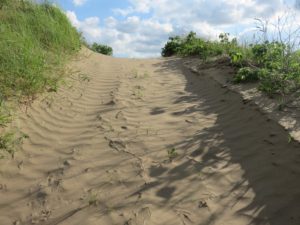 found myself wandering about sand dunes for a good bit. It was very confusing, but I thoroughly enjoyed the interesting side of Sheyenne National Grassland.
When I did finally finish the hike and got back to camp, I cracked open a beer and settled down. I ended up finding a total of 4 ticks on me, though. It was pretty clear that they had not been attached on me long at all–probably latching on during some of the last woodland area and thicker tallgrass of the hike. They were all very distinctly American Dog Ticks, too: big, red beasts with some distinct marking.
Despite the getting lost, adding 2 unnecessary miles, and the ticks I found on me at the end, it was a wonderful hike!
Picture Gallery