Waking up Saturday morning at camp in Headwaters Lodge & Cabins at Flagg Ranch, I set out early again. This time, I traveled further south, visiting Grand Teton National Park. I did a loop drive around the park, stopping to hike to Inspiration Point along the way, before arriving back at camp in the afternoon.
Grand Teton National Park has long been one of my favorites, ever since I accidentally stumbled across it on a past road trip. I only stopped to do drive through the more scenic road through the park back then, and I was excited to return today.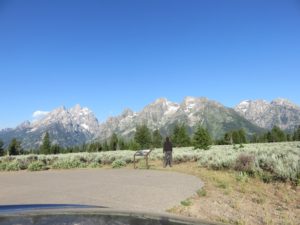 Starting early, the roads were bare and parking was great. No visitor centers were open, however, and I hadn't gotten a park map, so I was just driving, stopping around for short walks and pictures of the Tetons. It was a beautiful day, and the Tetons were really showing off for me.
Eventually, I dropped into the Jenny Lake Visitor Center, just after they opened, to pick up a park map and figure out where, exactly, I was driving. I decided to look around the hikes that were available from there, and opted to take the 3.5 mile (one way) walk around Jenny Lake and up to Inspiration Point.
While on the trail, I ran into a NPS volunteer as he had stopped in the trail after seeing a black bear cub cross ahead. I never got to see any bears on this hike, but I enjoyed chatting with the volunteer as we made our way up to Inspiration Point.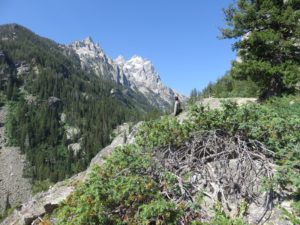 It was a beautiful hike, and Inspiration Point is a beautiful spot, if a bit easy to get to, really. Before starting, I overheard someone insisting that Inspiration Point is overrated, and I really feel the need to disagree: it is an amazingly beautiful spot. I do have a thing for these Tetons, though: they are easily among my favorite of the National Parks that I have been to.
Having seen Inspiration Point and walked slightly beyond to look into Cascade Canyon, I headed down. I opted to take the boat across Jenny Lake back to the visitors center, which was a pleasant ride, with great views of the mountains.
Onward, I looped around the park before arriving back at camp for my already paid-for second night.
Pictures