I discovered that I had the day off of work on Friday, so I decided to spend the day visiting Yellowstone National Park. I ended up only getting through the western half of the park, before pulling out and finding a campsite in the John D Rockefeller Jr Memorial Parkway.
Being camped only about 30 minutes north of Yellowstone's North Entrance, it seemed a pretty obvious way to spend the day off. So, I drove down to Gardiner, MT and into Yellowstone.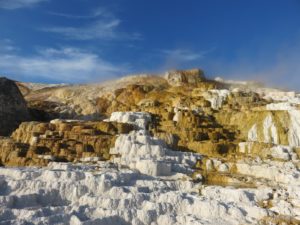 Heading into Mammoth Hot Springs seemed the obvious route, and I was pleased to walk among all of the hot springs in the area. The unique formations that the hot springs had formed, and continued to form, were really fascinating here, and it was a wonderful way to start the day. Even better, I had arrived early enough that most of the tourists hadn't arrived yet.
From there, it was an obvious path south, stopping at several interesting places, including Sheepeater Cliff, Obsidian Cliff, and Roaring Mountain. I even stopped into the Museum of the National Park Ranger, where I was entertained by the history told within.
At this point, it was an obvious stop at Norris Geyser Basin. Starting on the Porcelain Basin, I enjoyed the vast amount of colors, although the sulfur smell was quite obvious. Moving on to Back Basin, I didn't get to see much of the geysers there; Steamboat Geyser showed off some of its smaller eruptions, but most else was quite calm as I was there. It was a very pleasant walk through the basins, regardless, and I fell in love with Yellowstone and the geothermal activity present everywhere within.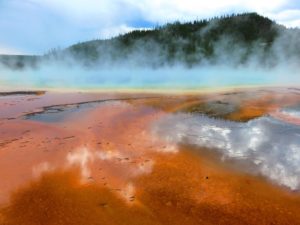 Continuing south, other highlights included Artists Paintpots, Firehole Canyon, and the Grand Prismatic Spring. As I arrived at the Midway Geyser Basin–home of the Grand Prismatic Spring–the park had certainly become very busy, and parking was difficult to find. I ended up parking up on the street, and just in time for hail to start coming down. It was entertaining watching everyone run around in the hail, but I just enjoyed it as I walked up to Grand Prismatic Spring, realizing the impossibility of seeing it from the walkway.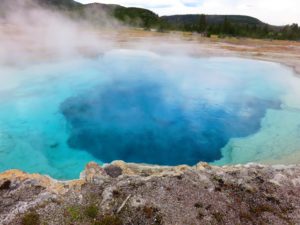 Again, Biscuit Basin and Black Sand Basin provided some wonderful views, with less traffic than some of the previous stops. I was almost surprised at the amount of people that just passed these by, whereas I found some of the springs and geysers at these locations to be particularly pleasant. It seemed, to me, that most people seemed to be more interested in the tourist trap that was Ol' Faithful.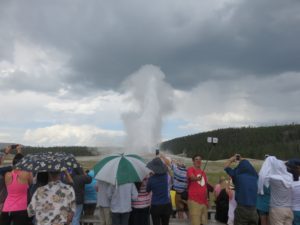 Sure enough, as I arrived at Ol' Faithful myself, the area was packed! But I also arrived just in time to see it give us a good eruption just as rain and hail started falling down on all of us again. I found myself running back to the car to escape the weather this time, also trying to beat the large crowd that still gathered, surrounding the geyser.
I didn't make much for stops within Yellowstone as I continued south beyond that. I greatly enjoyed crisscrossing the Continental Divide, but the day was already long, the tourists were getting on my nerves, and I was ready to head towards finding a camp!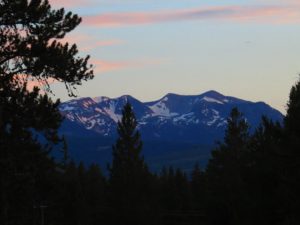 As I exited the gates to Yellowstone on the South, I pulled into John D Rockefeller Jr Memorial Parkway. I had heard of some great free camping along the Snake River here, and was able to confirm the existence of 20 sites along a dirt road. Unfortunately, they were all taken, and I ended up at Headwaters Lodge at Flagg Ranch, attempting to decide what to do. After some thought and knowing that I wasn't sure where I would find cell service to look up other campsites that would also likely be full on a holiday weekend, I decided to see if I could get so lucky to snag a campsite.
They had a campsite for me for 2 nights, overlooking the valley beyond. It cost me nearly $80 for those 2 nights–a steep fee for me–but it gave me the stability to continue my adventures for the busy weekend!
Pictures