With a 4 day weekend, I still had July 4th, itself, to play with. I had originally thought of spending 3 days in Yellowstone National Park, but after driving around it so long, I opted to spend the day hiking in Grand Teton National Park instead. Following the advice of a Park Ranger, I did the amazing hike to Surprise and Amphitheater Lakes.
I woke up early again and headed into Grand Teton, stopping at the general store for some coffee and breakfast. Then I headed over to the Jenny Lake Visitor Center again to inquire about hiking. The ranger there gave me a tip that her favorite hike, and one that was significantly more difficult than the quite easy for me Inspiration Point, was the trail from Lupine Meadows to Amphitheater Lake. I decided to take her word for it and do it!
I got to the trailhead and saw a surprising number of cars already parked, but there was still ample parking room for me. Other people were getting ready for a variety of hikes and climbs into the mountains that started here. A decent number of us had the same though, and we carried on.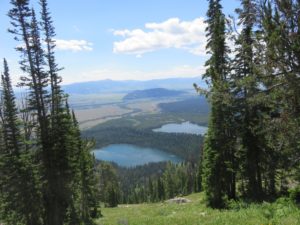 The trail started pretty easy, but when the switchbacks began, it turned steep and serious. I was told that it was a 5 mile one way climb with 3000 feet of elevation gain, and the ranger was serious about it. But the higher I went, the more amazing the views were. From wildflowers painting the mountainside to amazingly panoramic views of the valley, I slowed down drastically to stare and take pictures.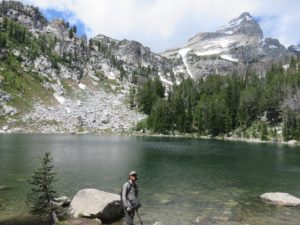 As the panoramic views faded, patches of snow and snow-melt ponds came into view, and larger outcroppings of rock overtook the landscape. The trail became somewhat more level again, and suddenly, Surprise Lake popped into view. It was amazing, and I felt the obvious need to wander around it, taking it in.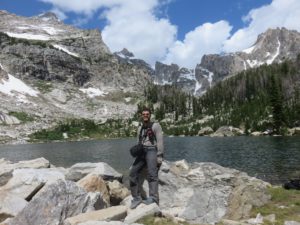 But Surprise Lake wasn't the end goal: that was to be Amphitheater Lake. Another quarter mile up the trail, at 9698 feet of elevation. It took my breath away. I spent even longer wandering around Amphitheater Lake, just taking in the magnificence of the place I was standing it. Beautiful and amazing.
Easily the worst mistake of the whole hike: I didn't bring any food to munch on! Although it was lovely at the lakes, I was getting hungry, so I set off back down the mountain and back to camp.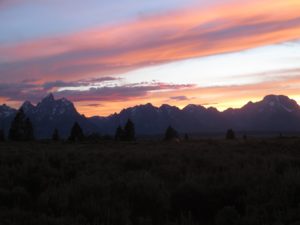 At camp, I watched the sunrise, and ran into Kevin and Kym Tyson of 33 and Free. It was fun talking to some fresh nomads, and they even gave me a honk good-bye on the way out in the morning. For all of the time following other nomads around on Instagram and social media, it is often fun to meet some in person, if only for a short time one evening, even.
pictures