On Friday, after finishing my work for the day, I decided to head out of Yellowstone country, on a vague path towards Glacier National Park. After a stop in Bozeman, MT, I ended up doing the full drive to Glacier, where I've been hanging out since, largely at a lovely campsite right on the Middle Fork Flathead River.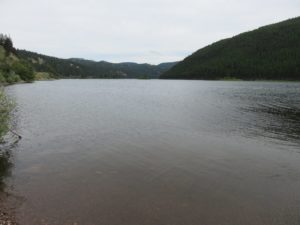 I had originally planned to spend Friday afternoon and evening, and Saturday traveling my way up to West Glacier, but I ended up simply enjoying the drive too much. Spontaneously, I decided to just head up along the path directly to West Glacier, being willing to stop anywhere along the way that looked cool. I ended up traveling up through the Swan Valley, which I found to be really lovely!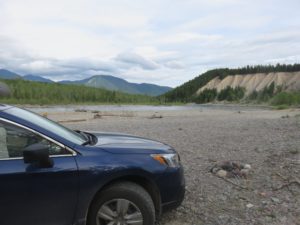 Nonetheless, I never did end up stopping before making it up to West Glacier. I had a few places mapped out to try for camp up there, and I began exploring. The whole area was remarkably busy still, but I ended up finding a lovely, not too busy at all, camp along the banks of the Middle Fork Flathead River, just 15 minutes from the West/Apgar Entrance to Glacier National Park. Free dispersed camping with a three night limit is pretty lovely so close to a national park, even if there are some strict regulations on human waste!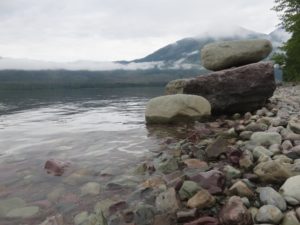 Camping there for the night, I had Saturday and Sunday, both, to explore the park. I started with driving on the Going-to-the-Sun Road both ways on Saturday, stopping at Many Glacier to the north in between. The weather was awful, with clouds obscuring most of the views and a lot of rain coming down frequently. I found it enjoyable nonetheless, especially when a limited amount of clearing did come as I began heading West again.
Sunday proved to be much better! I drove along US-2, just to the south of the park, finally arriving at the Two Medicine area. The weather was lovely, and I got a bunch of Huckleberry stuff to munch on for the day. Turns out that I really like huckleberries!
Having actually liked the Two Medicine area more than I expected, I almost wanted to stay and do some kind of hiking or something, but I knew that I also wanted to head back to camp before too long, possibly seeing if I could snag a spot at one of the park's campgrounds.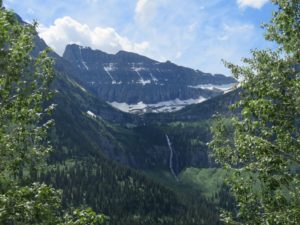 I headed back to St Mary, again, and headed West along the Going-to-the-Sun road again. While I didn't stop and gather as many pictures as the first time through, I felt the need to stop and look at the opened scenery with the better weather. The park is truly amazing!
I finally ended back into the Apgar area, where I pulled into a campsite there. Over the course of the night and into the morning, I quickly learned that the cell reception wasn't going to work for getting any work done, so I was happy that I did only pay for one night. I packed back up Monday morning and headed back to the Middle Fork Flathead River.
Pictures