After a day of short hikes in poor weather on Saturday, I woke up to a lovely–although cold–morning on Sunday. I knew the forecast had some chance for showers, but the skies were clear blue. I quickly headed to the Gunsight Trailhead and started on a long hike–would turn out to be almost 16 miles–hoping for some wonderful views!
I got to the Gunsight Trailhead around 8 am and got to hiking along the trail by 8:30. I immediately noticed that the trail started with a lot of downhill from this section, and I was going to hate it on the way back! Furthermore, as I went along, the vegetation kept getting thicker, and more difficult to traverse as the trail was quite skinny and at times pretty muddy. What a blast, though!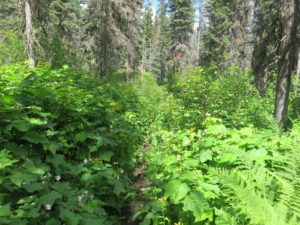 I kept trekking along, occasionally shouting out "Hey there, Booboo!" Hiking alone in grizzly bear country is a little bit nerve-wracking, without any previous experience, but I found this strategy seemed to scare any bears away before I ever saw them! I also had the luck of continuing to run into groups of other hikers who were able to pave the way before me. I kept ending up passing them as they collectively stopped for breaks, but they continually served as a nice break from feeling the need to be so constantly loud!
I thoroughly enjoyed the views as I came across meadows and started the climb towards Gunsight Lake. The view from the meadow encompassing Mirror Pond was particularly beautiful and memorable along this hike, with the remaining snow and glacier covered mountain peaks providing the backdrop. I stared at these mountains as I kept the climb, and the view was just amazing!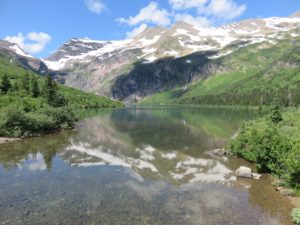 After about 6 miles, Gunsight Lake finally came into view through the wildflowers and meadows surrounding it! I quickly realized that the view was just amazing, and I decided I need to go up and around for more perspective on it. I hiked just over a mile further up the Gunsight Pass Trail, before deciding that I was satisfied. I'm sure the views just keep getting more amazing as you go, but I was hungry and getting tired of the climb. So, I turned back and settled on the East side of the lake to eat lunch with the amazing view.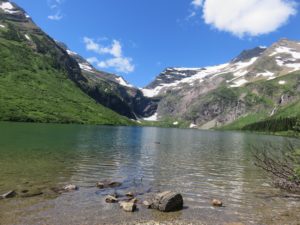 Some other hikers pointed me to a small side trail leading right to the shore of the lake. They warned me of a marmot, which I never did end up encountering myself. I can't possibly complain, though. The view form this spot across Gunsight Lake was simply stunning. I instantly felt that the long hike had been entirely worth it, just for this lunch spot, if nothing else!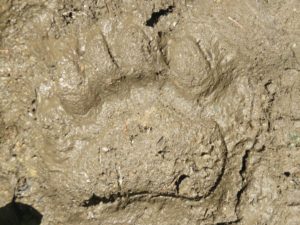 Finishing lunch, I started back down the trail again. I quickly ran into a hiker who notified me of having seen a bear. It was the second bear sighting I had heard of for the day, and this time, I anticipated being mostly alone for the remainder of the hike. So, I carried on, making tons of noise. Especially when I started coming across some fresh black bear droppings and prints right on the trail!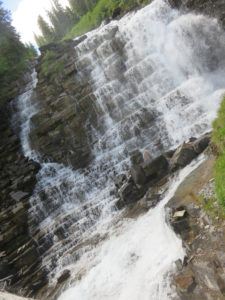 I never did see any bear, and so I was never deterred from continuing off onto another side trail to see Florence Falls. Having hiked quite a bit on the day already, it was tiring to add in all of the uphill again, but the falls didn't disappoint, as they ended up being perhaps my favorite of my whole weekend! I was joined by a family who stopped to eat lunch at this spot, so I didn't get to just enjoy the falls by myself, unfortunately. Seeing such stunning falls was still worth the extra effort before I turned back and headed back to the car.
Of course, the tale of this hike isn't complete without calling back to the first section from the trailhead: on the return journey, it is an exhausting slog uphill, without much to look at along the majority of the way! I did run into the most hikers  of the day along this section, however, and that eased the spirits from having to yell for bears so much!
At the end of the day, a wonderful 15.84 mile hike with 3184 ft of cumulative elevation gain! I may be a little bit sore from it, but it was an absolute blast of a hike, and worth every bit of it!
Pictures