I woke up in camp on Saturday morning and decided to head into Glacier for some hiking. The weather generally sucked, so I decided to do a couple of smaller hikes that had cool things the weather wouldn't obstruct. I ended up hiking to the Hidden Lake Overlook from Logan Pass, and then followed that up with a hike to St Mary Falls and Virginia Falls.
It was still quite early when I woke up and headed into the park, so I was able to easily grab a parking spot up at Logan Pass Visitor Center while checking out the weather along the drive. There was some sporadic rain, and a lot of clouds and fog, but it seemed like the Hidden Lake trail would still be worth doing.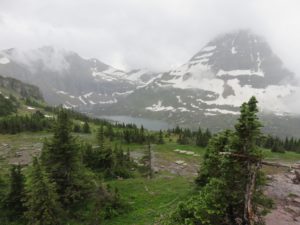 The trail was closed after the overlook, but I was able to enjoy some wonderful views anyway. The trail was covered in snow fields, but nothing that presented a particularly dangerous challenge to me. A lot of others were also out hiking already in the morning, making the path pretty stamped down and easy crossing.
Up at the overlook, I ran into a bunch of mountain goats, as well! I had never seen a mountain goat in the wild before, so this was a pretty remarkable thing to see. One goat, in particular, had me laughing as he was walking along the trail with all of the humans. If a human got too close, he would quickly run off of the trail, run around them, and then hop back on the trail to continue walking. I guess the trail must have been nice for his feet, too!
That was an overall pleasant hike, despite getting pretty wet from the rain. However, it wasn't even noon by the time I finished, and it was time to find another acceptable hike for the day.
I drove down to St Mary Visitor Center and hopped on one of the shuttles that drives along the main road, planning to go all the way to St Mary Falls trailhead. I figured that waterfalls should be an acceptable viewing experience for a day of shitty weather, and I was right.
St Mary Falls, itself, was a remarkably easy hike. I enjoyed the cool setup of these falls, and the bright blue water that flowed all around them.
Being so easy, I figured I would also go on to Virginia Falls. Another easy passage, and certainly worth the wonderful view of those falls as well!
Having checked out Virginia Falls, I headed back to take a shuttle to St Mary Visitor Center and drive back to camp. I felt the need to stop for some firewood, and it was a good bet! I was quite wet from the hiking and the rain, and it proved to be a cold night at the campground. A fire went over quite well!
Ultimately, all of these trails were quite busy, but I was still able to enjoy some light hiking on a day of shitty weather, so I really can't complain!
Pictures