Since leaving Grand Teton National Park, I have had one hike on my mind. So, Friday, I decided to take off, headed back towards the Tetons. After a stay north of Yellowstone Friday night, I got into Grand Teton on Saturday and did the hike up Paintbrush Canyon, over the Paintbrush Divide, and down Cascade Canyon on Sunday. What an amazing, amazing experience!
I left Cut Bank Campground Thursday to spend one more night on the Middle Fork Flathead River. Friday, I then packed up and headed down, returning to Carbella Recreation Site for one night. Saturday, I booked it through Yellowstone National Park, into Grand Teton, where I stopped at the Jenny Lake Ranger Station for information. The ranger confirmed that the trails were all clear and good for the hike! It was on!
I camped Saturday night at Upper Teton View, again. I found myself tired after the weekend of driving, but I actually slept kind of terribly. I was too excited about the hike!
I ended up waking up at 5:30am, before the sun rose. I thought maybe the convenience store in the park opened at 6am, and was able to get there just at that time. However, it would be another 30 minutes before they opened! I decided to say screw it and head to the String Lake Trailhead. Parking was still pretty open, and I snagged a spot. No coffee and no breakfast, but my pack was already loaded and I was anxious to set off. On I went.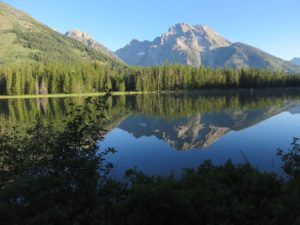 The lack of caffeine bugged me the whole day, but starting the day with the wonderfully calm, beautiful reflections of the Tetons on String Lake made it all worth it. The trails were still mostly empty, so I made some noise and continued on the rather straight path to Paintbrush Canyon. A long, easy warm up.
I was actually surprised at how there were some steep sections in that little segment, but it would be a mild taste of what was to come climbing up Paintbrush Canyon. The trail kept getting steeper and steeper until I was all of the way up at the divide.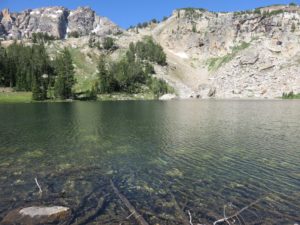 I was absolutely amazed all of the way up Paintbrush. I planned to stop for an early "first" lunch at Holly Lake, already over six miles into the hike! It was only about 10:15am when I got there, and I was already speechless from the views of the canyon. Both looking forward and continually looking back down the canyon, I was left in complete awe. The views for lunch were pretty impressive as well, as I sat at the bank of Holly Lake, surrounded by Pikas making all kinds of racket in the scree field I was sitting within. My "first" lunch of trail mix tasted particularly wonderful, as well, with such a beautiful view! The 2 Aspirin I swallowed down didn't taste so great, but got me looking forward to the climb ahead!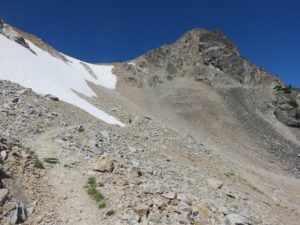 Finally continuing on, the landscape  continued to change with every step. The vegetation continued getting less and less dense, and I could feel the air getting thinner as it became more and more difficult to maintain my breath as the trail also became more and more steep. I began running into several other hikers, especially as the terrain turned into purely scree and snow fields. The last section up to the divide was an absolute slog, through loose scree and short, tight, and steep switchbacks.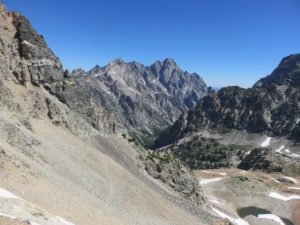 Alas, I made it! 10,700 ft on the sign, although many more than me have noted that the trail actually goes at least 20ft higher in altitude. Nonetheless, a good sized group of day hikers like myself and some backpackers met there, all of us stopping to gaze at the absolutely magnificent view. I was in complete awe, and took the time to enjoy a nice break before continuing on down Cascade Canyon.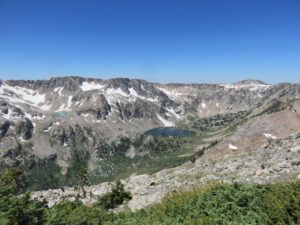 As I did begin the climb down, the views continued to absolutely shock me with every step. From snow and glacier covered peaks, to North Fork Cascade Canyon, to the views of Mica Lake hanging over Lake Solitude. Nevermind the other, absolutely breathtaking views that surrounded me and changed with every step. Words could never do any of this hike justice, and neither could the nearly 200 pictures I took!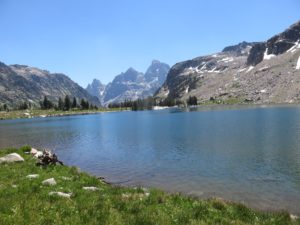 The climb down to Lake Solitude felt like a slog in its own right, but stopping to enjoy my "second" lunch at this beautiful lake was absolutely beautiful. With one view down the canyon and another view of the mountains surrounding the other side, the remarkably clear water was absolutely seductive. A fish even jumped out of the water right next to the rock I was enjoying my lunch on, surprising the shit out of me, but adding to the mysterious loveliness that the lake captivated me with.
Of course, Lake Solitude didn't live up to its name: there were tons of people there. And with the tons of people were a hellish amount of flies. Flies that would bother me for nearly the entire rest of the hike. At least, the majority of Cascade Canyon. Those little assholes. I killed a good handful, but it seemed like with every step that the scenery changed–literally every step–another fly was there to jump up and pester me as well. The trail had also gotten much busier at this point, and I was rarely ever alone on the trail from this point on.
The hike down North Fork Cascade Canyon was pleasant, nonetheless. The views were simply marvelous looking both down and up the canyon, all of the way to the fork. If I had not already been in utter shock of how beautiful this entire hike is, these views would have me breathless themselves. There's really nowhere else that I have been like it!
Finally reaching the fork of the Cascade Canyons, I looked at my topo map and realized that it was pretty easy going from there! I hadn't realized how much elevation I had lost in the last sections, and the trail down the canyon was relatively level, compared to the previous hiking all day.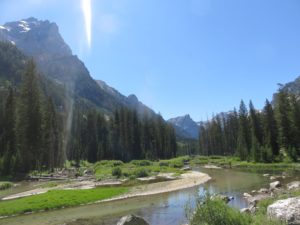 Continuing to look up and down Cascade Canyon, it remained shocking how amazing this hike was. I even stopped with a group of people who had stopped to look at a black bear resting in some shade on the valley walls. The waters constantly flowing through provided some wonderful scenery, and I was almost tempted to jump in and take a swim, and drink! Alas, I didn't, but it sure was tempting!
The trail lastly took me down to Jenny Lake, where I traversed a large burn area in recovery en route back to the trailhead. This section was certainly, "rolling", feeling like a constant up and down. Never too steep in either direction, but with every up and every down, I was beginning to feel the miles of hiking and feet of elevation change I had put on my legs for the day! I was remarkably happy to arrive at the trailhead, at last.
Taking a quick moment to celebrate and text my parents that I had made it safely, I ran to the store to buy a cold 6 pack of beer, some Sprite, and some potato chips. It all sounded good together, for some reason, at that moment. I returned to camp, at dinner, and slept like a baby in my hammock!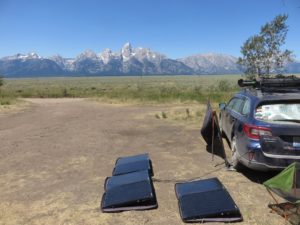 Today (Monday), I also ended up moving camp, after a quick stop in the park for bathroom needs and a few necessary supplies. Some friends on Instagram noted that they were in the Shadow Mountain area, just 30 minutes south of the Upper Teton View area. Turns out this view is even better, though, and so I set up camp! What a lovely time!
Pictures
Following is primarily all of the pictures I took, along with an elevation chart (including stats on the hike) and Google Earth picture of the route. Some of the pictures are a little weird, because I accidentally changed the settings on my camera without realizing it. I would realize it after a while and change it back to Auto–I wasn't messing with the manual modes for this hike, as I was more concerned with the hiking than the picture taking, despite the huge number of pictures here. You might see some weird coloring or lighting as a result. It's all just part of the experience!