After my recent hike in Grand Teton, I again looked up another hike I wanted to do in Glacier: the Dawson Pass, Pitamakan Pass Loop. The trails finally were declared clear and snow free, and with the wildfires near Grand Teton becoming a difficulty, it was time to go tackle that hike! And another amazing hike it certainly was!
I was hanging out comfortably at the Shadow Mountain area near Grand Teton for a couple of days, meeting new full time travelers also staying at the same location, before the wildfires truly became a hassle on Wednesday. I woke up to a smokey haze covering the land, which seemed to make it difficult on my breathing. I decided it was time to go, especially as the smoke kept getting thicker. I headed up to Carbella Recreation Site to stay until Friday, when I made my way back up to Glacier.
I spent Friday night at Glacier back at the Middle Fork Flathead River, before trying to head to the East side again. I was hoping to snag a spot at Cut Bank Campground again, but they were all taken by the time that I arrived. I quickly looked online to see that Rising Sun had a spot, but that too filled in, after entering the St Mary entrance station. I wasn't entirely sure what to do, but I decided to call up some friends also in the area. It turned out that they got a spot at the Two Medicine Campground, and I ended up joining them for the night.
We had a great time hanging out at Two Medicine, and I decided to reserve our site for myself another 2 nights, using it as the jumping off point for the hike I would do. I had thought of doing the hike on Sunday, but Monday was proving to be the better day for weather, so I held off. According to the rangers, I probably made the right choice!
The Hike
I woke up in camp around 8:30 Monday morning. My pack was already prepared, but I took some time to run everything over and make sure, in addition to just taking some general time to wake up. I ended up hitting the trail just before 9am, heading first towards Dawson pass.
About 30 minutes in, I suddenly realized that I had left my GPS receiver sitting on top of my car back at camp. I didn't really feel like going back for it, so I just trekked on. I really only use the thing to get stats at the end of my hike, so it wasn't a big loss.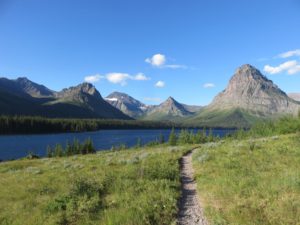 The hike started out a beautiful hike up the valley, passing by Lower Two Medicine Lake and Pompelly Pillar. The morning light looked absolutely magnificent upon the lake and the mountains, and I enjoyed all of the views. As the climb upwards began, it was pretty clear: this route was steep! Of course, I had been warned about this, and even chose to go Dawson Pass first, as it was the more steep of the two optional routes.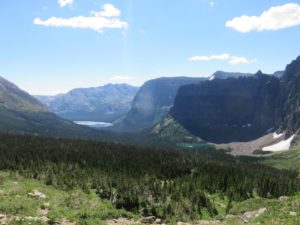 As the trees thinned closer and closer to the pass, the views back down the valley were just mind-blowing! From the view above No Name Lake, on down the Lower Two Medicine Lake, and all of the surrounding mountains. Something attracted me to Two Medicine the first time I visited the area, and this hike really had me falling in love with this part of the park!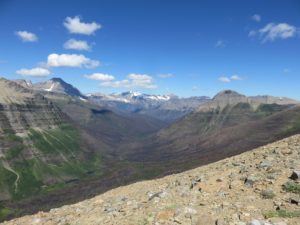 Finally reaching the crest of Dawson Pass, and standing on the Continental Divide, the views opened up all around into absolutely stunning scenery. Looking across at Lupfer Glacier and Mount Phillips, and all across the Nyack Creek Valley. I had to stop here to grab my jacket, as the wind was going remarkably strong, and it was remarkably cold! I walked the entire next section, surprisingly comfortable in my jacket!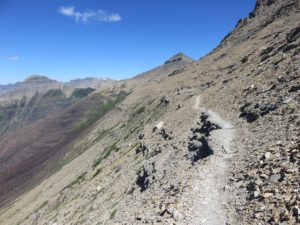 As I came to the highpoint of the Dawson Pass, I dropped onto the trail all along the backside of Flinsch Peak and Mt Morgan. I'll be honest: I have a little bit of a fear of heights, and this trail really got to me in some sections! The trail was skinny, steep, and some points got to me on more than one occasion, especially as the wind blew strong, throwing my balance off just enough to get the heart pumping a few extra beats!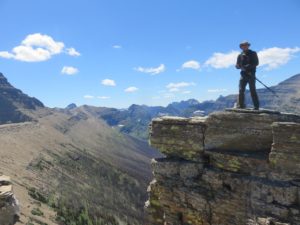 Eventually, I finally made it to the Pitamakan Overlook area. As if walking along the past trail hadn't been frightening enough, I decided to climb out to a pretty cool spot to take in the view. Looking back along the trail, I felt quite impressed with myself, and in absolute awe of all of the beauty that lies along this hike. Every step seemed to open up an entirely new view that I just couldn't take my eyes off of! This hike had been absolutely worth not being able to stop thinking about and ending up to come back and do it!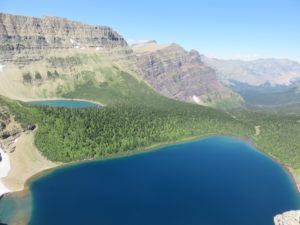 Unfortunately, it was time to leave the Nyack Creek Valley behind and head down to Pitamakan Pass. It was certainly not a completely loss however, as the view of Oldman Lake on one side and Pitamakan Lake and Lake of the Seven Winds on the other was brilliant! I finally stopped here for the longest break yet, taking the time to eat a good lunch and swallow down a bunch of water.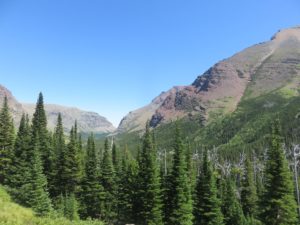 Alas, it was off back down the much longer valley to return to camp. At this point, it almost didn't feel like Pitamakan Pass could really be less steep than Dawson Pass! My muscles tired and joints sore from all of the hiking already, it felt absolutely brutal on the way down! The new, amazing views certainly made up for it, though, and I continued on.
Every flat moment from that point seemed to be a godsend, and any uphill felt grueling. But alas, I made it back to camp just shy of 5:00 PM. Grabbing a beer to celebrate a wonderful hike, I was simply excited to be done and enjoy the night, sleeping in the hammock.
Tuesday morning, I woke up and headed back to Cut Bank Campground, easily finding the same spot that I had stayed in last time that I came through. To my surprise, the tent stakes that I had accidentally left in the ground on my last visit were still there, still stuck in the ground! I don't have to buy new ones after all! And it's a beautiful camp to take in another week in Glacier National Park!
Pictures
Note: The Google Earth route and Elevation Chart provided are notably inaccurate. The NPS declare this hike as a 18.8 mile loop. Using Google Maps and best available elevation data to estimate everything, it is evidently inaccurate. If you decide to use this as any kind of reliable information for your own planning (I suggest not, but that's your responsibility), assume that the hike would be more strenuous than the elevation chart suggests.