Late Wednesday night, a wildfire started up on the mountains above my campsite at Shorts Bar. I had fun watching the fire burn, but as the smoke continued making my stay uncomfortable, I set out Friday afternoon to find some new camping. I ended up checking out a good portion of the Idaho side of Hells Canyon before finally setting up camp at the historic Hayspur Fish Hatchery.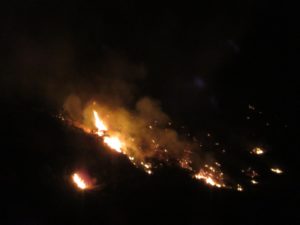 As I was lying in my hammock Wednesday night, I suddenly noticed the distinct smell of wildfire. I had heard of a wildfire to the south of me at the time, but nothing significantly close, which caused me some initial confusion before I noticed the red glow in the sky. A wildfire had started just on the other side of the mountains to my North. It didn't appear to be anything threatening me, so I ended up staying.
Thursday, the fire had definitively reached my side of the mountains, and I continued watching it grow into the night. There didn't appear to be significant concern for me yet, although the smoke had started to become an issue.
Friday, I finally decided that it was enough, and I needed to leave to be sure of my safety, and just to get away from the terrible smoke. I had been wanting to check out Hells Canyon, so I made a quick detour to Heavens Gate.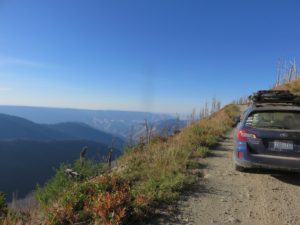 Hells Canyon, as seen from Heavens Gate, really surprised me that evening! I had read that it was the deepest canyon in all of North America, but I didn't really know what to expect as I approached. The drive was lovely, and the view of Hells Canyon, the Salmon River Canyon, and all of the other mountains and area around for miles was simply amazing.
I decided to set up camp in the Seven Devils Campground so that I could take in more from Heavens Gate in the morning. Seven Devils Campground is a cute little, primitive campground nestled right into the Seven Devils mountains. I found it absolutely lovely, and the views from Heavens Gate in the morning were even better than what I had seen the evening before!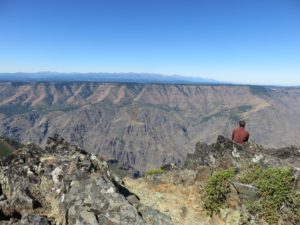 Alas, I needed to continue on. I headed down to Council, Idaho, and from there up to Sheep Rock. I had read that the views there were even better, and there was some camping. Taking the short hike around Sheep Rock, I most certainly was not disappointed! The views were mind blowing! Furthermore, continuing on by car to Kinney Point nearby, I got even more views of Hells Canyon!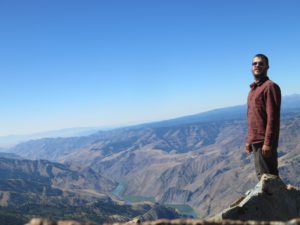 For how remote and rugged these spots along Hells Canyon are, I was simply amazed at the beauty of it. I've already told myself that I am going to have to come back for significantly more activities in these locations at some point in the future!
Alas, I ended up not camping up at Hells Canyon again, instead making my way down to Boise for a quick refill on water and food supplies. From Boise, I had scoped out a free campground at the historic Hayspur Fish Hatchery, about 30 minutes drive away from Craters of the Moon. Pulling in, I found a spot immediately and set up a lovely camp.
Pictures