On Friday, I finally decided that it was time to move on out of Montana for the year. I have been eyeing Idaho, wanting to get in and explore it more than I did last year, when I really did barely any more than just driving through. Already, I've been having a lovely stay and adventure in the Idaho Panhandle, if going a little faster than I originally planned nonetheless.
Leaving the Blacktail Mountain area, I ran into Kalispell, where I was able to do some early grocery shopping for the next couple of weeks, and then I headed on West, following US-2. If I didn't already love Northwest Montana, I certainly do after this drive! I told myself that I now need to scope out further camping all around that area, but Idaho awaited!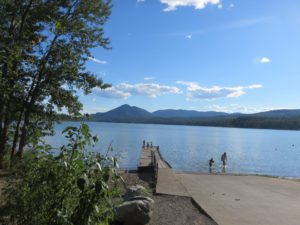 Entering Idaho East of Bonners Ferry, I continued down to Lake Cocalalla, where I found a lovely campsite for the night. The site only had a 3 day limit, and it was quite noisy with what I assumed to be locals recreating there for their weekend. Nonetheless, the lake was beautiful, and it was a pleasant place to stop for the night.
On Saturday, I packed up camp once again and headed south. With a stop first in Spokane for REI, I filled up on supplies and finally got myself a new shirt! It was really nice to be stopped at an REI like the one in Spokane: I've been surviving off of much less nice versions of those stores for over a month now!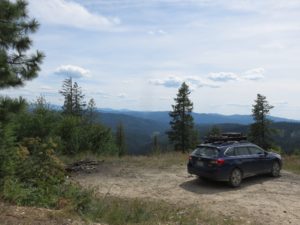 From Spokane, it was back to Idaho and Coeur d'Alene. I stopped to do my laundry at a laundromat in CDA, and then even checked out the lake itself before continuing on towards my campsite in the Coeur d'Alene National Forest. Fernan Lake surprised me on the way, with its abundance of lilly pods in Lilly Pod Bay, and when I arrived at camp at Fernan Saddle, I was even more impressed!
The views from Fernan Saddle were simply unbelievable, and the quiet of the spot at night was unrivaled. I quickly began thinking that I must consider staying there for the entirety of the next 2 weeks.
Unfortunately, nature had other plans for me. I woke up to a swarm of yellow jackets around the car. I've tried that situation before, and I know that it simply just doesn't work for me. It's impossible for me to get work done under such conditions. So, I packed up and started a hunt around the area to see if I could find a suitable campsite.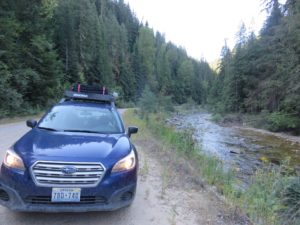 I drove through some absolutely beautiful country around the Idaho back roads, following streams and forests around. There was certainly a large abundance of campsites available, but it very quickly became clear that nothing in the area was going to work for me after all. Either swarming with yellow jackets, lacking cell service, or having a lack of usable sunlight for my solar panels, nowhere around my driving seemed to work. I looked up some options I had laid out for myself previously and decided to head on out.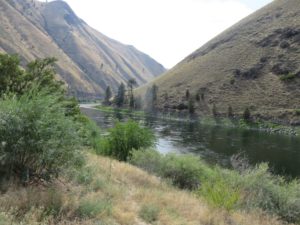 It was a wonderful drive further south in Idaho as I approached the Salmon River Canyon area. I scoped out a lovely campsite at Shorts Bar, right on the Salmon River. Although it was 101F degrees as I arrived, I was able to find some lovely shade and set up a beautiful camp right on the river. The heat will certainly not be a fun thing to deal with, but it is a lovely home for the next couple of weeks!
Pictures