Friday afternoon, I decided to make my first ever visit to Colorado National Monument. I was surprised by how much I grew to love it, simply driving through and going on a few small hikes. I returned Saturday afternoon to hike into Monument Canyon, getting a more solitary, up-close experience with the national monument.
My weekend actually got off to an early start, as I headed to the Subaru dealership in Grand Junction to get Tivona's brakes finished. However, they were only able to do the front brakes, as I was the first one to ever need brakes for a 2015 or newer Outback and they hadn't ever ordered the brakes needed for the rear. Thus, I scheduled a new appointment for Saturday and hung back at camp.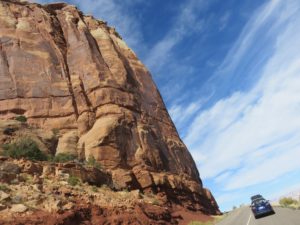 Friday, however, I decided to go ahead and take the drive back and forth through Colorado National Monument, just on the other side of town, basically. I started in the afternoon, driving to the Fruita entrance and making my way quickly up to the visitor center. I was able to get a proper park map and a new sticker to add to Tivona's rear window.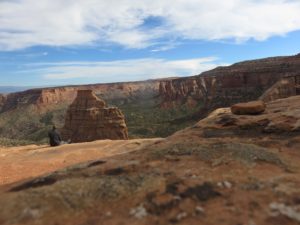 Finishing up at the Visitors Center, I continued on the road, stopping at several of the viewpoints and going on a few short hikes. I took the time to hike Otto's trail, along with all of the major viewpoints along the road. I was amazed to find the canyons all along the way, and I quickly fell in love with the park. I considered for a moment hiking the Serpents Trail, but decided to only hike a very small segment of it before moving on to Devils Kitchen and then turning back to re-drive the way all of the way back.
Saturday morning, I returned to the Subaru dealership and completed the brakes on Tivona. From there, I decided to go hike as much of the Monument Canyon Trail as I could achieve in my remaining time that afternoon.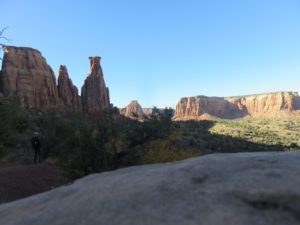 I got to the trailhead to find satisfactory parking and packed up to head on down the canyon. I was satisfied to find some absolutely wonderful solitude down in the canyon as I continued on to great views of Independence Monument. The trail goes at least to the monument, but I decided to turn around before actually making it there. In total, I hiked about 5.5 miles by the time that I made it back to the car and headed back to camp.
Colorado National Monument is truly a wonderful park, which I am very happy to have spent some wonderful time at this weekend!
Pictures