On Friday, I decided to leave my campsite outside of Winnemucca, NV. I wanted to spend the weekend again exploring the Loneliest Highway In America: Nevada's section of US-50. I didn't make any actual plans, choosing only to hit the road and see where it took me. Seeing artifacts of the old Pony Express and taking in the views of the road, I finished with a day in Great Basin National Park before heading across Utah to Grand Junction, CO.
I visited US-50 earlier this year, but I was quite limited in time and stressed due to long driving days and a flat tire. Although I did get to see some lovely sights then, I was excited to see more this time.
I packed up from my camp and headed to Fallon, NV, where I would start the journey. I picked up some groceries in Fallon and hit the road.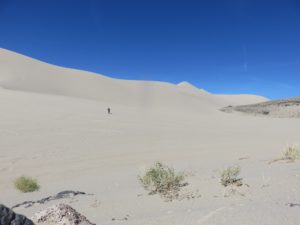 My first stop along the road was Sand Mountain, where I enjoyed climbing on the remarkably tall sand dunes. I specifically did note that there was free camping at this spot as well, but I decided not to stay there. There was a large amount of people already camped out and tons of OHV noise climbing up and down the sand dunes. I decided that I strongly preferred moving on, and so I did.
I first drove down to the Sand Springs Pony Express Station, on the same side road as Sand Mountain. Many of the stations along the Pony Express looked like miserable experiences to stay at. Taking note of the remarkably sandy conditions, lack of a roof, and drinking water that was hardly drinkable due to its sulfuric contents, I tried to imagine what it would have been like to remain at this particular station for any reasonable length of time. It must have really sucked! I still enjoyed learning about the Pony Express in this area, though, before continuing on.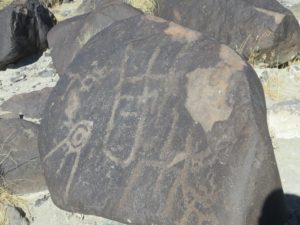 En route to Sand Mountain, I passed by the Grimes Point Archaeological Area, so I decided to backtrack and check this out. I took the short walk on the trails in the area, taking in the native drawings on the rocks. There is tons of this kind of thing all over US-50, as I witnessed some of on my last visit through, so I enjoyed seeing even more to start out again. The area is remarkably rich!
Continuing on, I made my way towards and through Austin, NV, and over the pass to find my way back to Spencer Hot Springs. It was actually pretty nice to arrive well enough before sunset to easily find a campsite this time. Although I still didn't make it to the actual hot springs again, this has remained a worthy campsite along the route.
Waking up Saturday, I hit the road again, heading further East. Although a quick stop in Ely for gas was necessary, I chose to skip further things along the way. If one thing is clear, it is that I will need to spend yet more time along this wonderful drive in the future!
About noon on Saturday, I pulled back into Great Basin National Park. I was able to secure a campsite easily at that time, and I headed up Wheeler Mountain, which was closed due to snow on my last visit. Being open this time, I was able to drive all of the way above 10,000ft and do some of the hiking!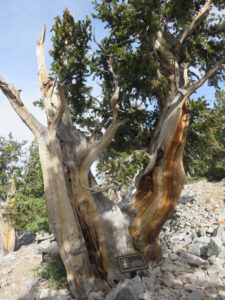 I hiked out on the trails to a grove of the bristlecone pine trees. Some of the trees that I specifically looked at were aged at over 3200 years old and belong to the species that are some of the oldest living things on the planet! Even those trees that had died often remained standing for thousands of years after their death, impervious to decay. I found these trees even more interesting in paper than they are on paper. They were amazing to gaze upon, and even to feel their ancient trunks. They really are a magnificent thing to lay eyes upon!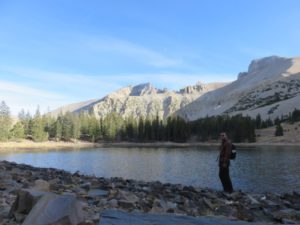 Deciding to go further, I hiked up to Rock Glacier before dropping back down to also do the alpine lakes loop. For as much mountain hiking as I did during the summer, it was refreshing to get one more high altitude, alpine hike in before I entirely called the season over. I estimated my total distant at about 7 miles; although the rock glacier was an underwhelming glacier, itself, I enjoyed the hike overall, and the lakes were simply wonderful.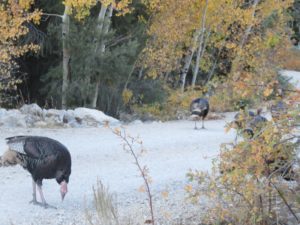 Sunday morning, I woke quite early to pack up camp and head into Utah, calling my journey along the loneliest highway complete. There were some wild turkeys running through the campsite in the morning, which were hilarious to watch, and provided a pleasant way to start a long day of driving.
I had nearly forgotten that the views only continued to be amazing the entire way from Great Basin NP to Salt Lake City. I didn't take any pictures, simply enjoying the drive and the awesome sights once again.
I stopped into the Salt Lake City area to fill up on supplies before heading out to Moab, taking a route down US-6/US-191. Again, such a wonderful drive through Price Canyon and other wonderful areas all along the way. All of these areas are certainly on my list of places I would love to return and spend significantly more time at some point in the future.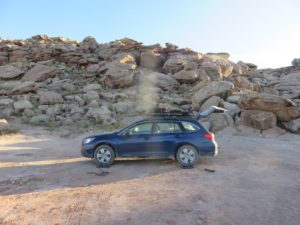 Sunday evening, I finally arrived at Willow Springs Road in Moab, to find the area absolutely packed with other people. From just one year before, when I was there last, the worn out spots had increased in number significantly, and a vault toilet had even been installed at the far end. I quickly decided to only spend one night here before moving on.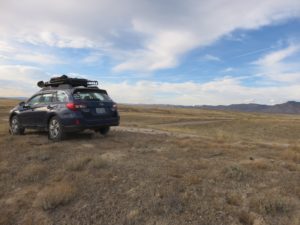 On Monday, I knew that I would move on to a new spot. I also was due for an oil change, with the closest dealership being in Grand Junction, CO. Looking at weather and available campsites, I just decided to make the drive and drop in to get an oil change right away. Thus I did, finally finding a campsite for the rest of the week on 25 Road, north of town.
The campsite I'm in now actually has wonderful LTE reception on both Verizon and T-Mobile, which is awesome for working conditions. Some strong thunderstorms rolled through Monday night, but overall, it's simply a wonderful spot just outside of Grand Junction!
Pictures