On Friday, I left my campsite outside of Bend, OR, and I headed to Southeast Oregon. I found myself driving through the recently newsworthy Malheur National Wildlife Refuge before finding a campsite at the Western base of Steens Mountain. I woke up in the morning Saturday to explore the mountain and then head down to Sheldon National Wildlife Refuge in Nevada. Finally, Sunday, I headed into Winnemucca and founding camping in Water Canyon just outside of town.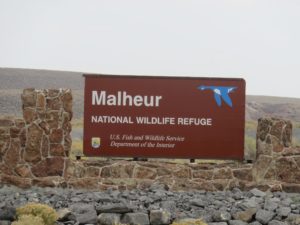 Although staying in Bend has been a pleasant experience, it has reached beyond time for me to begin heading South for the Winter, to warmer climates. I saw Steens Mountain in Southeast Washington on the map, and pictures looked cool, so I headed that way first. I was surprised to be driving through a good chunk of the beautiful Malheur National Wildlife Refuge–recently in the news for the Headquarters having been taken over by assholes. Due to the damage to the area, I was only able to see the beautiful area along the roadside, as the headquarters and visitor center are all closed for continuing repairs.
Nonetheless, I was impressed by the beautiful scenes, and I made my way to a campsite just on the outskirts of the refuge, operated by BLM. Page Springs Campground proved to be a cute little campground to stay at for a night, with easy and obvious access directly up to the summit of Steens Mountain.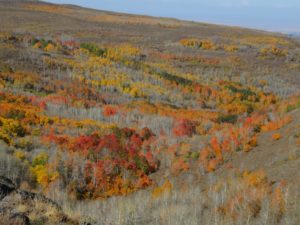 Saturday, I woke up and tore down camp to drive the 30 miles up the dirt roads to the summit of Steens Mountain. The summit lies at over 9700ft of elevation, deceptively high for the drive up. Being a fault-block mountain, the western side is a steady slope that hardly feels like a climb up your typical mountain until you arrive to gaze down the abrupt edge of the eastern side. All the while, during my own drive, the fall colors were showing off in the trees lining the route.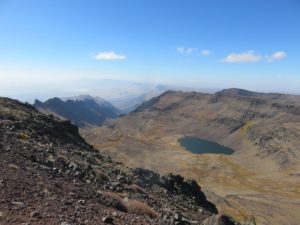 As I arrived at the summit, I was amazed by the valleys and canyons opening up along the route, and I decided to take the small, half-mile hike to the actual summit, taking in yet more awesome views along the way. I had no idea that I would love Steens Mountain so much, being just an obscure place in the remarkably remote reaches of Southeast Oregon. At the summit, I truly fell absolutely in love.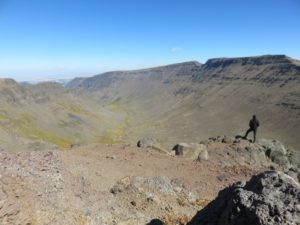 Headed down, I stopped at the East Rim Overlook and Kiger Gorge Overlook as well, before continuing my journey down the mountain. It was cold and windy all over the summit of the mountain, and the air thin. I still enjoyed walking and taking the short hikes available at the overlooks, and Steens Mountain is now a place I feel a need to return to some day!
Alas, as I made it to the bottom of Steens Mountain, I made a quick run up to Hines, OR to desperately fill up on gas as my gauge reached closer and closer to empty. All of the driving out in the middle of nowhere certainly did take up a lot of gas, and this remained a constant concern nearly all weekend before I finally made it into Winnemucca.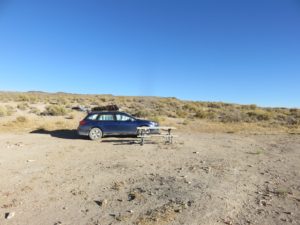 After filling up in Hines, OR, I headed South and crossed into Nevada. I scoped out a free campground in Sheldon National Wildlife Refuge and made my way there, finding a lovely little campground for the night. I was surprised to see the campground half-full at most on a Saturday night, so I set up camp without much noise from neighbors around me. With no cell reception and no extra distractions, I enjoyed just staring at the stars, remarkably visible in this backcountry spot.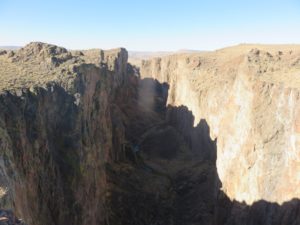 I woke Sunday morning to a brisk 25F cold and my car's windows frosted over. I quickly pulled together everything to make some hot coffee and oatmeal in an attempt to warm up. Alas, I turned on my car's heat and decided to go driving on the dirt roads nearby. I had heard of Thousand Creek Gorge, and I decided to go driving to find it. Sure enough, I found a wonderful viewpoint on the East Rim of the gorge, where I stopped to enjoy the lovely view.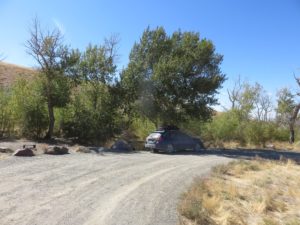 Finally, having seen yet another awesome canyon in the deep backcountry of this part of the country, it was time for me to head down to Winnemucca, where I had scoped out a campsite in Water Canyon. I arrived in the early afternoon to find several areas to setup camp, with not much for other people being out here. With good Verizon and good TMobile reception, I setup camp and began enjoying my new home for the week.
Pictures