After boondocking in Snoqualmie Pass and visiting Seattle, I ended up deciding to move to just outside of Hanford Reach National Monument. I spent a good week and a half there before moving on to visit John Day Fossil Beds National Monument, which I absolutely fell in love with spending the day there. However, as there is no cell service there, I had to move on to Bend, where I also dropped by Newberry National Volcanic Monument today.
Hanford Reach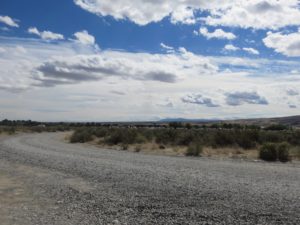 The spot I was at in Snoqualmie Pass was a wonderful spot, but it quickly became a problem with not having enough sun exposure to power my solar panels and thus my laptop. I finally decided to throw in the towel and move to the Vernita Bridge Fishing Access point that I crossed on my way towards Snoqualmie Pass. I stopped into Seattle quick and grabbed a Washington Discover Pass, and headed to the spot.
This spot is right on the edge of Hanford Reach National Monument. This is a newer National Monument, which doesn't have any visitor center or other significant development at this time. My allergies were also pretty bad at this spot, so I didn't make it out to visit and take any significant pictures of the monument. However, I did end up staying for a week and a half before moving south into Oregon.
John Day Fossil Beds National Monument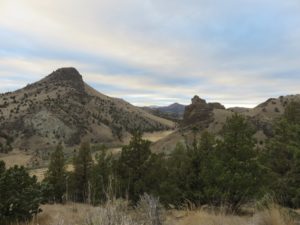 I decided to drop all of the way down to John Day Fossil Beds National Monument in one quick day. I was actually amazingly surprised by the entire drive, as I headed South of Arlington, OR. The canyons through the basalt layers and the amazing plains and forests that make up nearly the entire drive on OR-19 and OR-207 were simply beautiful.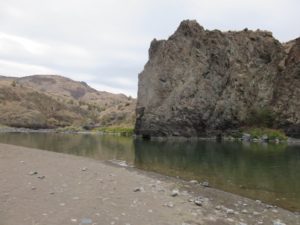 As the evening was already getting late when I got into the area of John Day Fossil Beds, I decided head immediately to the Burnt Ranch Campground with time with daylight to setup camp for the night. The amazement I felt continued all of the way, as I arrived at a beautiful camp right on the John Day River. I had the camp mostly to myself, simply enjoying the wonderful area lacking cell service before waking up to leave and visit the monument in the morning.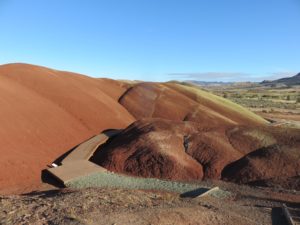 In the morning, I packed up and headed directly to the Painted Hills area of the monument. I learned quickly that the initial overlook and viewpoint aren't easily viewed in the morning, but I enjoyed the time having most of the unit to myself the entire time to visit the lovely parts that still did look wonderful. There was plenty of light hiking that actually looked wonderful in the  morning light.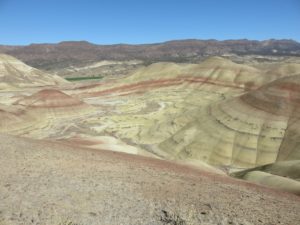 Having explored that entire unit, I moved on to the Sheep Rock Unit, and began exploring and doing some light hiking there. I explored all of the Sheep Rock Unit, falling absolutely in love with the monument before returning to the Painted Hills for reviewing the Overlook at proper light again. By this time in the afternoon, many people had arrived, filling up the parking at the Overlook, but I was still able to view the hills under lovely lighting.
Bend, ORegon and Newberry
Feeling somewhat satisfied with John Day Fossil Beds, I decided to go ahead and move on to Bend, Oregon Saturday afternoon. I had scoped out a spot to the West of town, in Deschutes National Forest, but the area was closed due to road and trail maintenance. Thus, I returned to the boondocking spot I previously stayed at off of China Hat Road.
Waking up Sunday, I then decided to go ahead and revisit Newberry National Volcanic Monument. I did only go to the Newberry Caldera area, going up to Paulina Peak and doing the short hike in the Big Obsidian Flow. I was quite pooped from all of my exploring at John Day Fossil Beds the day before, and I have visited most of the easier places in this section of the monument last year. Nonetheless, it was lovely visiting this spot again before returning to my campsite off of China Hat Road.
Pictures