On Friday, I decided to leave my camp at Gunsight Wash and head into the Tucson area. After one freezing cold night in the Las Cienegas National Conservation Area, I went on to visit both halves of Saguaro National Park and settle on a paid campsite at Gilbert Ray Campground in Tucson Mountain Park.
Packing up and leaving Gunsight Wash with Tucson being my goal, I had two options: head through the Tohono O'odham Reservation or head North and take I-8. Upon some further investigation, I ended up settling on going up to I-8, giving me the opportunity to drive through the southern end of the Sonoran Desert National Monument and possibly even attempt a visit to Ironwood Forest National Monument.
Although I never did stop for any pictures or extra activities in the Sonoran Desert National Monument, the drive through the area on I-8 is a wonderfully beautiful example of what the Sonoran Desert has to offer. I noted multiple spots to pull of and explore, and perhaps I'll visit again in the future to do just that! For now, however, I decided that I wanted to give myself ample time to attempt visiting Ironwood Forest National Monument as well.
Merging on to I-10, and just after Picacho Peak State Park, I followed my GPS towards a vague destination down dirt roads, which would take me straight through Ironwood Forest. Unfortunately, the road was closed! My plan was foiled, and I was sent packing on to Tucson itself.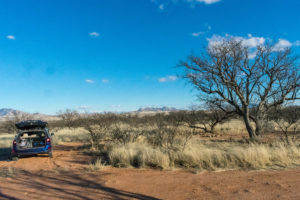 Finally, after stopping for some groceries in Tucson, I headed further south to Las Cienegas National Conservation Area. Up some mountains into the grasslands encompassing the area, I was actually really surprised by the beauty, even if everything looked basically dead around the camping area within.
Nonetheless, I setup camp and tried to sleep through the forecasted lows of 20 degrees Fahrenheit. It was damn cold, but at the very least, I've got enough experience and tools to get me through it. Either way, I was more than happy to pack up and head to the warmer area of Saguaro National Park.
Saturday, I devoted the entire time to the West side of the park, driving on the scenic loop drive and even going on the high clearance side road, exploring the park. I didn't stop for many pictures, as it was just a pretty standard Sonoran Desert vibe throughout, albeit it with plenty of Saguaros, of course.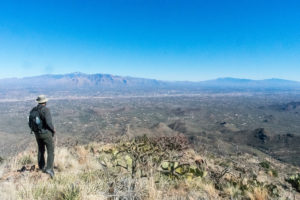 Finally, I stopped at the Sendero Esperanza Trailhead, and decided to take the hike all of the way up to Wasson Peak. A beautiful 8 mile hike up to the peak, I found the trail absolutely packed with people and not particularly noteworthy in any respect. However, the views at the top were worth the hike, even if I had to share the views with several others!
So, I walked on back to the car and headed just south of the park to Gilbert Ray Campground. At $10 a night, I was able to secure a campsite at much warmer, more comfortable conditions!
Sunday, I woke up and headed to the East side of Saguaro National Park, set on the idea of doing a larger, and hopefully even more rewarding hike. Stopping in the Visitor Center, I got some ideas on different hikes to do, and I headed immediately to the Loma Verde Trailhead.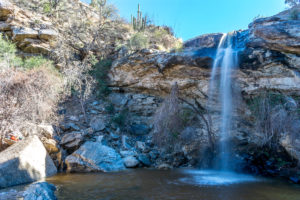 I ended up doing a hike reaching over 12 miles round trip, following the Squeeze Pen, Carrillo, and Three Tank trails all of the way to Bridal Wreath Falls. For the standards of waterfalls in this desert system, the falls were going quite strong that day, and I was rewarded with a great spot in the shade and cooling mist of the falls before heading back the same way I had come.
Following such wonderful hiking in Saguaro NP, I headed back to Gilbert Ray Campground for the week.
pictures