On Friday, I decided to leave the camp at Gilbert Ray outside of Tucson and head north into the Phoenix area. On the way, I stopped to enjoy Casa Grande Ruins National Monument before finding a boondocking site in Tonto National Forest. On Saturday, I also took some time to drive to Tonto National Monument, where I was lucky enough to see both cliff dwellings!
Heading out from Tucson on Friday, I immediately set my eyes on Casa Grande Ruins National Monument. Doing only a little research on it, I knew it was going to be one of the smallest monuments I've seen to date, but seeing the old ruins from the Hohokam people was worth the stop. I'll let the pictures at the bottom speak for themselves on this one!
Following my time around the Casa Grande Ruins, I made my way to a campsite in Tonto National Forest, off of US-60: Arnett Road. I found several spots there open for camping, although they all have plenty of trash, including broken glass, ammo shells, etc. I always hate seeing our public lands, especially because I am so limited in what I am able to do about it with such small space, myself. Nonetheless, it does make a wonderful spot to stop and call home for the week!
On Saturday, I woke up early and decided to head north to Tonto National Monument. I hadn't planned nearly well enough to get a reservation for the Upper Cliff Dwellings, but I decided to go and at least see the Lower Cliff Dwellings, which are open to everyone.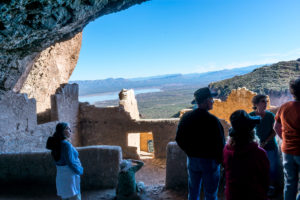 Arriving just after 9am, however, I got really lucky! There were two spots open for the Upper Cliff Dwelling for the day, due to last minute cancellations. I was able to take one of those spots and join the guided tour of the upper dwellings. Getting able to actually walk around the different rooms of the dwellings and take in the culture of the Salado people who built it was definitely an unexpected treat!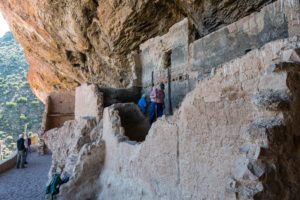 Although the Upper Cliff Dwellings took up the majority of the morning, into the afternoon, I still had time to do the shorter, self-guided hike to the Lower Cliff Dwellings as well before heading back to camp. Even these were special, although smaller and less to take particular note of.
Unfortunately, that's all of the fun I had for the weekend, basically. I spent Sunday in Phoenix, doing some shopping for needed supplies and trying to enjoy the city for what I could. Alas, I came back to camp to watch the Super Bowl and enjoy the wonderful views around me here at Tonto National Forest.