On Friday, I decided to head north from my camp in Tonto National Forest to visit a few more national monuments. I ended up seeing all of Montezuma Castle, Tuzigoot, and Agua Fria National Monuments, and found a wonderful, free campsite in Agua Fria.
I ended up taking a route north through Tonto, Cococino, and Prescott National Forests, passing again by Roosevelt Lake, and up to the Mogollon Rim. Rim Country of Arizona is always a special place, with the Mogollon Rim never ceasing to surprise me. I guess it is only the second time I've seen it, but it pops out immediately both ways.
Alas, after driving through a little bit of snow fields and heading over to Camp Verde, I found myself at Montezuma Castle National Monument. It's just another small monument with a pretty easy walk around. I enjoyed viewing the old cliff dwellings and the river beneath, before calling it a day for that monument.
From Montezuma Castle, I headed immediately over to Tuzigoot National Monument, only a quick 30 minute or so drive to the West. Tuzigoot is a special addition to the day, given the ability to walk around the ruins. It is notably developed, with all of the paths being paved, but I enjoyed looking over all of the ruins from the several different angles.
With those two being such small monuments again, it was easy enough to then head back south on I-17, pulling off to find a campsite in Agua Fria National Monument. Near the Badger Spring Trailhead, I camped just behind the vault toilets for the night before heading out to further explore on Saturday. It is a sometimes busy campsite, with a lot of people coming to hike the Badger Springs trail, but the Verizon and TMobile reception are both great, with a wonderful amount of camping space available.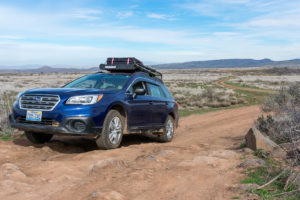 On Saturday, I headed north to drive the Bloody Basin Road route cutting through the monument, stopping at the Pueblo La Plata ruins. Blood Basin Road is all dirt, and it included a good stream crossing through the Agua Fria River on this day. Getting to Pueblo La Plata also included some rough terrain requiring 4WD and High Clearance. Tivona handled all of this like a boss, and it was actually quite fun to drive!
Pueblo La Plata was particularly special for some old native ruins, to me. Having a particularly unexcavated feel, with tons of pottery sherds and tool pieces lying about all over. This and the nearby canyon within walking distance was all remarkably special to explore.
Following my time at Pueblo La Plata, I explored further up Bloody Basin Road, right up to the edge of the monument, before turning back around and heading out to complete the Badger Springs Trail.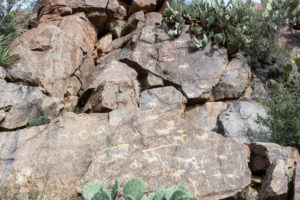 The Badger Springs Trail is a short hike to the Agua Fria River, through the Badger Spring Wash. At the end, some petroglyphs stood out clearly on rocks on the side of the gorge. I found these quite special to look at, in addition to the beautiful terrain all around.
Finally, I headed back to camp. Sunday, I spent some time in Phoenix running errands, and then returned once more to the same camp. Although I had scoped out some awesome campsites along Bloody Basin Road as well, I decided to call it good at the Badger Springs area, for its accessibility even in the recent and upcoming rains, and a good site with vault toilets and all. I now plan to enjoy this spot for the week!