Although I already went to Montezuma Castle, I realized that I skipped past Montezuma Well, so I decided to go see that on Friday, and also ended up taking a brief drive through the Red Rock Scenic Byway. However, as a heavier rainy storm came through, I didn't get to do much else with my weekend until Monday, when I was able to go out and adventure around the Bradshaw mountains. Finally, I also scoped out a new campsite during my adventures, with some absolutely lovely views!
Montezuma Well is a detached unit of Montezuma Castle National Monument, and I didn't think to go visit while I saw the monument the weekend before. After reading up about it quite a bit, however, I decided to go and visit the area Friday afternoon.
The well is a large spring full of heavily carbonated water and is home to several species that don't live anywhere else on the planet. Surrounding is several cliff dwellings and pueblos from that native americans who once called the area home. Nearby, those ancient people also dug irrigation ditches from this water, which a short spur trail goes to visit. I enjoyed the short hike through the whole area, viewing all that was there.
On my way out, I accidentally ended up going north on I-17, where I had meant to go South. It was a boneheaded move, but the wrong turn found me on my way to the Red Rock Scenic Byway into Sedona. I went ahead and took the drive, enjoying the views from the Colorado Plateau. Noting how beautiful the area is, I'm going to have to plan on returning for some hiking in the future, but for now, I simply enjoyed the drive before heading South to Phoenix again.
As I headed back towards Phoenix, a storm began pushing its way in over the desert. Unfortunately, this led to me sitting in a hotel room for a couple of nights. Luckily, it was a 3 day weekend, so I had Monday to go exploring.
I initially thought I would just take an easy day on Monday, only going to check out the Agua Fria River crossing on Bloody Basin Road. With all of the rain, I assumed that the river would be too high to cross with Tivona, and I was right. Nonetheless, it was nice to check out before heading back out.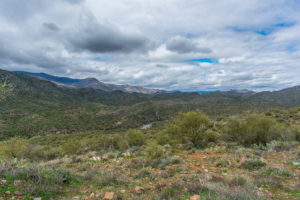 On a spur of the moment choice, I decided to head West of I-17 on Bloody Basin Road as well. This ended up being an adventure through lovely terrain on dirt roads, on the Eastern side of the Bradshaw Mountains. I followed the road South all of the way to Bumblebee, Arizona, loving all of the beautiful scenery along the way, and even scoping out some new campsites along the road.
Alas, when I finally hit pavement taking me back to I-17, I opted to just turn around and head back up the road. Another spur of the moment choice, and I was headed up the dirt path towards Crown King, AZ.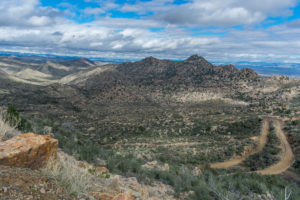 This drive really surprised me as it climbed into Prescott National Fores and gained in elevation. The twisty road was particularly muddy this day. It was amazingly fun, although not particularly difficult to drive in any way. Several streams were actively flowing as well, and the scenery kept getting better as I went, until eventually I landed into the forest town of Crown King.
Alas, I turned back around and headed back down the same route, enjoying the remarkably fun drive and beautiful views from another angle. Instead of going back to the campsite I've been staying at in Agua Fria, I opted to head to one of the spots I scoped out along the adventures. With some amazing views and a hell of a lot less traffic constantly around it, I'm excited to stay here for the week now!