Time to catch back up on the blog! After my weekend backpacking in Joshua Tree, I stayed in the area for my sister's wedding nearby the following weekend, before spending the next week in LA. Alas, time came to hit the road again, and I kicked it off with an official Instameet put on by the Bureau of Land Management at Amboy Crater in Mojave Trails National Monument, where an excellent super bloom of wildflowers is taking place. I even spent the night at a small parking area adjacent to the crater before heading on to 8 Mile Road in Lake Mead National Recreation Area for the week to take care of my car registration in Las Vegas.
I did have a wonderful time camping at Black Rock Campground in Joshua Tree National Park, although the noise of people running generators and running around camp all day and night was jarring. I'm just not really used to that with all of the quiet, peaceful dispersed camping I usually do these days. But I guess it also began to prepare me for a crazy, fun weekend of partying for my sister's wedding.
I even got to stay at a ranch property nearby Pappy and Harriet's in Pioneertown for the weekend, giving me a chance to clean up a little better before going to the wedding, where I even had the pleasure of getting up and reading the Apache Wedding Blessings as part of the ceremony. It was all a beautiful, wonderful time in a beautiful desert, spent with family and friends, celebrating.
I ended up hanging around after most everyone else left the days after the wedding, and I spent some time helping to clean up the venue and rental and take supplies back to the Los Angeles area with my sister, where I ended up crashing for the week.
It's always great spending time with family, although I apparently got a pretty nasty stomach flu on Thursday that I've spent the weekend nursing. I actually thought it was just some bad Subway I ate that day, but I'm hearing that a pretty nasty virus seems to be going around with the same symptoms I had. Being that I had some symptoms lasting through Monday, that's not surprising. It certainly wasn't fun! I don't know the last time I even had a stomach flu, so thinking it was just a little food poisoning, I went about my business as much as possible, trying to shrug it off. Probably not a good idea… Ooops! Oh well.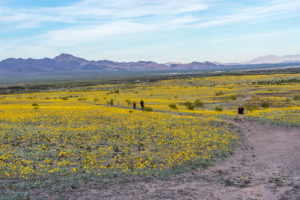 Saturday, I decided to head out regardless of some lingering stomach issues. The Bureau of Land Management had posted on social media about an official Instameet at Amboy Crater in Mojave Trails National Monument, centered around the super bloom of wildflowers happening out there right now. I just had to go, so go I did!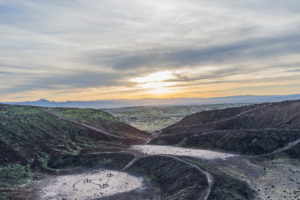 I had visited Amboy Crater last year, but the wildflowers this time were so much better. The yellow ones were everywhere, with all kinds of others, including a few scattered Desert Lilies and other rarer flowers seen with a keen eye. I ended up out walking along the trails into sunset, hanging out with others who chose to join for the Instameet as well. It was a wonderful time, and I ended up so happy that I went, even if I maybe should have stayed away, knowing what I know now about that stomach bug.
That night, I camped at a small parking area just off of the drive into the crater off of Route 66. When I stayed there last year, I had the whole parking area to myself, but this time, the area was full of others setting up camp for the night as well. Thankfully, it was a quiet group, and it was still a pleasant stay.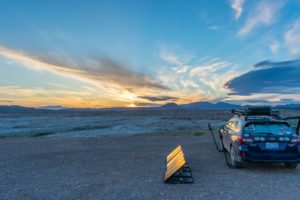 Sunday morning, I considered heading out to Telephone Cove at Lake Mohave, another spot that I stayed at last year. However, I quickly and suddenly changed my mind and decided to just go ahead and make the drive all of the way up to Lake Mead and 8 Mile Road. Again, I stayed here last year and wasn't really a big fan, but it works great for needing to go into Las Vegas to take care of smog checks and vehicle registration.
So, here I am for the week, again. I already got the smog check covered on Monday and plan to go in and complete the vehicle registration renewal on Friday before heading out to nicer areas. 8 Mile Road is certainly better than the ever popular Government Wash, even though it is just one intersection away and the two are totally visible to one another. But I'll be honest: it's just a spot for me to spend a week to get some business taken care of. The good spots are to come, hopefully starting next weekend!
pictures