After a week at Lake Mead and finally getting all of my car registration stuff done in Vegas, I was more than ready to leave and head to better adventures somewhere else. As I was preparing to head out, a friend hit me up and invited me on a backpacking trip in Goldstrike Canyon, just south of the Hoover Dam. That turned into one awesome adventure before I set off into Arizona, where I visited the Meteor Crater and Petrified Forest.
goldstrike canyon
On Thursday, as I was beginning to plan for the next week away from Lake Mead, I got a message from my friend, Edward, who said he was coming over to the area for the weekend. He invited me onto a backpacking trip into Goldstrike Canyon, a popular hiking destination just south of the Hoover Dam. I jumped on the opportunity and on Friday, after completing my work at the DMV, I headed to the trailhead.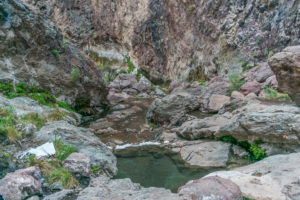 When I got there, Edward was already down in the canyon, so I quickly grabbed my hiking backpack and headed down the canyon. I didn't really read anything about it before going, and like a moron, I didn't take my backpacking gear, either. Suddenly hitting the scrambling section and the first rope on the trail, I was surprised by what I was getting myself into. But through all of the climbing, I finally made it down to the hotspring, where my friend was already hanging out, waiting for me.
After taking a break and hanging out for a bit, the inevitable journey to retrieve my gear to sleep in the canyon was coming up. We knew that we were going to have to hike in the dark for the journey, but we took the adventure head-on. As bad luck and bad decisions would have it, we ended up escorting another hiker who had made it to the bottom but forgot a flashlight. The extra company was enjoyable for the strenuous journey.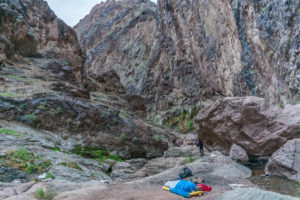 We ran into several other groups of people also there to camp inside the canyon as we hiked out, and as we made our way back down, we ran into them again. One group set claim to the area we had wanted to setup ourselves, but they invited us to join them. I slept comfortable in the canyon, staring at the big dipper in the sky and even saw a shooting star.
But it's always an adventure! We woke in the morning to a drizzling of rain as the other campers packed up and headed back out of the canyon. We, instead, decided to hang out for a bit, enjoy the morning in the canyon, eat breakfast, and watch others make their way down.
Thankfully,  we headed up when we did, as the crowds came pouring into the canyon. Traffic jams grew as we got into the scrambling section, and as we climbed the final rope section, a particularly large jam of people had congregated at the top. Yet as we continued on the easier part out of the canyon, even more people piled in. At least there was a cool lizard to look at, despite all of the crowd!
At the top, an NPS ranger stood watch, giving speeches to everyone who entered. I never did hear the speech, but she was kind enough to tell us that more than 200 people had entered that canyon on that day alone! Busy busy busy!
into arizona: meteor crater
Leaving Goldstrike Canyon, I parted ways with Edward and carried on to my adventures in Northern Arizona. I had previously decided to head to Winslow, AZ, which I hoped to use as a jumping point. The drive took all day, and I was glad to be in camp at McHood Park just south of town.
Sunday morning, I woke up and headed right to the nearby Meteor Crater. It's something I've always kinda wanted to see, and I knew that there wasn't too much to actually do there, so it would be an easy morning. As it turns out, I accidentally ended up joining a guided tour. Regardless of it being a total accident, hearing the history and geology of the area from the guide was absolutely fascinating!
Petrified forest national park
Leaving the Meteor Crater, I still had all afternoon to play, so I decided to make the way all of the way over to Petrified Forest National Park (it's not that far, though).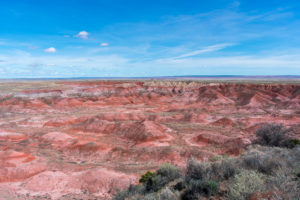 Immediately entering at the Painted Desert Visitor Center, I was amazed by the first views of the red badlands below the mesa of basalt lava flows from the dormant volcano I was driving atop. The park immediately blew my mind, and I became excited to continue spending my afternoon exploring as much of it as I could squeeze in.
And here is where I need to put in a little interjection. I noticed immediately that most people driving through were not even stopping at most turnouts, and when they did, many of them didn't even get out of their car, only stopping to take pictures of the remarkably limited view from the seat of their running car. It absolutely baffles me. I understand that most people come to this park as a complete afterthought, it being en route to the Grand Canyon. But they fail to truly appreciate just how magnificent this park is. Except for the amazing backpacking and difficult hiking that the Grand Canyon has and Petrified Forest lacks (there is some amazing hiking here, too, though), I almost think Petrified Forest is the better, more interesting park. It's a shame so many people blow by it without even beginning to appreciate it.
Anyway.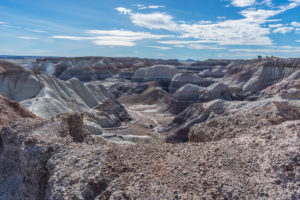 I ended up driving on the road through the park all of the way south, stopping at most of the turnouts and going on most of the short hikes other than the southern third or so of the park. At Blue Mesa, after going on a short 1-mile hike, I decided it was time for me to get to camp and ensure that I had a spot!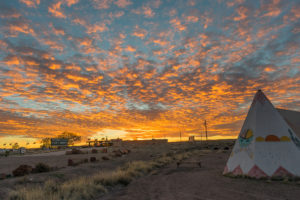 I drove to the South entrance of the park, where a small privately owned museum and gift shop is located. On the East side of the road, the gift shop also operates a free campground with a 4 night stay. I pulled in and setup camp, enjoying an absolutely wonderful sunset before turning in for the night.
As I sat at this campsite, I quickly pulled up the local Subaru Dealership website in Flagstaff and scheduled an appointment for an oil change Monday afternoon. As Monday finally came, I decided to head back into the park and start seeing what I missed on the southern end.
The actual petrified wood is extremely more abundant on the South end of the park, so I ended up stopping to take several pictures of the colorful quartz and learn all about how it was formed.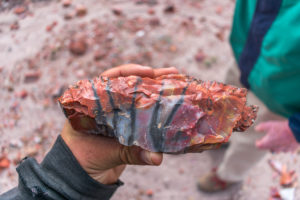 As I came to the lookout at Jasper Forest, an NPS volunteer, John, invited me to join him on a walk below the lookout's rim. Of course, I opted to join, and we spent a good half hour wandering around a garden of petrified wood. The colors were absolutely amazing, and it was hard to step without stepping all over petrified wood. We picked up and gazed at several samples before putting them down and walking back up to the car.
As I was talking with John, he told me about Keystone Arch in the Blue Mesa area. It isn't marked on any of the maps, and there is no sign anywhere telling anyone that it is there. All of the rangers and volunteers know where it is, however, and John was kind enough to point me in the direction, so I had to go see it!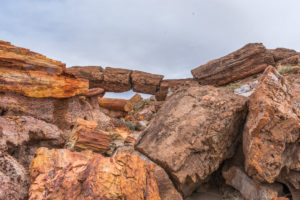 It's just a short walk from one of the turnouts at Blue Mesa to the arch, and I was extremely happy that I had the pleasure to see it. No one else was around, even though tons of people were driving down the road, ignoring the volunteer there trying to invite people to pull over and go see it. I certainly can't complain about my experience with it!
Alas, I had to leave and head to Flagstaff for a friendly oil change. Afterwards, I headed back to McHood Park, finding a lovely spot right on the lake the park is centered around. With a 14 day camping limit and no fees to camp, it's a lovely spot! The only unfortunate part is that the bathrooms have been locked, so I've had to figure out other means. Oh well. It's still a lovely basecamp for the adventures ahead!