It seems that I forgot to update my blog after last weekend, so here we go! I decided to go ahead and move on from Flagstaff on Friday, although I wasn't entirely sure of what I wanted to do. After finding the North Rim of the Grand Canyon was still closed for the season, I opted to head into the Navajo Nation and visit Navajo National Monument. I then continued on to also check out Canyon de Chelly National Monument before heading to New Mexico.
The campsite I had in Flagstaff was pretty great, but I was ready for some new adventures. Having already visited all three of the National Monuments in that area, I thought it would be cool to head to the Grand Canyon again. Of course, I have no real desire to bother with the South Rim, as it's just too packed full of tourists and is a gigantic headache. I love the hikes there, but the North Rim is much better for the leisurely visit. So, I started off driving in that direction.
Stupid me, I didn't even think about what time of year it was or to look up when the North Rim opens up for the year again. As I was driving closer and closer, signs started appearing that the roads all of the way there were still closed, and I wouldn't even be able to get to a favorite boondocking spot nearby there yet. I stopped off quickly at a spot with cell service and made a last minute decision: I would head to Navajo National Monument.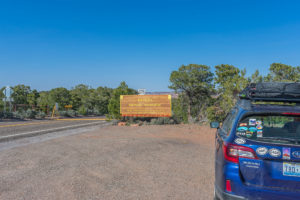 I got into the monument late in the afternoon and decided to head right into the free campground and spend the night, saving the short hikes for the morning and guaranteeing a great campsite. Overnight, I enjoyed the stars, and woke up early enough to get to the Visitor Center just after they opened and hike down to see the sites.
The canyon at the center of Navajo National Monument is really spectacular, but morning isn't really the best time to view it, I found. The cliff dwellings were covered in shade and difficult to really make out in any meaningful way. Nonetheless, I enjoyed the light hiking on the main trails through the area and looking down the amazing canyon before heading on out to the next attraction.
I chose Canyon de Chelly National Monument to hit up next, not realizing how much time I need to plan to really spend there some day. Arriving and looking over my options for the afternoon, I decided to simply drive down the Southern side of the monument before heading off to a campsite in New Mexico.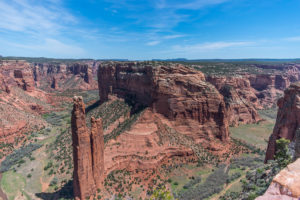 The canyon really surprised me. It's not as if I haven't seen anything like it before, but it looks so much less impressive on maps than it felt in person. I'm definitely going to have to return there for a better experience of the park in the future! For now, it was certainly a welcome surprise, and I took note of campground available to really spend some time there some weekend in the future.
Leaving, I finally crossed out of Arizona, into New Mexico. I had scoped out a free campground in El Malpais National Conservation Area and that became the goal for the week. Unfortunately, the campground has a 7 day limit, or I probably would have ended up staying a full 2 weeks and really taking in the absolute beauty of the area. More to come on that in my next update, though!